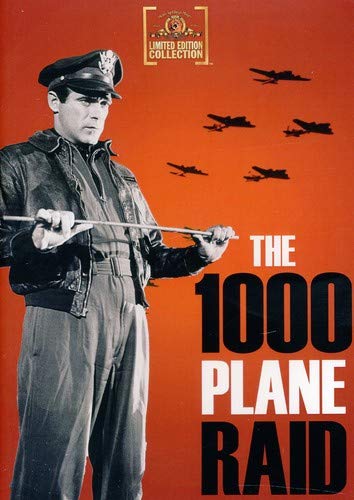 Sometimes, you just have to praise the almighty gods of film for the invention of stock footage. Having such a library of miscellaneous stuff on-hand is essential for movie and television producers, especially when they're establishing a location shot. Let's say a certain segment of a movie or TV show takes place in Thailand, but the cast and crew never so much as leave the confines of Hollywood. All one has to do is cue up some decades-old film that somebody shot whilst they were on vacation in Bangkok visiting and insert that footage with newly-shot studio scenes. It's that easy — not to mention economical.
The Thousand Plane Raid (1969) utilizes another cost-efficient use for stock footage: it shamelessly lifts almost all of its aerial footage from other movies. Anyone who has closely scrutinized either Twelve O'Clock High and/or The Memphis Belle: A Story of a Flying Fortress may feel they're getting gypped when they sit back to watch a good ol' WWII flick and instead witness recycled, often colorized footage from movies made twenty years prior (I noticed one shot spliced in that wasn't even in the correct aspect ratio)! But hey, at least your witnessing authentic World War II air footage in some instances, right?
Based loosely on Ralph Barker's novel of the same name, The Thousand Plane Raid (or, The 1000 Plane Raid, as the posters and DVD artwork read) finds the late great Christopher George as Colonel Greg Brandon — the no-nonsense commander of the 103rd Bomb Group in England who is determined to end the war early, so he convinces his superiors to back a presumptuous mission to send over a thousand bombers and fighters over Germany and permanently disable a major aircraft factory. Incredibly, the USAF and RAF higher-ups agree, and pave way for the biggest stock footage attack in cinematic history.
In case it hasn't dawned on you by now, The Thousand Plane Raid is a pretty low-budget flick that delivers a pretty cliché wartime story and not much else. Even Christopher George's co-stars — including Laraine Stephens (as George's love interest, who loves him despite the fact that he's such a son of a bitch), J.D. Cannon, Gary Marshal (who pretty much disappeared after this), Ben Murphy, Gavin MacLeod (yes, the captain of The Love Boat), Michael Evans, Bo Hopkins, Barry Atwater, and Tim McIntire — aren't too terribly enthralling. Boris Segal directs the weak screenplay co-written by Donald S. Sanford, who also penned the WWII classic Midway as well as the post-apocalyptic thriller Ravagers.
For some strange reason (and I hope the amount of sarcasm I employed in the writing of that was plainly apparent), The Thousand Plane Raid has never been seen since its release outside of the odd showing on late-night television. But, since I believe even the most obscure motion pictures should be made available to the general public, I'm delighted that MGM has decided to include The Thousand Plane Raid as part of its Limited Edition Collection. The Manufactured-on-Demand release presents the movie in an anamorphic widescreen ratio with a decent (if somewhat grainy) picture.
The only special feature included here is a full-frame theatrical trailer, which advertises the movie as being Rated G — something that wouldn't happen with a war flick today, 20-year-old stock footage or not.