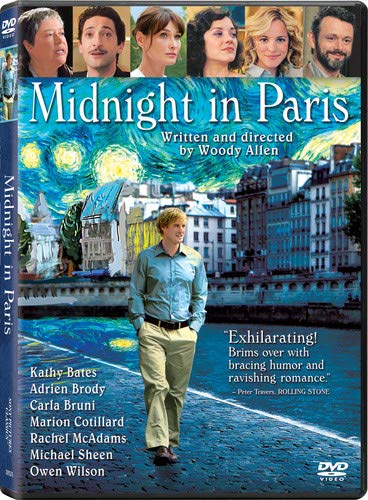 Woody Allen's Midnight in Paris is a delightful piece of comic fantasy. It is, at times, hysterical and touching, a warm ode to a city and a lifestyle of romance, literature, art, sex, and, above all else, love. Allen's 41st film brims with all of the brightness of his best work, containing thoughts about his legacy and his passion in the midst of a story that is brilliantly funny and warm to the touch.
Midnight in Paris has earned four Academy Award nominations, including one for Best Picture and one for Best Director. Allen's screenplay also picked up a nomination and for good reason. He started with the title and worked backward, composing the film with its theme of nostalgia and filling in the spaces with some incredible casting.
Owen Wilson is Gil Pender, the "Woody Allen role." He is a screenwriter capable of great success writing standard Hollywood schlock, but he finds it immensely unfulfilling. He is engaged to Inez (Rachel McAdams) and they are in Paris vacationing with her wealthy parents (Kurt Fuller, Mimi Kennedy). Gil doesn't have the approval of Inez's parents, or seemingly Inez herself, and he struggles all the more when "pseudo-intellectual" Paul Bates (Michael Sheen) waltzes into the picture to show them around Paris.
On a walk one night, Gil is picked up by an antique car and whisked off to a party. Much to his surprise, he finds himself in the Paris of the 1920s and rubbing elbows with the likes of Cole Porter (Yves Heck), Ernest Hemingway (Corey Stoll), and F. Scott Fitzgerald (Tom Hiddleston). Once he leaves the party, he finds himself back in "modern day" Paris and back with his fiancée and her insufferable family. The film finds Gil trying to quantify his experience in the two worlds while learning about love, literature, and reality.
For fans of literature and art, Midnight in Paris is a dream. There are loads of "inside jokes" about the likes of Gertrude Stein (Kathy Bates), Zelda Fitzgerald (Alison Pill) and Pablo Picasso (Marcial Di Fonzo Bo). Gil's relationship with Adriana (Marion Cotillard) is perfect beauty and his conversation with three famed surrealists is beautiful humour.
Wilson plays the perfect Woody Allen archetype. He presents a character filled with enthusiasm and wonder, making for the perfect tour guide. His expressions of disbelief are perfectly timed and his sense of inquisitiveness and jubilant incredulity in regard to having Gertrude Stein read his novel is hilarious.
Allen's film excels because it presents these titans of literature and art as human beings, just as they were. We have a tendency to exceptionally revere those who've touched our lives through their work, overlooking their tussles and tendencies in the face of their substantial cultural worth. Midnight in Paris idealizes its titular city, but leaves its inhabitants and its heroes as imperfect, amusing, sometimes trivial characters worth remembering without exaggeration.
If there's a flaw to Midnight in Paris, it's in the relationship between Gil and Inez back on earth. McAdams is brilliant in the role, but her character is almost too overt in her abhorrence of Gil. She almost appears to hate the man, standing by him apparently for his suppressed wealth potential but going through the motions to little personal fulfillment. The character, to my eyes, is a touch too explicit in her treachery and despicability.
Still, Midnight in Paris is a wonderful film and one of the best of 2011. It is comprised of lovely fantasy, sharp and cunning humour, and a real beating heart for a city that radiates history and romance. It is a penetratingly agreeable picture, shot stunningly and made with care by one of America's finest filmmakers.