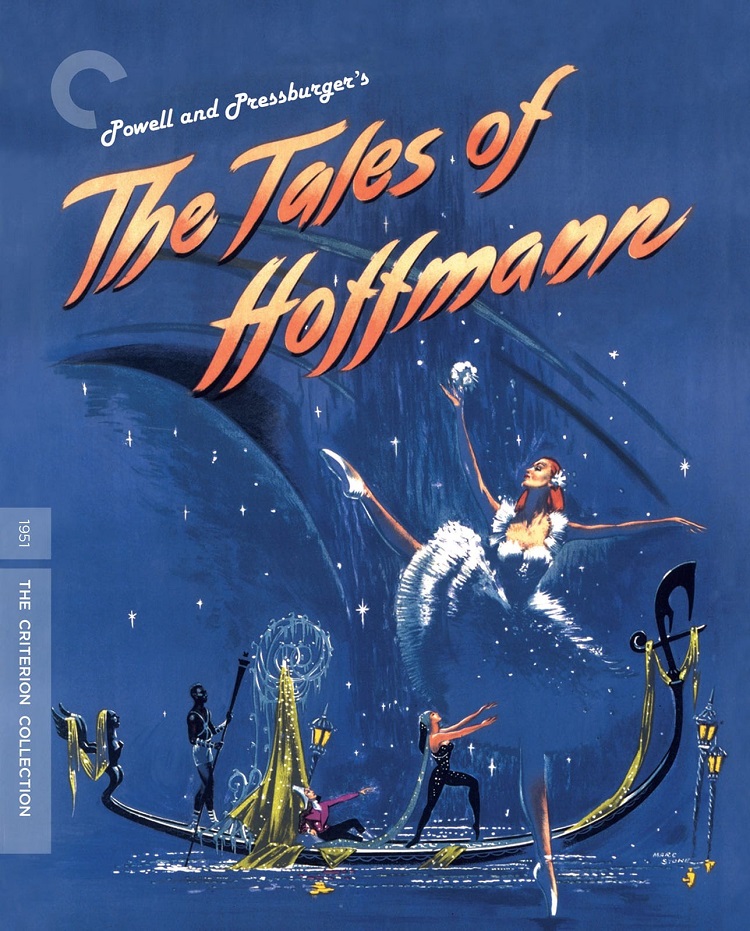 Powell and Pressburger was a filmmaking duo for the ages. Their films were unlike anything you had ever seen, even during the 1940s. With their legendary trademark style, they tackled everything from wartime drama (49th Parallel, The Life and Death of Colonel Blimp); the trials and tribulations of a being an artist (The Red Shoes); heavenly wartime romance (A Matter of Life and Death); the erotically charged inner lives of nuns (Black Narcissus); and with their astonishing 1951 fever dream The Tales of Hoffman, they brilliantly captured the limitless nature of the opera.
Based on Jacques Offenbach's unfinished fantasy opera, the film stars Robert Rounseville as the celebrated poet Hoffman who remembers three enigmatic women from his past: the automaton Olympia (Moria Shearer), a mechanical performing doll; the courtesan Giulietta (Ludmilla Tchérina), a bejeweled siren; and Antonia (Ann Ayars), the sickly opera singer and daughter of a famous composer, all of whom destroy him in different ways.
The premise isn't particularly engaging I'm so sorry to say, but with Powell and Pressburger at the helm, you really don't mind at all. It's the visuals, costumes, music, dance, and groundbreaking color palettes that hypnotize you and send you on a journey that you will never forget. It's just one of the many reasons why Powell and Pressburger, their films, and their influence continue to stand the test of time. It's no wonder why Martin Scorsese adores them so much. And if Scorsese loves something, then you know it's good.
None of the supplements are new, but they are still worthwhile. They include a 1992 commentary with Scorsese and critic Bruce Eder, newly updated. There is also a 2005 interview with the late filmmaker George A. Romero who talks about the film's impact on him; The Sorcerer's Apprentice (1956), a short musical film based on the Johann Wolfgang von Goethe story and directed by Michael Powell; a collection of production designer Hein Heckroth's design sketches and paintings; gallery of behind-the-scenes and publicity photographs; and trailer. There's also the original essay by film historian Ian Christie.
If you're a diehard Powell & Pressburger fan, then this new Criterion Blu-ray upgrade should definitely be a winning addition to your collection.
Other releases:
Lawrence of Arabia (60th Anniversary Limited Edition): A brand new 4K release of David Lean's epic 1961 masterpiece starring Peter O'Toole as T.E. Lawrence, the infamous lieutenant serving as a bridge between the Arabs and the British in their battle against the Turks.
The Bridge on the River Kwai (65th Anniversary Limited Edition): A brand new 4K release of Lean's 1957 epic classic about allied commandos who are gathered deep inside the Burmese jungle to explode a strategic bridge built by British POWs.
The Northman (Collector's Edition): Director Robert Eggars crafts a violent tale of revenge as a Viking prince (Alexander Skarsgard) seeks vengeance for the murder of his father.
Kinky Boots: Chiwetel Ejiofor brilliantly plays a drag queen who comes to the rescue of a man (Joel Edgerton) who inherits his father's shoe factory but needs to diversify items if he wants to save it from closing permanently. Read my review.