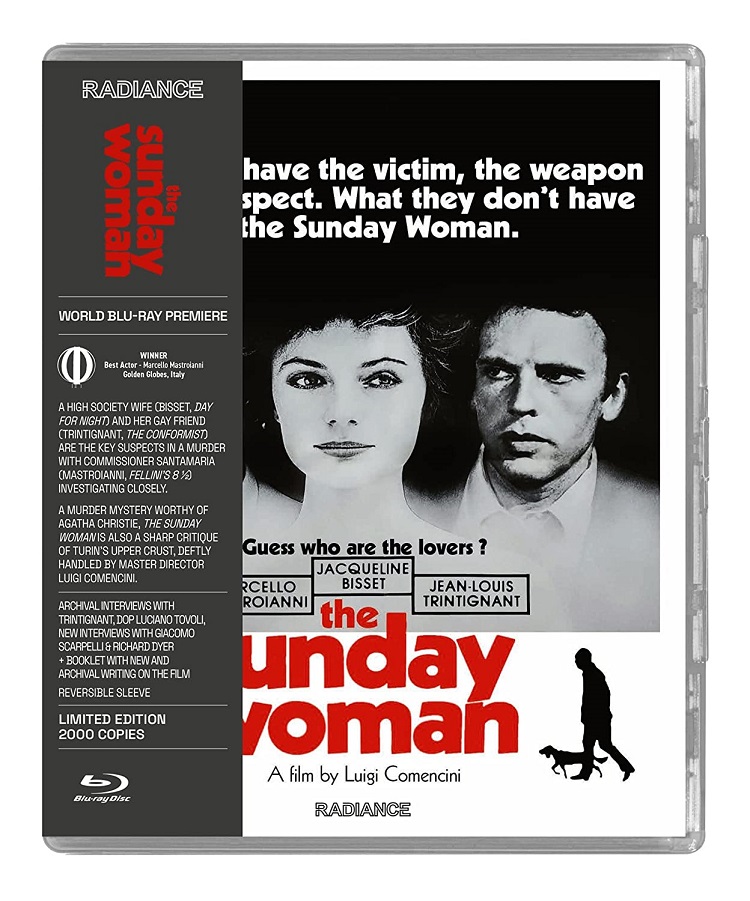 An Italian Poliziotteschi by way of Agatha Christie. A murder mystery that's more interested in high society and class distinction than the actual mystery. A police detective who is more smitten by his prime suspect than he is in solving the murder. A 1970s Italian film that is surprisingly progressive in its treatment of homosexual characters. The Sunday Woman is all of this and more. It is a strange little movie that defies expectations and genre delineations.
A lecherous architect (Claudio Gora) is murdered with his own enormous, stone phallus. Inspector Santamaria (Marcello Mastroianni) is called in to investigate. Two recently fired servants present a letter they found in the trash. It was written by a noblewoman, Anna Carla Dosio (Jacqueline Bisset), and seems to indicate that she and her friend Massimo Campi (Jean-Louis Trintignant) were planning to murder the architect. As cut and dry as that might seem, Santamaria is asked by his superiors to tread very lightly, for these suspects are important people – they have wealth, and titles, and good standing in the society.
He does tread lightly. So lightly in fact one could easily think he wasn't investigating at all. Most of the real detective work winds up being done by other people, ordinary citizens who have their own reasons for finding out who the murderer really is. Anna thinks of it all as a game. She's so used to being treated like royalty it never crosses her mind she could be in any real trouble. She's like Nora Charles in The Thin Man – a murder mystery is a fun way to pass the time. She also enjoys flirting with Santamaria. He likes that part too and keeps finding excuses to come by and ask her more questions.
Massimo is independently wealthy and gay. He's having a secret relationship with Lello Riviera (Aldo Reggiani) who works for the city in the planning department (something that will be important to the plot later on). He, too, is investigating the murder as he's desperately afraid Massimo will find himself in jail regardless of whether he did it or not.
And so it goes. Two regular citizens do the bulk of the investigating while the detective spends his time seducing the main suspect. In ten years, this type of plot would be turned into a Giallo. In twenty, it could become an erotic thriller. As it is, it is a leisurely-paced, quietly entertaining mystery, the kind your grandmother might watch on Sunday nights on ABC.
I suspect there is quite a lot of social commentary going on underneath it all. It does seem to be satirizing the Italian upper class, but most of that was completely lost on me as I don't speak Italian and I know nothing about Italian society. I do know quite a lot about murder mysteries and this one mostly fails to engage on that level. There are a lot of suspects with poor alibis, plenty of misdirection, and even an additional murder, but the question of who the killer is, and the actual answer was never all that interesting. As mentioned, the film never seems to care all that much, and neither does Santamaria. That last part isn't entirely fair. He does investigate. He asks a lot of questions and follows a lot of leads, and even stages a raid on a notorious park full of prostitutes. But he never seems in any hurry to solve the case, the leads were mostly generated by those citizen investigators, and the raid was ultimately suggested by someone else. None of it is particularly exciting.
But I did enjoy hanging out with these people. I'm afraid I've made the film sound rather dull. It isn't that at all. It just isn't the heart-pounding murder mystery you might come in expecting. It is satirical and often very funny (Santamaria often imagines those he is questioning lifting up that giant phallus and bashing the victim with it), but mostly it is a very enjoyable little character piece.
The gay characters are handled surprisingly well for a 1970s film. They are real characters with real feelings and desires. Their gayness is certainly a part of who they are but doesn't completely define them. Lello might be a bit of a stereotype, but he's also very much a real person.
The Sunday Woman is a bit of an oddity. But it is an enjoyable one. It has just been released by the relatively new company Radiance Films. They've given the film a new 2K scan from the original film negative which is presented in the original 1.33:1 and an alternate 1.85:1 widescreen presentation. Extras include new and archival interviews with the filmmakers, a lovely full-color booklet with two informative essays on the film, and a reversible sleeve featuring new and old artwork. I'll definitely be paying attention to their additional releases.