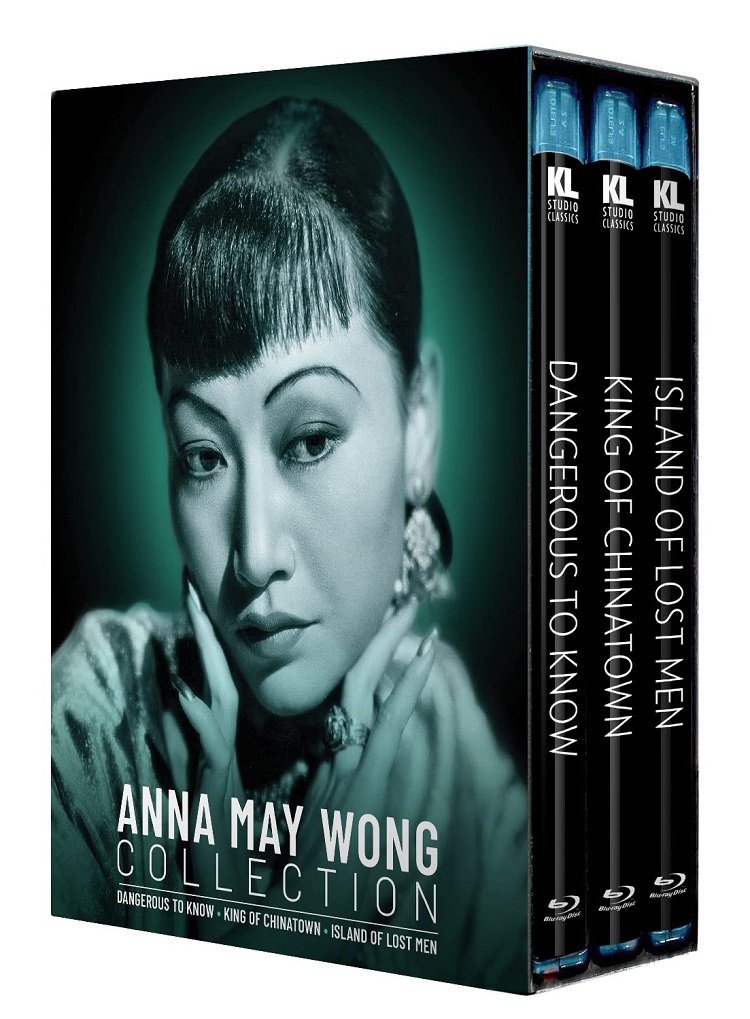 Well, hello there, old friends. It is your old pal Mat Brewster ready for another round of Pick of the Week, where I peruse this week's new Blu-ray releases and pick one out of the bunch as my favorite. That's a thing I did for many years before bowing out back in 2021. Things were a little hectic for me back then due to various personal issues I won't get into and a little thing called Covid. A huge thanks to Davy for picking it up and doing awesome things with it. He's not leaving us just yet, but he is getting older and a little more easily tuckered out so we'll be taking turns with the picks until further notice. It should be fun to see how each of us tackles each week's picks.
And without further ado…
Anna May Wong was a trailblazer. She was the first Asian American star in Hollywood. She was internationally famous and starred in numerous movies throughout the 1920s and 1930s. In 1951, she became the first Asian to star in a television series, the short-lived The Gallery of Madame Liu-Tsong. Throughout her career, she struggled against the racist views of the times and often found herself only being offered stereotypical Chinese roles. She often lost the part of romantic leads in films because the Production Code forbid interracial romances.
She is now considered one of the great actresses of early Hollywood. She recently became the first Asian American to be minted on a quarter, and Barbie has just announced she's getting her own doll. Kino Lorber Studio Classics is releasing three of her lesser-known films in a nice boxed set this week and I'm proud to make it my first Pick of the Week in a long time.
The three films included in the set are Dangerous To Know (1939) where Wong plays the mistress to an Al Capone-like gangster (Akim Tamiroff); Island of Lost Men (1939), a remake of White Woman (1933) with Wong in the Carole Lombard role; and King of Chinatown (1938) with Wong playing a surgeon who faces a moral dilemma while operating on a mob boss.
It is wonderful to see Anna May Wong continuing to get the attention she deserves, and I love to see more of her films getting the Blu-ray treatment. I can't wait to watch these.
Also out this week:
Wings of Desire 4K UHD (Criterion): The Criterion Collection continues to add to their 4K releases. Wim Wenders's beautiful, elegiac tale of an angel giving up eternity for a woman is a stunning film in every imaginable way.
Clash by Night (Warner Archive): Fritz Lang directed this fabulous noir-tinged melodrama with Barbara Stanwyck starring as a woman who couldn't make it in the big city and is forced to return to her dull small town. Robert Ryan is the love interest and Marilyn Monroe is the brother's girl.
The Sunday Woman (Radiance Films): A pretty good murder mystery that's more interested in satirizing upper-class Italian society than it is in solving the mystery. I'll have a full review up soon.
Film Noir: The Dark Side of Cinema XIII (Kino): I love these boxed sets from Kino Lorber. This one includes three films, Spy Hunt (1950) about some secret microfilm hidden in a pair of black panthers, The Night Runner (1957) about a mental patient released from the hospital too soon, and Step Down to Terror (1958) about a killer who flees to a small town and finds love with his dead brother's widow.
The Assassination Bureau (Arrow Video): Late 1960s British spy thriller with an all-star cast that includes Oliver Reed, Diana Rigg, Telly Savalas, Curd Jürgens , and Phillipe Noiret.
80 For Brady (Paramount Pictures): A bunch of old ladies (Lily Tomlin, Jane Fonda, Rita Moreno, Sally Field) have the hots for football star Tom Brady and crash the Superbowl to meet him.