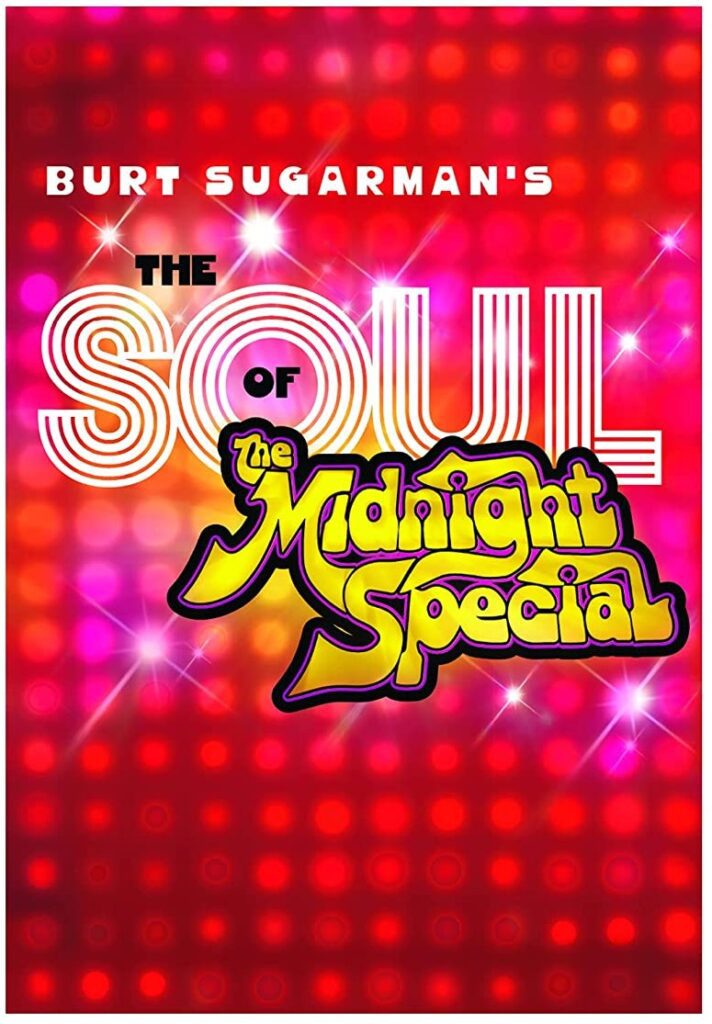 The Midnight Special ran a bit before my time, but through Time Life's The Soul Of The Midnight Special I now have a better understanding of why creator/producer Burt Sugarman's show was such a widely loved and respected hit for many years.
Originally airing Saturday mornings after The Tonight Show with Johnny Carson, Sugarman's midnight music show featured popular acts of the time. Rock bands, pop stars, country artists, soul singers, R&B groups, and comedians all showed up for the chance to perform their music and routines live in front of a cheering concert audience. Live! That's the key to the midnight magic. Every act that played The Midnight Special played live to the crowd in attendance and at home. No lip-syncing to studio-recorded radio songs just pure live music. That live energy flows with each electric set. The audience at home got a real chance to see and hear what those artists would look and sound like in person.
With such a variety of artists featured one had the opportunity to really appreciate an act they may not have been open to before. The performers themselves have fond memories of being able to watch entertainers they may never have had a chance to play with in a concert setting. Especially true for the soul/R&B acts highlighted here. The Midnight Special was able to shine a much-deserved light on these artists, showcasing their powerful and polished acts to the nation, further propelling and securing hit records.
DVDs 1-9 are a true tour of soul music's 1970s greatest hits. From groups such as The Spinners, The O'Jays, The Stylistics, The Chi-Lites, Blue Magic, The Manhattans, and The Main Ingredient to powerful solo artist like Al Green, Aretha Franklin, Curtis Mayfield, Barry White, Isaac Hayes, Bill Withers, Peabo Bryson, Teddy Pendergrass, and Lou Rawls. Funky bands with funky names such as Sly and the Family Stone, Kool and the Gang, Commodores, the Brothers Johnson, The Ohio Players, and Earth Wind and Fire. Discotheque favorites show up as well: LaBelle, Rufus and Chaka Khan, Chic, Sister Sledge, The Pointer Sisters, and Gloria Gaynor. We can't forget the icons of R&B and soul who came to the party too: James Brown, Wilson Pickett, Ray Charles, The Staple Singers, Diana Ross, and Marvin Gaye. They're all here making magic midnight music.
Highlights include many great R&B vocal groups who graced The Midnight Special stages over the years showing off their sweet harmonies, polished choreography, and fine threads. The six that come to mind instantly for me are The Spinners "I'll Be Around," The Stylistics "Betcha By Golly Wow," The Main Ingredient "Everybody Plays The Fool," The O'Jays "Love Train," Blue Magic "Side Show," and Gladys Knight and The Pips. While The Main Ingredient and Blue Magic stand out, it's Gladys Knight and The Pips that hit next level. Having nearly 20 years to sharpen their skills it shows in their four performances on these discs. Never flashy; just on time, on point, and in control on their hits "I Heard It Through The Grapevine" and "Midnight Train To Georgia."
The O'Jays and The Chi-Lites, especially, shine in their fashion forward, very '70s, macho, muscle- and chest hair-showing lime-colored suits, but no one can hold a hot style candle to the ladies of Labelle as they rock the stage in silver space suits as they belt out "Lady Marmalade." Well hold on now, there is also Sly and the Family Stone with their always unique attire getting you to "Dance To The Music."
Solo artists with standout appearances include Barry White as he conducts the Love Unlimited Orchestra as they perform "You're The First, The Last, My Everything" and Bill Withers as he croons "Ain't No Sunshine." Wilson Pickett holds his own as well in his time as host and powerful performer. Doing his hit "In The Midnight Hour," a 1960s staple, Pickett commands the stage and shows why he's still the Wicked Pickett. Not to be outshone of course, the Godfather of Soul himself, James Brown steps to the stage reminding everyone to "Get Up Offa That Thing."
There are also some great one-of-a-kind duets brought to The Midnight Special stage. Ray Charles and Aretha Franklin show "It Takes Two To Tango" while Marilyn McCoo and Billy Davis Jr chime in to say that "You Don't Need To Be A Star To Be In My Show." A hidden gem on this set is blues legend B.B. King getting Gladys Knight to help him and Lucille with "The Thrill Is Gone".
As the discs get shuffled and the years move along, we get some jumping disco standards. Donna Summer gets the mirrored ball spinning with "I Feel Love" and "Last Dance," which sets the stage for The Trammps' "Disco Inferno" and Peaches and Herb "Shake Your Groove Thing." At this point in time, The Midnight Special's soundstage is pretty much a dance floor. Gone are the tables and chairs and the camera now focuses on the wild dancers in the crowd, giving more of a Soul Train vibe than a variety show but it does make a great setting for Kool and the Gang to celebrate "Ladies Night."
Disc 10 is a special concert presentation of Marvin Gaye from the Atlanta stadium filmed in August 1974. This show was Marvin's return to the stage after a four-year layoff. He appears a little nervous, which is to be somewhat expected from someone who suffers from stage fright, but Marvin is still in command once he hits his stride laughing, joking, even wearing bracelets thrown from the crowd and dancing with his backup singers. Marvin delivers live renditions of his popular tunes, "Troubled Man," "Come Get To This," "What's Going On," a medley of his older material including "I'll Be Doggone," "How Sweet It Is To Be Loved By You" and his hit of the day, "Let's Get It On." The concert and prerecorded interview segments from behind the scenes and with his parents at their home show a sensitive young man doing his best to deal with fame, family, and the life of a popular recording artist. The scenes with his parents are especially moving due to how events would go down with them ten years later.
Time Life's beautiful, well-packaged (as always) 10-DVD set includes two solid constructed colorful cases with five discs each and a 40-page booklet filled with pictures, Burt Sugarman's reflections on the performers, and a disc-by-disc breakdown of the acts and songs performed. The booklet comes in handy when looking for the acts and songs you want to rewatch again and again. The picture quality is as good as can be expected from television film nearly 50 years old. Included on each DVD are interviews with a couple of the soul artists who appeared on that disc. Some of these segments were recently filmed for this box set while others are taken from the 1995 documentary History of Rock: Sounds of Soul. The Sounds of Soul segments are very insightful, filled with recollections on life and the music industry. Truly, a history-filled, memory-packed box set to treasure for many years.
One final note: it's clear to see where a generation of comedians got their inspirations for parodies, from Eddie Murphy to the In Living Color crew especially.