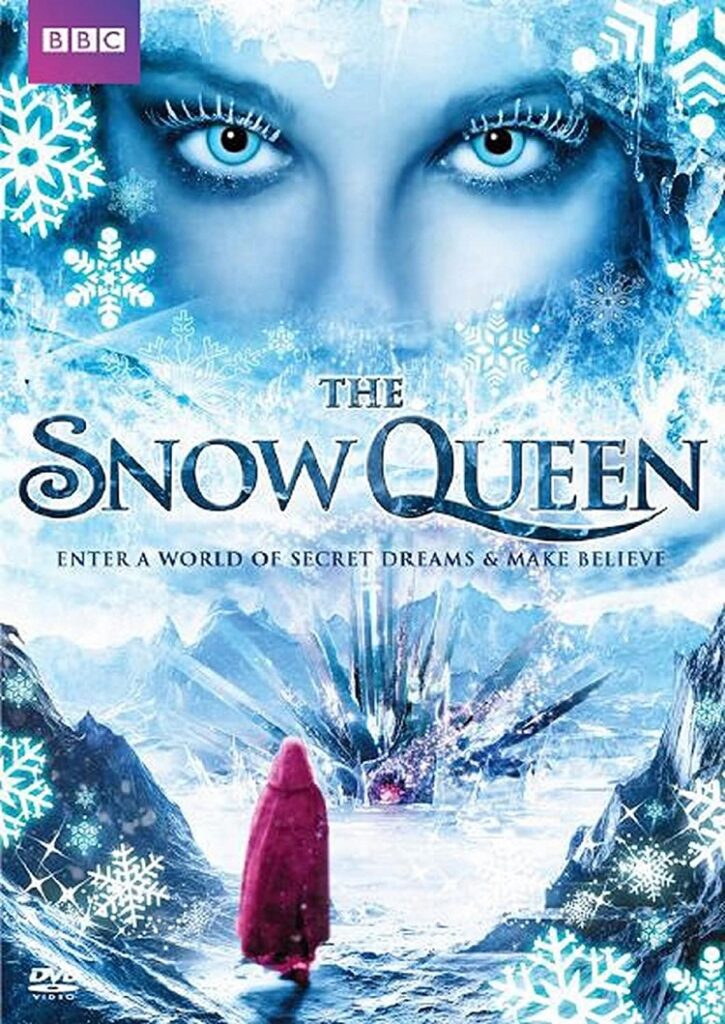 The Snow Queen, BBC's brief but visually and sonically hypnotic TV-movie adaptation of the classic Hans Christian Andersen tale of the same name, is a testament to the way music, cinematography, and art direction can provide 99 percent of a film's momentum when married thoughtfully and executed inventively. With no discredit to the cast, including Patrick Stewart as the voice of the raven, and Juliet Stevenson (Bend It Like Beckham, The Hour, Atlantis), it is the enchanting melodies and visuals that breathe magic into this experiment composer and executive producer Paul K. Joyce calls a "filmic opera."
Directed by Julian Gibbs, The Snow Queen was the brainchild of Joyce, who had written a series of operatic songs narrating the fairy tale for a concert in 2003. Stevenson served as narrator for the production; Sydney Rae White, who plays Gerda in the film, was the lead girl soprano; and Gibbs supplied the background visuals. The collision of artistic mediums apparently caused such a dramatic impact that Joyce convinced himself and Gibbs that it was worth reinventing the narrative for the screen.
Throughout the opening sequence it may prove difficult for the senses to decide whether the unique special effects—almost like a storybook come to life, albeit a surreal one—are mesmerizing or distracting, but the approach is certainly memorable. The music, too—again done by Joyce, with the help of the Royal Philharmonic Orchestra—sort of whisks you away on a snowflake into this frosty lair where everyone is a little too pale, few words are spoken but emotions are high, and where all walks of otherworldly folk can, and often do, cross your path.
The tone throughout Gerda's nearly hour-long journey to find Kay, the homeless boy Gerda convinces her mother to take in, but who goes missing after hitching his sled to the Snow Queen's sleigh while out frolicking, is definitely suited to a certain demographic. Lovers of fairy tales, fairies, author Angela Carter, magic, animated classic The Snowman, young British children singing angelically, or even the new Goldfrapp record, would likely enjoy this film because it has the ability to transport viewers from their couch right into a glittering snowbank, if they let it. But it may be a bit intense for the under-10 set, who could find certain scenes troubling (e.g., when Kay's eye is bloodied after being struck by an undetectable shard of looking glass which legend said embittered people's otherwise positive perspective, or when towering statue guards come to life).
Although the film and its somewhat flimsy plot doesn't have ample time to explore any one theme too deeply, narration and song successfully convey the importance of friendship, love, trust, perseverance, courage, and of course, the power of a single tear that encapsulates all the aforementioned fruits of the soul. That, in itself, makes it worth at least an hour of time. So does the spectacle that is the Snow Queen's castle, which Gerda finally reaches after her long trek.
Don't overlook the special features on this DVD edition. In "The Making of the Snow Queen," animation director Chris Sayer explains how he created 3D scenes out of 2D artwork, including a visual breakdown that demonstrates the way Gerda was inserted into a snow-covered environment, and layer upon layer was added until the final effect was achieved. There is also a featurette on Hans Christian Andersen with reenactments of various stages of his life and people from different age groups and cultural backgrounds discussing his influence on their childhoods. This remastered version, with director's commentary, has 5.1 surround sound and is currently available from BBC Worldwide for $19.98 U.S. / $24.98 CAN.