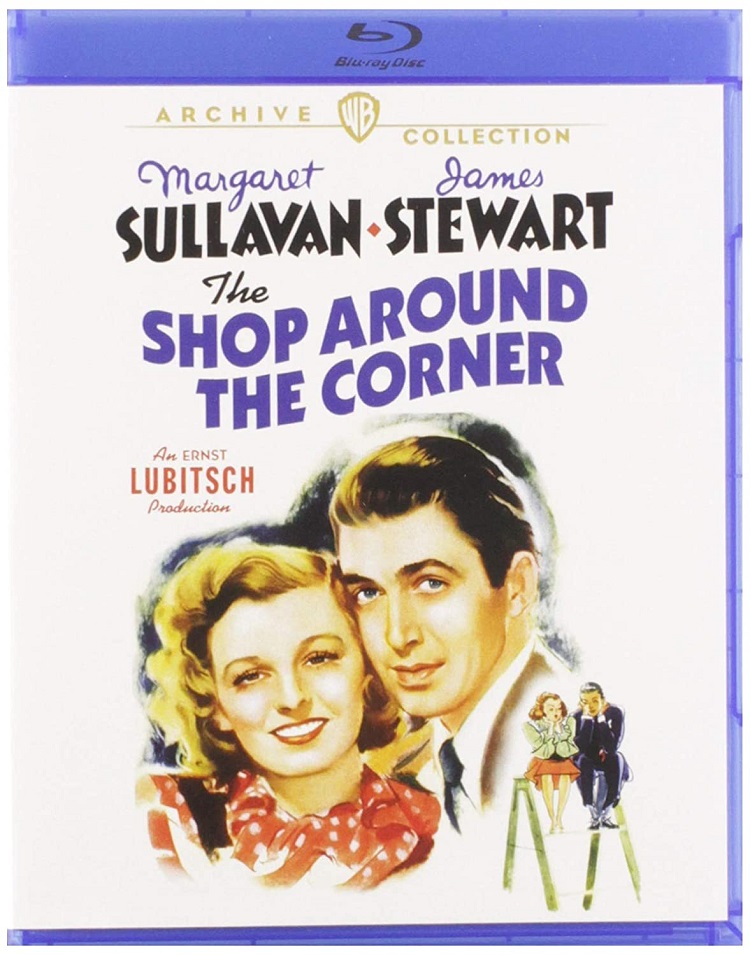 I don't have to tell you that legendary director Ernst Lubitsch remains one of the pioneers of the romantic-comedy genre of cinema. He always added his signature style and charm to every film he ever made. There is a reason why you still hear the phrase "the Lubitsch touch," especially in film circles. With his trademark humor, delicacy, and masterful way with words/dialogue, he was acclaimed to be a sheer influence by the likes of many iconic filmmakers, including Hitchcock, Welles, Truffaut, among others. He also wasn't afraid to bring some much-needed humanity and a sense of emotional realism to his films as well. And I think his charming 1940 classic, The Shop Around the Corner, is one of the very best examples of his genius.
Written by Samson Raphelson (based on the 1937 play by Miklos Laszlo), the film stars screen legend Margaret Sullavan and James Stewart (in the third of their four movies together) as Klara Novak, a new employee, and Alfred Kralik, the oldest salesman at Matuschek and Company, a general store in Budapest. They constantly bicker, have many disagreements, and are always at odds with each other. They both happen to have a secret pen pal (called "Dear Friend") in their lives, but little do they know that they both are each other's significant others, and have unknowingly fallen in love.
While this is the central premise, there are also other important details and characters surrounding it. There is the matter of Mr. Matuschek himself (Frank Morgan), the brash but lovable owner of the store. The other employees include Ferencz Vadas (Joseph Schildkraut), a two-faced adulterer; Pirovitch (Felix Bressart), a dedicated family man; Flora (Sara Haden), a clerk; Ilona (Inez Courtney), a saleswoman; and Pepi Katona (William Tracy), a highly precocious errand boy. This adds to some darker elements of the plot, as Mr. Matuschek discovers that his wife is having an affair with one of the employees. At first, he thinks that it is Kralik, so Matuschek basically lets him go (with a month's pay and a letter of recommendation), much to the chargin of everyone else. As it turns out, it's not Karlik but in fact Vadas who is seeing Mrs. Matuschek. Because of this and his guilt over firing Kralik, Matuschek tries to commit suicide, but Pepi saves him. So he later makes Kralik the manager until he is mentally fit to return, and tells him to quietly fire Vadas. In the end, everyone happily goes home for the holidays, and Novak discovers that Kralik is her "Dear Friend." They kiss and the film ends.
What makes this film such a timeless classic is not just the peformances from the cast, but how Lubitsch adds a touch of reality (which he was not known for at the time). The characters face real challenges and dilemmas (like the fear of losing their jobs and their way of life). They aren't people who live extravagant lives or have rich social standings (like those of Lubitsch's previous films), they are ordinary citizens who live ordinary lives and have ordinary jobs, with which they need to survive. There is a reason why they always say "they don't make 'em like this anymore", and this definitely applies to The Shop Around the Corner.
The new Blu-ray from Warner Archive includes the extras A New Romance of Celluloid- The Miracle of Sound, two radio adaptations from 1940 and '41 from the Screen Guild Players and Lux Radio Theater, and a delightful four-minute trailer. With a classic film this charming, you wish that Criterion would have picked it up, but it's nice that we have this release to enjoy, so it isn't too bad.
Not only is this film a prime example of how terrific and uncliched that romantic comedies used to be, but it's also one of the perfect Christmas movies ever made, and one that should forever be a definitive cinematic tradition for the holidays. A silver screen classic indeed.