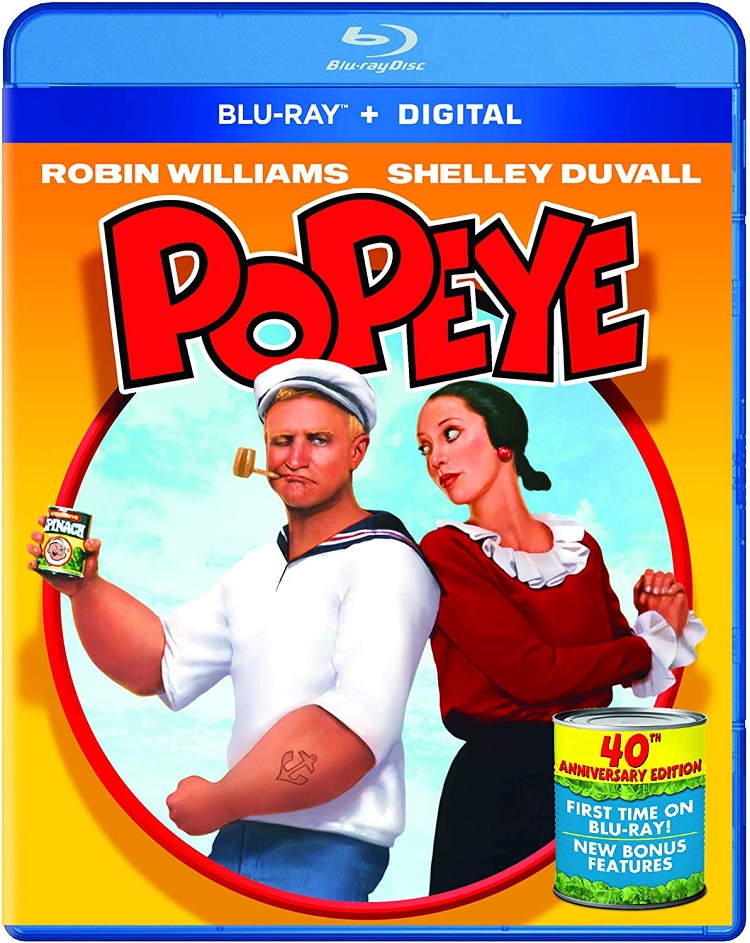 That Popeye got made at all is a small wonder. That it is really quite wonderful is nothing short of miraculous. This was 1980, a time when comic book movies were barely a blip in anyone's radar. Superman had been a huge success in 1978 but that's pretty much it. Director Robert Altman had big successes with M*A*S*H and Nashville but most of his movies were critically acclaimed and box-office duds. His Hollywood outsider status and unusual directing style would presumably not make anyone automatically think of him as the guy to direct a musical based upon a comic strip aimed at kids. Robin Williams and Shelley Duvall were known actors but Williams was only known for Mork & Mindy and had not yet made the jump to movies, while Duvall was mainly known by art-house nerds for playing in most of Altman's films up to that point. And then there is the music by Harry Nilsson, a counterculture icon who is probably best known for "Coconut", the goofy pop tune that made a comeback in Quentin Tarantino's Reservoir Dogs, or "Everybody's Talkin'", which was featured on Midnight Cowboy and earned him a Grammy but was actually written by Fred Neil. But he had no background in musical theater and was by no means a sure thing. The point being none of these things make any kind of sense from either a cinematic or a business perspective. All of those different people making a musical version of a comic strip in 1980 sounds as crazy now as it must have back then.
You can thank (or blame, depending on your perspective) Robert Evans for Popeye's existence. The maverick producer was upset at not landing the movie rights to Annie, the massively successful Broadway musical (also based upon a comic strip) and was looking for another strip they could turn into a musical. Someone mentioned Popeye and he was off to the races. Altman was probably more responsible for hiring Williams, Duvall, and Nilsson, but without Evans, none of it would have happened.
Popeye was not a big commercial hit when it came out in theaters. Critics didn't care much for it either. But it gained a cult following once it hit the home video market and it was a mainstay on cable television during the 1980s. I can remember watching it every time it came on HBO or Disney or whatever premium channel my parents were subscribed to at the time. I have fond memories of acting out various scenes from the movie with my cousins.
But I also remember it being just a little strange. As a kid, I loved the action sequences which involve Popeye (Williams) hitting someone's head like a punching bag, or getting corkscrewed into the dock by Bluto (Paul L. Smith). But I also remember being a bit bored by the interludes between fights. The songs were definitely not something that I loved at the time but they stuck with me. When Paul Thomas Anderson used "He Needs Me" for Punch Drunk Love in 2002, I was flooded with nostalgia.
Watching it now, I feel much the same, only more so. The plot, such as it is, feels more like a series of vignettes than a cohesive story. Popeye shows up in the seaside village of Sweethaven looking for his father. There he discovers a town full of lunatics. It's run by a recluse who lives on a boat and is only known as the Commodore (Ray Walston). Bluto is his enforcer, scaring the town's citizens into obedience to his every whim. Upon stepping foot into the town, Popeye is immediately accosted by the taxman (Donald Moffatt) who charges him for everything he can think of.
Olive Oyl (Duvall) is engaged to Bluto, but the only nice thing she can find to say about him is that he's large (and it was only adult "me" who recognized the double entendre inherent in that description). Sneaking out of her own engagement party, Olive and Popeye stumble upon an abandoned baby in a basket. Popeye fights Bluto, several no-goodnicks in a bar, and boxes a giant at an exhibition match. Olive gets excited when she learns the baby, Swee'Pea, can seemingly pick the winners of any sports contest, but not before Wimpy (Paul Dooley) steals the baby away to help him with some winnings at the local gambling den (presumably to buy a few more hamburgers). The father is found, a treasure is sought, and it all winds up with Popeye eating his spinach and fighting an octopus.
Altman films it with his usual casual air. The dialogue overlaps, the songs are interrupted by bits of conversation, and Robin Williams' mumbling as Popeye got so bad he had to redub most of his lines (he still mumbles through the entire thing but you can mostly understand what he's saying). The fight sequences are still a lot of fun, but now they seem really big and broad, which was perfect for little me, and remain so for my nine-year-old daughter. Watching it again, I find I adore the songs. They are sweet and beautiful, and just about as perfect as a pop song can be.
The set is a thing of wonder. They constructed an entire town on the Malta seashore. They built buildings they didn't even need just so it would look bigger in wide shots. The entire thing still exists to this day as a tourist attraction and I'm tempted to books flight just to see it. Such is its grubby grandeur.
It still feels just a tad too long. I think they could have cut the whole boxing sequence and I wouldn't miss a thing. Well, maybe Linda Hunt's performance as the enormous boxer's mother, but I'd live without it. I love its messiness. I love how bizarre a film it must have been in 1980, and how bizarre it remains as a historical artifact. I love Robin Williams with blonde hair and having something to prove. I love Shelley Duvall most of all. She was born to play this part. Nobody has ever been more perfect for a part in the history of cinema.
It is a deeply strange little film. One that is not at all perfect and yet somehow it is a small miracle just the same.
For its 40th anniversary, Paramount presents Popeye for the first time on Blu-ray. Extras include several new making-of featurettes which include snippets of archival interviews with Williams and Robert Altman, and a new one from Stephen Altman.