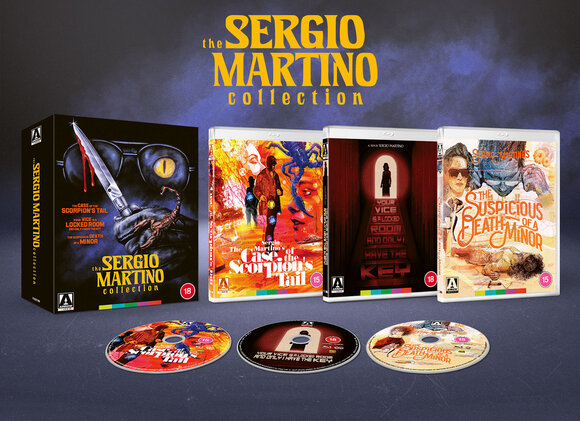 So, you've seen the Dario Argento gialli (highlights include The Bird with the Crystal Plumage, Deep Red, Suspiria, and Tenebrae), the Mario Bava (The Evil Eye, Black Sabbath, Blood and Black Lace, and Bay of Blood). Where to next, in the pantheon of classic Italian horror? Lucio Fulci, you say. And indeed, Fulci excelled at gialli before he upped the gore quotient and sired gross-out films of the first degree (Zombi 2, The Beyond, and The House by the Cemetery, just to name a few).
Look no further, I'd suggest, than Sergio Martino, the director given the box set treatment with Arrow Video's The Sergio Martino Collection, out last month.
Martino is not a stirring obsessive like Argento; and while he lacks the bold artistic eye of Bava or Argento, he's a skilled craftsman just the same—and the films assembled here, in this writer's opinion, vanquish any doubts on the subject.
In The Case of the Scorpion's Tail (1971), a widow travels to Athens, Greece, to collect her husband's life insurance. Other nefarious types, however, have murderous designs on the fat sum of cash. Among the folks looking into the case are a reporter (Anita Strindberg) and a private investigator (George Hilton) who become entwined as someone with a straight razor starts to pick off anyone with a claim on the money. The Scorpion's Tail is more of a swank thriller than an out-and-out giallo. (I say that because the horror elements aren't as loud. Technically, though, I could be wrong.) Despite a middle third that sags, the story held my interest. Strindberg and Greece look stunning, and Bruno Nicolai's score is top-drawer. Extra credit goes to Martino for one striking death scene, which uses slow-motion to great effect—as good an example of his command of craft as anything else he directed. Verdict: well-made but forgettable fun.
Next is Your Vice is a Locked Room and Only I Have the Key (1972). Inspired by "The Black Cat," a short story by Edgar Allan Poe, Your Vice (sporting the best title in giallo history, and a cat named Satan) is a near-masterly portrait of a bad marriage between Oliviero, a drunk writer (Luigi Pistilli, who played Tuco's brother in The Good, the Bad, and the Ugly), and Irina, his beleaguered wife (Strindberg). When vicious murders rock their country manor and the town nearby, Oliviero becomes a suspect, and Irina (questioning her sanity) fears for her life. This is a great giallo, and the best of the titles in this set. A bleak and claustrophobic movie that doesn't skimp on the violence or decadence of some rather nasty people, Your Vice works because we sympathize a ton with Irina. It also works because Martino juices the atmospherics. The impossibly gorgeous Edwige Fenech, a Martino muse of sorts, co-stars. Verdict: nasty excellence.
Lastly, we have The Suspicious Death of a Minor (1975). The movie is up to something novel—but only as far as it may sound on paper like an intriguing mixture of elements (broad comedy, giallo, and poliziotteschi [think: police procedural]). Claudio Cassinelli plays a cop who investigates the murder of a teenage female prostitute. The responsible party is well-connected and always a step ahead, dispatching any witnesses before incriminations might stick. Sure, there's throat-slitting akimbo; and yes, we're in seedy territory here—but Martino's tonal mélange never gels. (Is it supposed to be funny that Cassinelli's glasses keep breaking but stay wearable?) The Suspicious Death is not a total waste, however. Two action sequences (the car chase and the rollercoaster shootout) spur it along just when it needs them, and the Luciano Michelini score is such a blatant rip-off of Goblin's music for Deep Red that it made me smile. Verdict: a mashup any dedicated Martino fan should see, but a subpar effort.
Sergio Martino gialli (at least the ones I've seen) have much in common (e.g., lots of exposed breasts, Ennio Morricone-influenced musical scores, black-gloved killers, and fun reveals and twists). They offer an array of vicious characters, too—a fixed item of the subgenre. And while Martino occasionally scored bullseye on movies (All the Colors of the Dark, The Strange Vice of Mrs. Wardh, and [my personal fave] Torso) that fall a tier or two below the cream Argento of the era, it's hard to dismiss the craft. At Martino's best, his gialli commit—to giving the audience what it might expect, and then pulling the rug out from under it—forcing us, Psycho-style, to shift our sympathy for certain characters, and to guess 'whodunit' as bright red blood tides in and the tension mounts. This box set would be easier to recommend unreservedly had it included the Arrow Blu-ray of Torso. That film's absence from the collection makes no sense. Still, with this release, the company (true to form) has done itself proud yet again.
Each high-definition Blu-ray has the special features that were on the original standalone Arrow Blu-ray of the film. And people, we're talking boatloads of features: reversible, newly commissioned sleeve art, retrospective interviews with Martino, original Italian and English soundtracks, miscellaneous interview appreciations (Eli Roth extols Your Vice), historical analyses by assorted authors and historians, and audio commentaries by scenarist Ernesto Gastaldi and others.