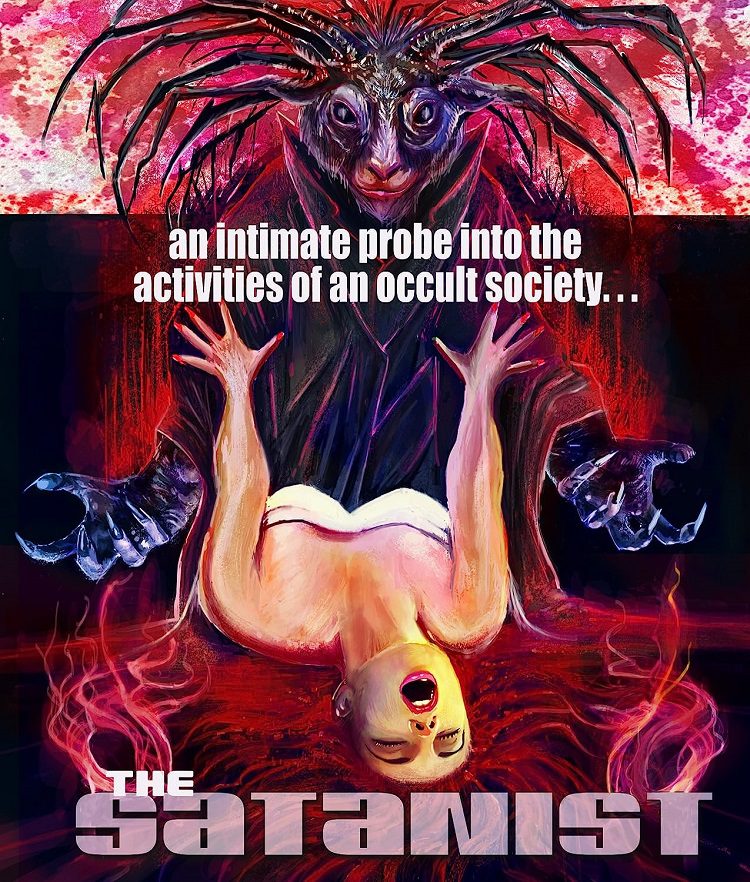 Like absent remote controls and missing keys, lost films also have a tendency to pop up once in a blue moon, thus restoring a fraction of faith to movie lovers everywhere. And while movies such as the Silent Era's London After Midnight remain just as elusive as ever, a small percentage of that aforementioned fraction of faith is nevertheless present when even something far less famous (and infinitely more obscure) magically re-appears after more than 40 years of complete and total nihility. In fact, the enthusiasm over the rediscovery of something few people have ever even heard of can be far greater when the motion picture in question is a weird ol' cheaply made, black-and-white sexploitation/horror nudie cutie hybrid such as The Satanist.
Even if referring to a flick like The Satanist as a "motion picture" may be something of an oxymoron.
Manufactured by a feller whose own life has been equally obscured by the sands of time, one Spencer Crilly ‒ better known to certain cult film aficionados by his (most popular) alias, Zoltan G. Spencer ‒ The Satanist was a no-budget wonder initially released in 1968. By the time 1970 rolled around, the film had been consumed by a great cinematic black hole; nary a print of the film would be found again until a 35mm copy turned up and was screened in 2014 ‒ an event which surely must have garnered more than just a few giggles and guffaws from the disbelieving audience, but also a sensation of giddiness. After all, whether it's good, bad, or really weird, it truly isn't every day that a previously-thought-to-be-utterly-lost film turns up!
Playing like a series of softcore 8mm loops sewn together with newly-shot segways, this first credited (or at least known) offering from Mr. Spencer (who reportedly departed from this world in 1977) opens with a man (none of the "actors" appearing in this photoplay are credited by anything more than generic first names) who, despite possessing a superfluous amount of body hair, has the audacity to claim to be a writer. Said hero, who, for the sake of this article, we shall refer to henceforth as Harry, has been recovering from a nervous breakdown (presumably due to having seen his fully nude self in the mirror). Together with his wife ‒ whom we will call Horny, since that's what she is ‒ Harry scoots off to a quiet suburban neighborhood somewhere to recuperate.
Naturally, Harry wants to write. Horny, however, has other ideas. Alas, it has been so long for poor dumb Harry, he can't even remember how to remove his wife's panties.
Things go from awkward to awfully cumbersome once Harry and Horny each fall under the spell of their busty next door neighbor, who is actually a Satanic priestess of some sorts. After lots of voyeurism, sexy dream sequences, and about as much on-screen dialogue as London After Midnight itself, Harry and Horny wind up at The Satanist's grand weekend party. As guests of honor. And that's when things go from awfully cumbersome to downright "Hey, that's my wife you're having simulated softcore gangbang sex with whilst wearing a big-ass horned critter mask!" And yet, strangely enough, Harry doesn't seem to mind all that much. After all, it's justpossible Harry's story is little more than "the product of an incurably sick mind," as he says (courtesy of some very bad dubbing) in the opening of the feature.
Clocking in at just barely over an hour and accompanied by a soundtrack which is heavy on out of tune stringed instruments (the score is credited to "Moe," indicating the shame felt by the onscreen individuals was not entirely limited to just them; you may also ponder making a pact with Satan in the hopes Pete Townsend will show up offscreen to smash Moe's guitar, so beware), The Satanist returns to entertain other incurably sick minds via a recent addition to the home video foray, Garagehouse Pictures. A new 4k scan of the only known 35mm print was made to bring us this dirty ditty, while the film's soundtrack was digitally remastered from original optical tracks (the film was obviously shot silent; an anonymous voice actor provides sporadic narration).
Though the movie and just about any and every person/article related to it may have disappeared from history altogether in the years that have followed, Garagehouse Pictures have nevertheless managed to give us some special features for The Satanist. First off is an audio commentary with Temple of Schlock's Chris Poggiali and The Rialto Report's Ashley West, the former of whom also contributes some liner notes for this Region Free Blu-ray release. A newly-made teaser trailer is also included, as are peeks at other Garagehouse titles, the almost impossible to fathom Ninja Busters (which looks so bad, I think I have to see it now) and two extreme Trailer Trauma compilations. Newly-commissioned artwork by Stephen Romano adorns the disc's sleeve.
Lastly is a much-appreciated second feature, Sisters in Leather. Also hailing from Zoltan G. Spencer's incurably sick mind, this 1969 softcore sexploitation/biker oddity finds a less-hairy protagonist (once again, the cast hides behind single forename aliases) who gets blackmailed by a trio of lesbian bikers, the leader of which (the great Bambi Allen) is, naturally, named Butch. The bad beauties kidnap the wife of our hero, who calls on some male bikers for help. There's also a bit where Butch's girls ride their bikes in the buff which only seems to last for twenty-eight hours, one actress accidentally shows off more than she's supposed to in one memorable scene, and Ed Wood's Orgy of the Dead's Pat Barrington (who also pops up in The Satanist) has a cameo as a stripper (shocker).
Available on mail-order VHS and DVD-R from Something Weird Video once upon a time, Sisters in Leather also gets a High-Definition makeover here ‒ remastered from the original camera negative ‒ and, despite it not being a "horror" oriented title like the main title, is nevertheless an ideal companion for The Satanist. Ultimately, Zoltan G. Spencer's Sisters in Leather benefits from better (?) production values, namely being shot with actual sound (and it's as gleefully bad as you'd expect/hope it would be, I assure you). The soundtrack for the first few minutes of the film has vanished, so we get some looped music and subtitles for a short spell, which isn't at all distracting. I mean, just like the film's poorly-portrayed, stereotypical, oversexed, lovelorn women on motorcycles, we will take whatever we can get, right?
In fact, truth be told, if the folks at Garagehouse Pictures are trying to bring back the delightful era of sexploitation double features which Something Weird Video used to lovingly assemble when DVD first came out (the titles of which included several other Zoltan G. Spencer offerings), I think it's safe to say they're on the right track. And I'm sure you'll agree with me once you get all wrapped up in those Sisters in Leather and The Satanist casts her ol' black-and-white magic on you. So lose your keys, find the remote, and sit back to enjoy two obsurities from the shapely ghosts of sinema's past.
Highly Recommended.