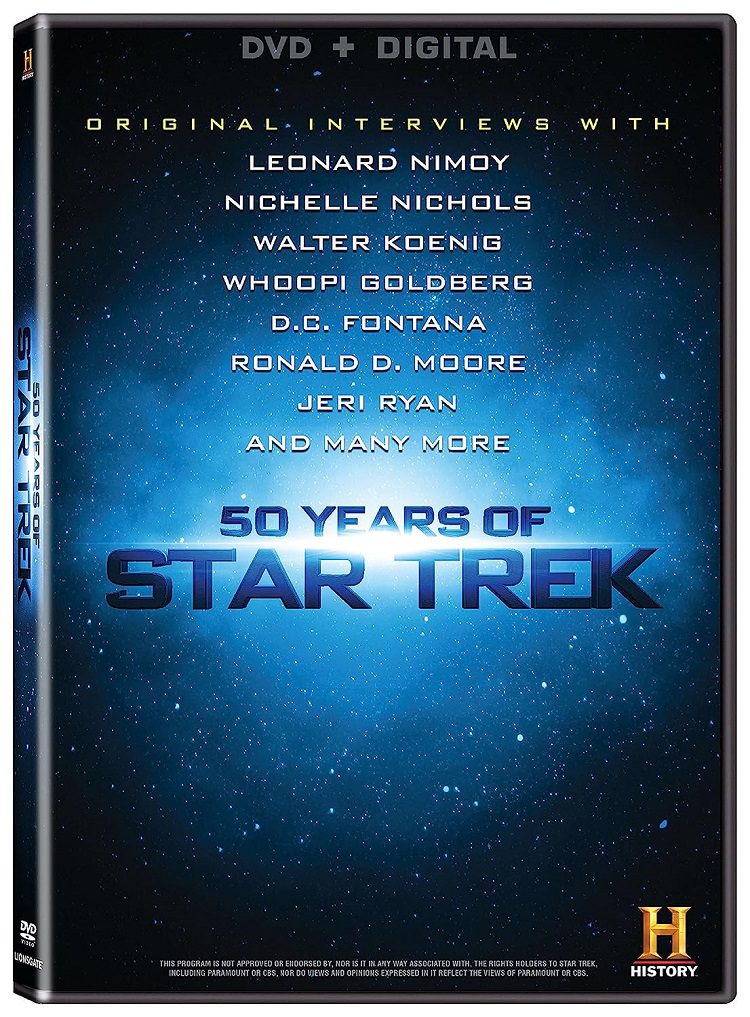 The entertainment phenomenon that is Star Trek celebrated its 50th anniversary in September, and with the first television series giving life to five more series and thirteen motion pictures, the incredible fan base was set for something spectacular to commemorate such an auspicious occasion.
One could argue that there would be no way to please everyone if a documentary of the history of Star Trek was to be created. If you were to fill a room with Star Trek aficionados and open the discussion on which was the best series, the best captain, or the best motion picture, you would quickly discover that since Gene Roddenberry created the franchise, no one has been able to create something that all those in the Star Trek realm loved. Nonetheless, for the 50th anniversary, director Ian Roumain and A&E studios set out to boldly go where no man had gone before.
On August 14th the History Channel aired the documentary 50 Years of Star Trek, with the DVD release hitting shelves seven weeks later on November 1st. The initial reaction when picking up the DVD is "85 minutes!"? "How are they going to cover 50 years in 85 minutes!"? Sadly, the answer is; "They're not".
Since the release is touted as "Feature Length" you could easily include it with The Motion Picture, The Final Frontier, Nemesis, and Into Darkness as some of the biggest disappointments in the franchise. Yes, the inclusion of those films in the category of "Disappointments" will glean a negative reaction from some, but ultimately there will be little argument that this documentary fails to do justice to this iconic franchise. Those looking for an understanding of how all that which is Star Trek came to be, those who know all there is to know about Star Trek, and those in between, deserved more than 85 minutes. More importantly, they all deserved better.
It appears that the first thing the production team did was put together a panel to talk about Star Trek. Choosing to ignore the fact that fans have been talking about Star Trek for fifty years, they somehow thought there would be added value in allowing fans to watch others do so. The panel consists of Matt Mira, comedian/co-host Nerdist Podcast; Kevin Pollak, actor/comedian; John Putman Ph.D., Associate Professor of History, San Diego State University; Jeri Ryan, Seven of Nine on Star Trek: Voyager; Bobak Fardowsi, "Mohawk Guy," NASA Engineer Jet Propulsion Laboratory; and Doug Drexler, Special Makeup Effects Artist, Star Trek: The Next Generation. The panel gathered at the Griffith Observatory – Leonard Nimoy Event Horizon Theatre. We know this because apparently an editor couldn't be hired to spend 20 minutes removing the transitions that existed when the televised version went in and out of commercials. So, it's not bad enough that much of the 85 minutes is taken up by the panel talking about Star Trek, but time is consumed by continually showing us that they are at the Griffith Observatory – Leonard Nimoy Event Horizon Theatre.
Once we get into Roddenberry creating Star Trek, the documentary finally begins to deliver upon its title. Sadly, as we travel beyond the original series, we get less and less insight into the respective shows and films, with Deep Space Nine and Voyager given little time and Enterprise treated as an afterthought.
Interview with cast members and writers are clearly the highlight here, as stories from Leonard Nimoy (In his last interview) Walter Koenig, Nichelle Nichols, Jonathan Frakes, D.C. Fontana, Whoopi Goldberg, and many more, truly give fans what they want. Unfortunately, we get too much of some (Goldberg) and not enough of others. All of the captains are absent here as well as George Takei.
The list of actors who made guest appearances on the television series or in the movies is extremely long and hearing any of them speak of their experiences would have been far more entertaining and enjoyable then listening to the panel. Five minutes of Joan Collins talking about her experiences while filming "City on the Edge of Forever" is preferable to any of the panel segments and that is just one of many possible options.
This release even makes it challenging for the viewer to enjoy clips from the series as the segments are cropped on both sides and an annoying and distracting effect is added. This may have to do with the compatibility of the formats but there were clearly better options.
Ultimately, it is the fans that lose here as they fail to get what is deserved. More time and money has been spent on far less-worthy projects. This could have and should have been done as a ten-hour production shown over five nights. With an already locked-in audience, this would have been a ratings super nova. Perhaps my vision of what this entertainment phenomenon deserved on its 50th anniversary is too ambitious. I imagine many told Gene Roddenberry the same thing 50 years ago.
Recommendation: Put on a red uniform before you cue it up because you're going to experience a slow, painful, and frustrating death when you watch it.