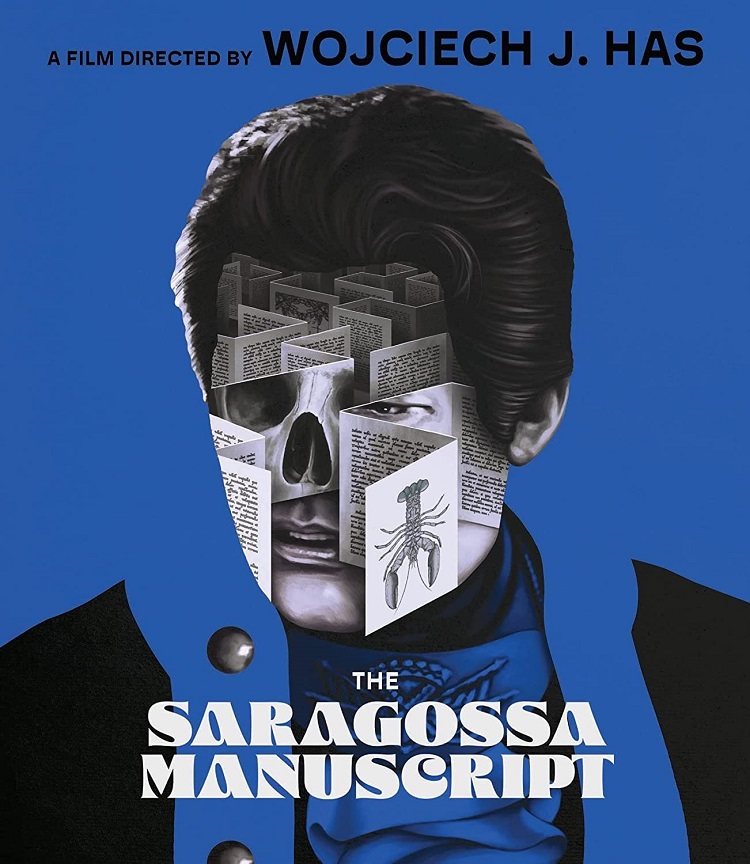 When a movie is loved by such diverse folks as Martin Scorsese, Luis Bunuel, and Jerry Garcia, you know it has to at least be interesting. Based on a novel by Jan Potocki (who was a fascinating man, and interestingly killed himself with a bullet fashioned from a silver strawberry, believing himself to be a werewolf), The Saragossa Manuscript is set in the Napoleonic Wars and tells the story of an officer who finds a strange book. The film contains stories within stories within stories as the officer reads the book and we are taken inside the stories it tells (sometimes characters within a story tell stories and we're taken inside those stories and then those characters tell stories, etc. in a large, confusing loop). It has been a long time since I sat down to watch it but I remember it being a delightful, surrealistic, and strange little film. I can't wait to watch it again.
Yellow Veil Pictures presents The Saragossa Manuscript in a limited edition slipcover full of interesting extras including essays, film notes, and discussions from film critics.
Also, out this week that looks interesting:
65 (Sony Pictures): This "Adam Driver fights dinosaurs in the distant past" movie got terrible reviews, and bombed at the box office but it looks like a great movie to watch at home after you've had a few.
Dungeons & Dragons: Honor Among Thieves: I grew up in the 1980s with conservative religious parents. This meant I lived through the first stage of Dungeons & Dragons mania and the Satanic Panic movement. This in turn meant I desperately wanted to play the game and was also not allowed to by my parents. I was never quite sure why I couldn't play the game – there was some rumor that kids who played the game got really into it and this somehow caused them to join the dark side. Or something. Several decades later I've still never played the game, but remain fascinated by it. This movie adaptation has gotten strangely rave reviews and it looks like a lot of fun.
Thelma & Louise (Criterion Collection): Ridley Scott's modern classic finds two accidental outlaws (Susan Sarandon and Geena Davis) on the road across America fleeing the cops and possibly their past lives.
Mexico Macabre: Four Sinister Tales from the Alameda Films Vault (Indicator): Four films (Black Pit of Dr. M, The Witch's Mirror, The Brainiac, The Curse of the Crying Woman) from the vaults of one of Mexico's best-known film companies offers uniquely Mexican takes on ghosts, witches, and monsters.
Film Noir: The Dark Side of Cinema XIV (Kino Lorber): Another great set of lesser-known film noirs from Kino Lorber. This one includes three films (Undercover Girl, One Way Street, and Appointment with a Shadow). I'll have a full review up later this week.
Five Women For the Killer (Vinegar Syndrome): This Italian Giallo follows the investigation of a killer who targets pregnant women.
The Last Starfighter (Arrow Video): Arrow released this film on regular Blu-ray a few years back (you can read my review) and now they've given it a nice 4K upgrade (they seem to have kept all of the old extras and not added any new ones).
The Hourglass Sanatorium (Yellow Veil Pictures): Surrealistic film from Wojciech Has finds a young man on a journey to see his dying father and encounters a series of hallucinogenic visions on the grounds of a mystical, old hospice
Trouble in Mind (Shout Factory): Alan Rudolph wrote and directed this modern noir starring Kris Kristofferson as an ex-cop who has just been released from prison for killing a man and Keith Carradine as a drifter who gets in trouble with the mob.
Queen Christina (Warner Archive): Greta Garbo stars as the Queen of Sweden who dresses like a boy in order to escape being a queen for a little while.
From Hollywood to Heaven: The Lost and Saved Films of the Ormond Family (Indicator): Nicolas Winding Refn presents this series of films made independently by a family from Nashville. The films include westerns, stripper musicals, exploitations flicks, and a series of religious films made after the family had a near-death experience and turned to Jesus.
Danza Macabra: Volume One — The Italian Gothic Collection (Severin Films): The Italians were masters of making shadowy, spooky films staring beautiful women in flowing gowns stalking the dark corridors of creepy castles. This set includes four such films (The Monster of the Opera, The Seventh Grave, Scream of the Demon Lover, and Lady Frankenstein).