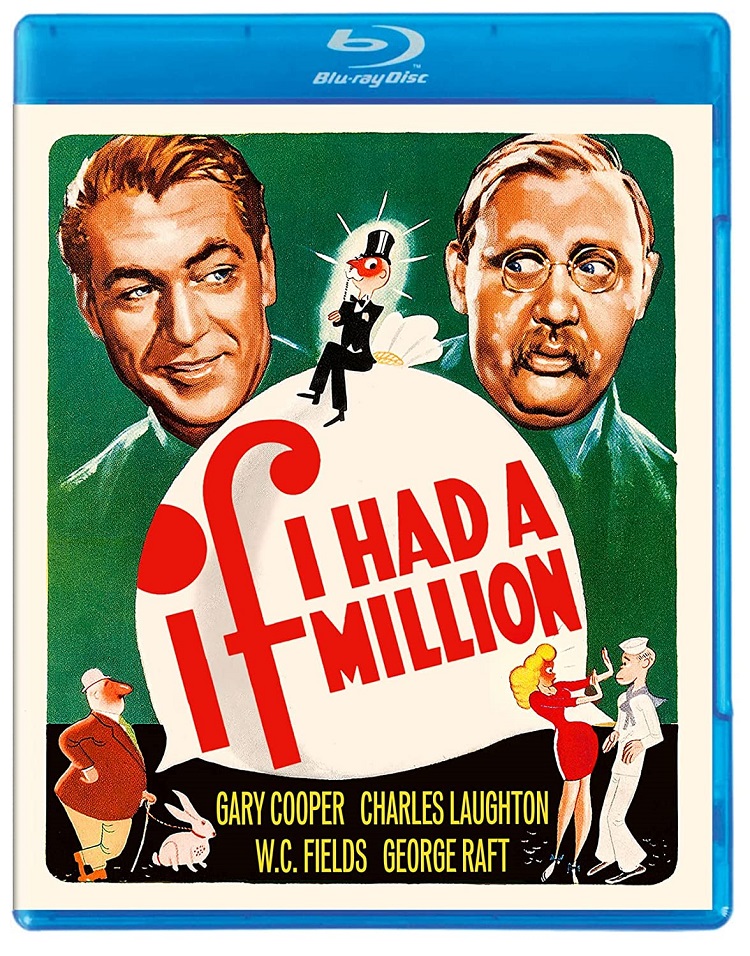 Based on Robert D. Andrews' 1931 novel Windfall, If I Had a Million is an anthology credited to seven directors, including notable names such as Ernst Lubitsch and Norman Z. McLeod, and sixteen writers, including Joseph L. Mankiewicz. Yet with all that creative talent attached, not to mention a cast that includes Gary Cooper, W.C. Fields, and George Raft, the film delivers mixed results.
Ailing steel tycoon John Glidden (Richard Bennett) has no faith in his family nor his employees, so the crotchety old gentleman gives away a million dollars each to eight strangers randomly selected from the phone book. How they respond is shown in separate vignettes.
"China Shop" finds Henry Peabody (Charles Ruggles) frustrated with his job because they take the cost of the objects he breaks out of his pay. His wife is frustrated by the diminished paycheck and lets him know. After receiving Glidden's check, Henry returns to work emboldened which has comedic results. "The Clerk" tells a similar but less humorous story of clerk Phineas V. Lambert (Charles Laughton) giving his boss what for in one of the film's shortest segments.
Eddie Jackson (George Raft) is "The Forger". He's on the lam after a bank stops him from cashing a stolen check and can't get Glidden's check cashed. The story concludes with a good, O. Henry type twist. Emily La Rue (Alison Skipworth) and her husband Rollo (W.C. Fields) get a brand new car, which is wrecked right after they obtain it by a driver who ignores a stop light. After receiving her check, the pair buy eight used cars and hire drivers for them. They take the fleet out to seek revenge on other bad drivers, dubbed "Road Hogs," with hilarious results.
In "The Three Marines," Steve Gallagher (Gary Cooper) believes the check is a gag because he receives it on April Fool's Day. Having no money to take waitress Marie to the carnival, he pulls a fast one by telling restaurant owner Zeb, who can't read, that it's a $10 check and signs it over in exchange for a sawbuck. He soon finds out his assumption is wrong.
"Grandma" finds Mary Walker (May Robson) in a rest home with other elderly women. Rather than allow the ladies dignity in their final days, Mrs. Garvey runs the place like a prison camp with a bunch of onerous rules. Mary stands up to Garvey, and Glidden's check allows her to improve everyone's lives. Well, almost everyone.
In addition to "The Clerk," there are two other weak stories. "Violet" (Wynne Gibson) is a prostitute who gets herself the best room in a hotel to sleep alone…and that's it. No conflict, not much a story. The worst of the bunch is "Death Cell," which finds John Wallace on Death Row for killing someone during a robbery. The story makes little sense as Glidden knows the guy is going to be executed. Rather than give to the John's wife or pick another person, Glidden has the warden pass on the check while John's in jail cell. Not sure what Glidden expects as there is no bank branch on the way to the electric chair.
The video has been given a 1080p/MPEG-4 AVC encoded transfer displayed at its original aspect ratio of 1.37:1. The blacks are inky, but some lowlit scenes see crush creep in. The image delivers texture details. Film grain is at a pleasing level, although it increases too much during "Three Marines" and establishing shots. Faint specks and marks can be seen throughout the film. The audio is available in DTS-HD 2.0 Master Audio. Dialogue is clear throughout most of the film, but during the "Road Hogs" segment, the track suffers from a crackling and the volume seems louder than other segments. Composer John Leipold's score is compressed as the bottom end doesn't have much room. A faint hiss can be heard during quieter moments.
The Special Features are
Audio Commentary: Filmmakers Allan Arkush (speaking over Zoom or the phone) and Daniel Kremer talk together about the film's history
Trailers: If I Had a Million, Alice In Wonderland, Now and Forever, The Bank Dick, Night After Night and Never Say Die.
If I Had a Million has an intriguing premise but only succeeds with just over half the segments. There's a good mix of drama and comedy, which make up for the duds, but it's a shame the lesser stories weren't replaced with better ones. While the film needs a restoration to clean up the video and audio, the Blu-ray's high-definition presentation is satisfactory for the most part.