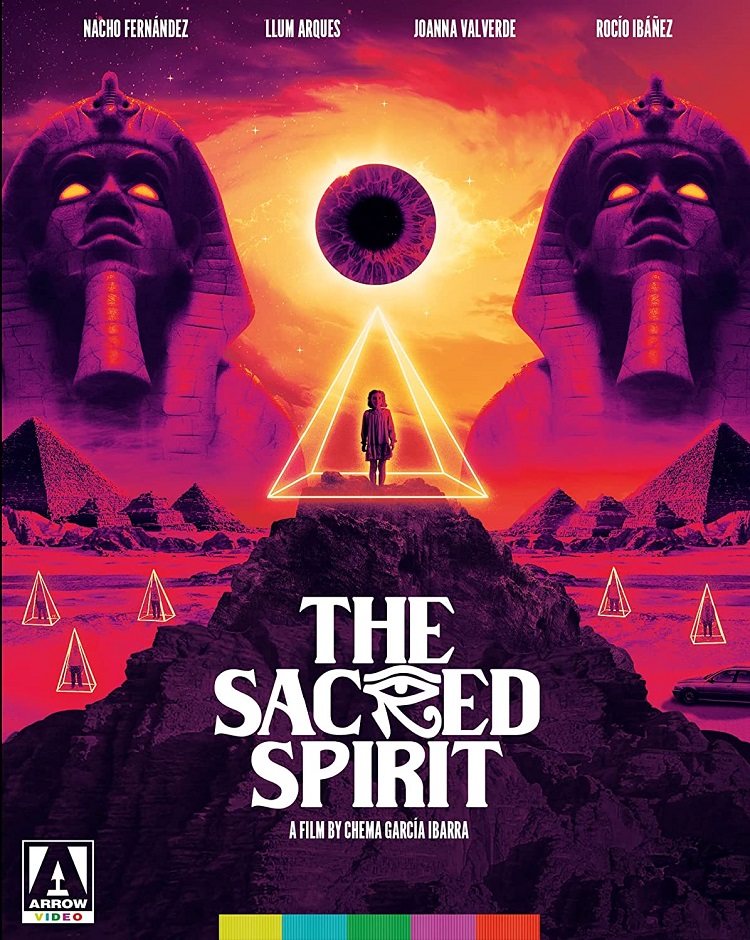 Sometimes I do admire a slow-burn film, but only when it's done right. It has to have enough style, characterization, and substance to really be engaging or at least watchable. Unfortunately, I can't completely say this about first-time filmmaker Chema Garcia Ibarra's debut The Sacred Spirit, which is mostly yet unsuccessfully weird.
It has kind of a parallel story of a man and a woman. The man is Jose Manuel, who has an ordinary existence, works and own his modes tapas bar, and tries to take care of his ailing mother. He also attends weekly secret meetings of a group of obsessed UFO lovers who exchange information about otherworldly messages and supposed alien sightings. The woman is Charo, who also lives an ordinary life, working at an unassuming job, and raising Veronica, a young and impressionable daughter as a single mother. She's also constantly searching for her missing daughter (who happens to be Veronica's twin sister Vanessa). Jose is also connected to their story because he happens to be Charo's brother and uncle to both Veronica and Vanessa.
Both Jose and Charo are bound by a sense of loss; he is mourning the loss of the leader of his UFO group while she misses Vanessa. However, they both deal with Jose's mother (also Charo's), a woman who a former psychic whose life is slipping away because of dementia (supposedly).
When Charo gets the news that Vanessa may have been found, she leaves Veronica in Jose's care, and they get to know each other as uncle and niece. Meanwhile, secrets of the leader's past surface, and it is revealed that the whole thing is really a cult that abducts children and harvests organs. (the children's perhaps?) There's also pornography involved, and well, you do the math.
I'm sorry to say that I didn't find anything in the film to be emotionally involved with. It is way too slow, perhaps for its own good. It also tries a little too hard be a dark comedy. As for the 'twist', I knew that it would lead to a cult, which is a plot that is pretty overused now.
Despite that, I did admire Ibarra's approach to the material, and the fact that he shows the working-class society of Spain, where ordinary people live ordinary existences, working ordinary jobs and hanging out with other ordinary people. I did find this pretty refreshing. No one looks glamorous or model-like. They look like real people. So, it has that going for it.
In the case where the special features sound better than the movie itself, this limited edition from Arrow is no exception. The two-disc set comes with a collector's booklet with new writing on the film by author Shelagh Rowan-Legg, and fold-out poster designed by Oink Creative.
Disc One includes Beyond the Eye of Horus, a visual essay by Alexandra Heller-Nicolas; Pyramid Scheme, a visual essay by Josh Nelson; Domestic Science Fiction, an interview with Ibarra; Behind the Scenes, four short featurettes shot during production; Elche Vision, six location reports about the making of the film, hosted by actress Lorena Iglesias; promotional character videos; Uncut TV Clips, background TV broadcasts shot exclusively for the film; theatrical trailer, and image gallery.
Disc Two has several award-winning shorts by Ibarra, available only in this set. They include The Attack of the Robots from Nebula-5 (2008); Protoparticiles (2013); Mystery (2013); Uranes (2014); The Disco Shines (2016); and The Golden Legend (2019).
If you happen to like odd films like this, then you'll probably find something worthy about this one. As for me, I'll just stay away from it, or maybe until I want to give it another chance.