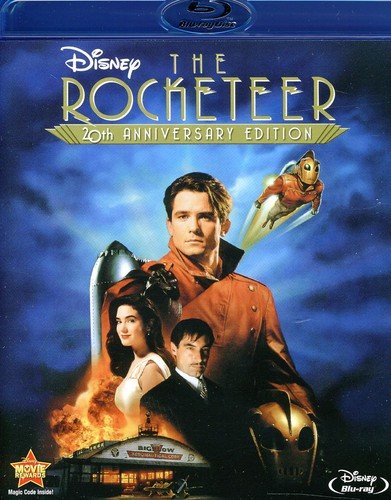 Disney's The Rocketeer based on the comic book by Dave Stevens has been released on Blu-ray to celebrate its 20-year anniversary. The story takes place in 1938 Hollywood and centers on Cliff (Billy Campbell), a young man who loves to fly planes. But his dreams suddenly take a sharp turn when the airplane he has spent most of his life building ends up broken into pieces on the runway after a shootout between the FBI and a couple of mob members.
All appears to be lost until he discovers a small rocket engine hidden in one of the older planes where the mob stashed it for safe keeping. With the help of his mechanic, Peevy (Alan Arkin), Cliff manages to wear the engine and become The Rocketeer. At first he wants to just use his new toy in order to make enough money for a new plane before he returns it, but the more he uses it, the harder it becomes for him to give it up. Eventually both the mob and the FBI come looking for it, which will put all of his friends and family in danger.
The video and audio have been remastered and digitally restored. The video is presented in 1080p High Definition Widescreen 2.35:1 format. The techniques used for this give the film a very vibrant and rich look. You would be hard pressed to find many films of today that look as good as The Rocketeer does on this Blu-ray. If you did not know this was made 20 years ago, you would swear it was a brand new film.
The audio is in 5.1 DTS HD MA. While not as exceptional as the video quality, it has a very nice surround sound design to it especially during the scenes with gunfire coming from multiple directions. The deeper bass sounds have no distortion and the higher register remains quite clear.
While the visual and audio components are quite impressive, the Blu-ray is lacking in any kind of Special Features consisting of only one original film trailer and nothing else. It's rather disappointing to have so little on something that looks this good.
The film is in the style of a 1930's serial similar to the old Flash Gordon films. The story is fairly predictable and includes a Dick Tracy/James Bond style villain who is strangely disfigured and indestructible. There's the typical damsel in distress, Jenny (Jennifer Connelly); mobsters; FBI agents; Nazis; and a German zeppelin flying over Hollywood. The action scenes are a little hokey, and it can be pretty cheesy at times. If that's the kind of films you like to watch, then this Joe Johnston-directed film is worth getting just because of the superb video quality.