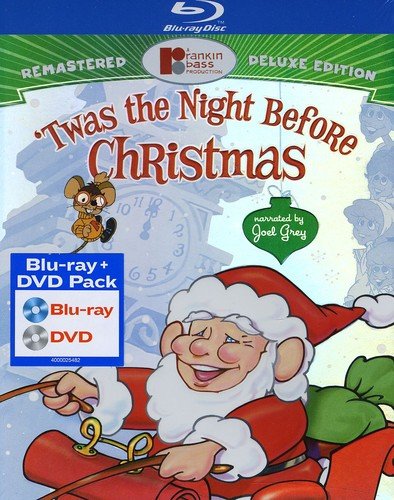 Arthur Rankin, Jr. and Jules Bass created many successful animated holiday specials, the best known being Rudolph the Red-Nosed Reindeer and Frosty the Snowman. A lesser-known special from 1974 is 'Twas the Night Before Christmas based on Clement Moore's famous 1823 poem. I recalled looking forward to this one every year along with all of the others but hadn't watched it in a really long time.
Junctionville is a town in panic when their letters to Santa start coming back. The residents quickly learn that it is due to an anonymous letter printed in the town's newspaper claiming that he doesn't exist and signed by "All of Us." Joshua Trundle (Joel Grey), the town clockmaker, has a solution to win Santa back. He wants to build a large grandfather clock that will play a special song asking Santa to come on Christmas. The town council agrees and construction begins. Father Mouse (George Gobel), Trundle's assistant, suspects his son Albert (Tammy Grimes) of writing the letter. The skeptical and brainy boy confesses without remorse. Father Mouse tries to show Albert the error of his ways but Albert isn't convinced. At the big ribbon cutting of the singing clock, it is inoperable and fails to play. The failure of the clock destroys Trundle's reputation and his business dries up. On Christmas Eve, Albert admits that he inadvertently wrecked the clock when he was exploring it. Albert, finally realizing the harm he has done, rushes off to try, and save the day.
'Twas the Night Before Christmas isn't nearly as memorable as the other Rankin/Bass specials. It has some good songs and nice message but I would rather watch Rudolph or my all-time favorite The Year Without a Santa Claus featuring the Miser brothers. This Remastered Deluxe Edition comes with a Blu-ray disc and DVD. The Blu-ray picture is very impressive, vibrant and clear but it doesn't enhance the viewing. The audio is a Dolby Digital mono track. The special features leave a lot to be desired but what can really be expected. "Christmas: A Global Holiday" is an animated comic book which explains holiday traditions all over the world as narrated by an elf. There is also a commercial for Santa's Magical Stories which is a collection of seven Rankin/Bass holiday specials along with How the Grinch Stole Christmas. I would recommend buying that over 'Twas the Night before Christmas.