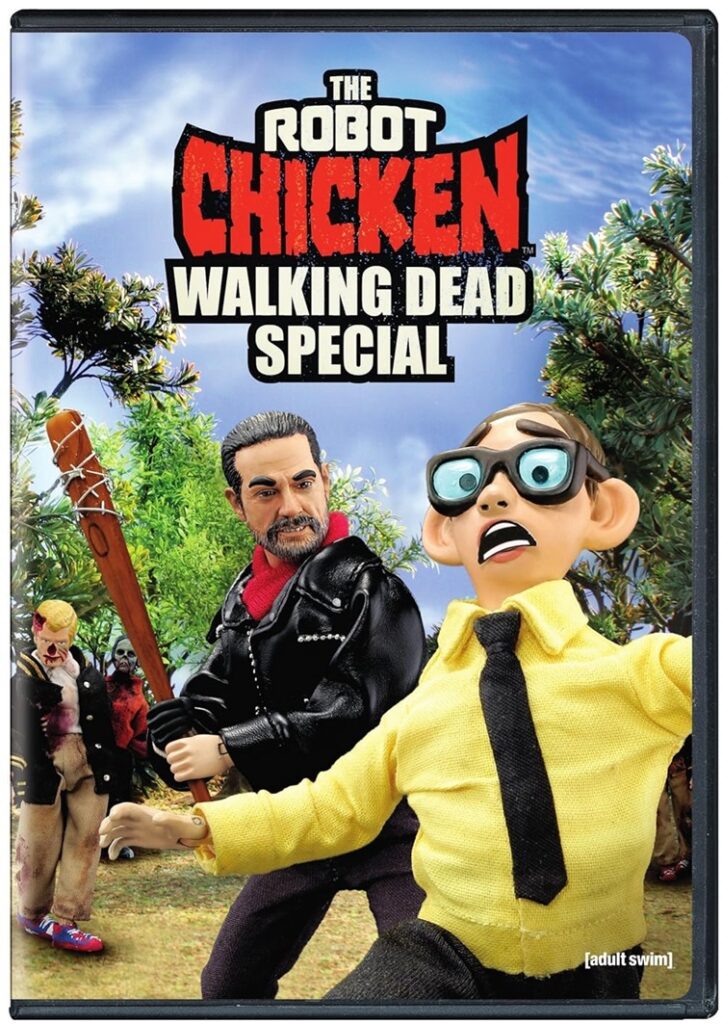 We live in the era of the parody. Entrance to the joke arena is very easy. Within moments of any particular episode of Walking Dead, Game of Thrones, or even Empire ending and there are funny tweets, YouTube songs, and memes aplenty. Anyone with a smart phone and half a sense of humor makes funny of popular culture. So how do you stay ahead of that curve? Robot Chicken has been a stalwart on Adult Swim for years and is an established parody franchise. This release of a crossover with The Walking Dead dates back to the start of this current season of TWD and as we approach the end of this current season, it's fun to pop in the DVD and get a good laugh.
The rapid sequence of jokes in this series works much like Laugh-In did for me – if you don't find something funny, then there is another joke coming in thirty seconds to make you laugh. This special has seven seasons of material to parody so they can pick through some of the highlights to skewer. I love that they didn't just pick the really big moments but recall some of the more ridiculous, smaller moments.
The songs are the best part of this special. Daniel Radcliffe makes a great turn with a song about Terminus. But the standout song and scene is the Negan "lean back". They simply nailed Negan's little intricacies. And ultimately, that's what makes a parody work. It isn't the broad jokes but the ability to notice small details like his dip.
The structure of the show is that Carl is explaining what they went through from the future at some Walkerpocalypse Museum. Of course, with Carl involved not everything is going to go as planned. It's really the worst part of the episode and I didn't feel like I needed anything like that to connect the scenes.
Not ones to shy away from a bad taste, Seth Green and his crew make sure to include a scene making fun of Carol's biggest loss in the show. The other "oh no they didn't" moment was a scene with bug-eye Glenn that while running a little too long, it's a joke that only works with the Robot Chicken crew and their action figures. The distance of the skits being enacted by toys (even with many of the original voices) instead of actors gives them the freedom to not only parody the show but real actors too.
The DVD contains a number of special features including a behind-the-scenes, making-of special, commentary, cut sketches, and other assorted videos. This is an excellent companion piece to The Walking Dead.