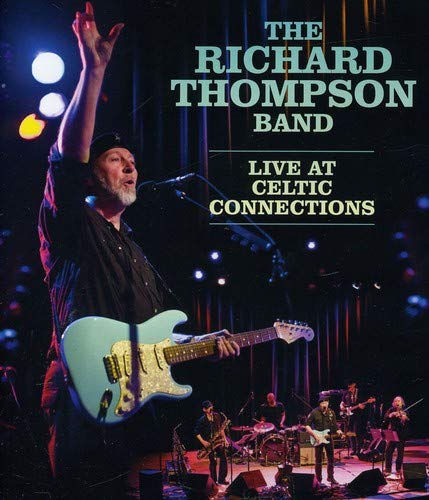 Richard Thompson's most recent studio album, Dream Attic, was recorded live in front of a series of American audiences before being taken out on the road. On the subsequent tour, a Glasgow, Scotland date at Celtic Connections was filmed, comprising The Richard Thompson Band's first-ever Blu-ray release, The Richard Thomson Band – Live At Celtic Connections.
The former Fairport Convention guitarist is widely regarded as one of the best at his craft in the world, ranking among Rolling Stone's "100 Greatest Guitarists Of All Time," and he is in fine form throughout the disc, coaxing a multitude of sounds out of his trademark Stratocaster as well as on acoustic guitar. The show was in support of his most recent studio album, Dream Attic, and the first half of the show features the majority of that album.
The show opens with "The Money Shuffle," a driving, country-tinged track that sets the pace for much of what is to come. Fellow Dream Attic tracks include "Big Sun Falling In The River," a strong rock track that recalls Elvis Costello, and "Haul Me Up," which features a chugging guitar riff that builds in intensity throughout the song. The track's blistering solo sounds like Thompson is playing slide when he is not, helping to make it a highlight of the show.
Thompson reaches back to his solo debut, Henry The Human Fly, for "The Angels Took My Racehorse Away." A country-flavored song, it is surprisingly upbeat given its subject matter and showcases the band's vocal harmonies. The bluesy "Al Bowlly's In Heaven" finds Thompson on acoustic guitar with multi-instrumentalist Pete Zorn on saxophone. Throughout the show, Zorn alternates between guitar, flute, sax, and mandolin.
The band revisits 2007's Sweet Warrior for "Take Care The Road You Choose," a tender ballad about a breakup while finishing the set with a strong version of "A Man In Need" that finds Thompson trading guitar leads with Zorn.
The Blu-ray includes two songs filmed at the 2011 Cambridge Folk Festival and the concert is shown in 1080i High Definition Widescreen 16×9 (1.78:1) for a fantastic picture. Audio options include DTS HD Master Audio, Dolby Digital 5.1 and LPCM Stereo.
For fans who complain that many legacy artists only play their older material, Live At Celtic Connections is a welcome change with all the recent songs. There's plenty of vintage material too, proving The Richard Thompson Band – Live At Celtic Connections has something for everyone.