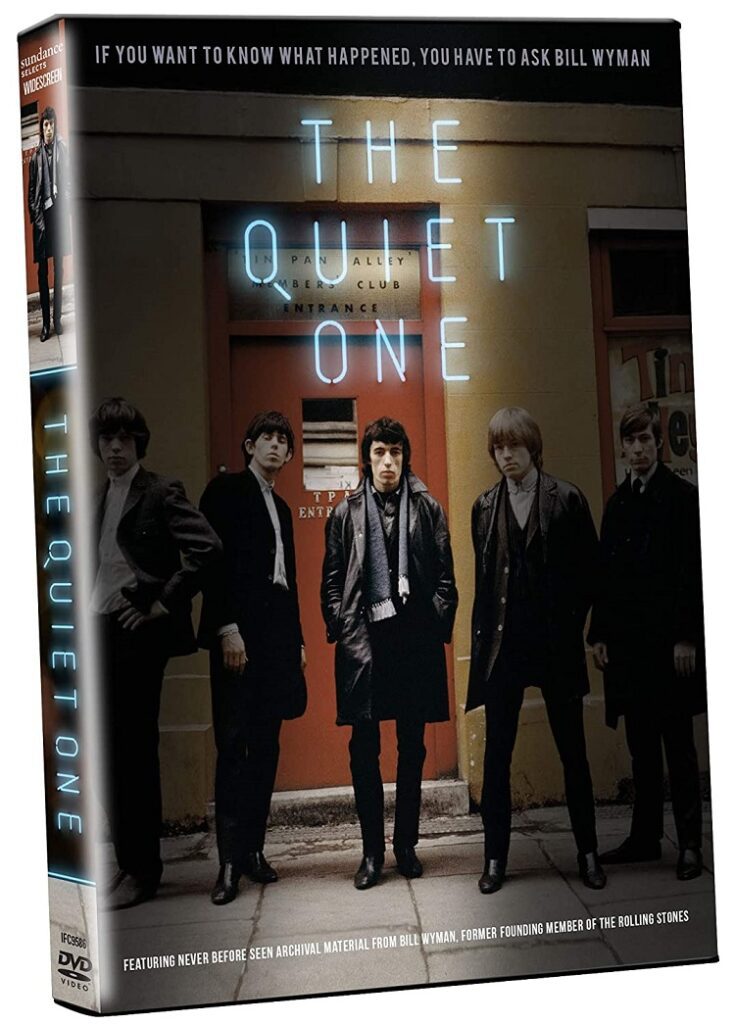 It's been 26 years since Bill Wyman quit the Rolling Stones for civilian life in 1993, and the documentary The Quiet One fills us in on what Wyman has been doing since then. Wyman kept detailed archives of his time with the band, and the film begins with him sitting at his computer in an archive room filled with audio, film, and other memorabilia.
Director Oliver Murray takes a linear approach to Wyman's life story with the archive as the crux, and doesn't dig too deeply into any whys or what ifs of Wyman's life. Original footage and photos from Wyman's archive are interspersed with animation and stock footage. His Wyman makes no earth-shattering revelations about his time with the Stones. He doesn't have much to say about Mick's celebrity, Keith's drug use, or wild times on the road. He didn't have the drug or alcohol habits of his bandmates; instead he bedded lots of women – around 1000 total during his time with the Stones, with 278 during the first few years of the band, according to stats the band drew up in 1965.
The documentary's revelations have more to do with his poverty-stricken childhood than music career. His parents were strict and didn't show Bill much affection. Wyman also had to endure the horror of the Germans bombing London during World War II, and many of his schoolmates fell victim to the attacks. Wyman's grandmother was the only bright spot in his childhood, and she died when he was a teenager. He left home to join the Royal Air Force, where he looked up to another enlistee, a free-spirit with the last name Wyman. Soon after, he changed legally his surname from "Perks" to Wyman.
The stone-faced bass player stayed out of the spotlight for his first two decades with the band. The only drama in his life during the early days played out behind the scenes. His first marriage ended in divorce in 1969, and eventually, he was awarded custody of his son Steven. A husband getting custody was unheard of back in the '60s, much less a rock star. Wyman took up the bass to get a foothold in a band. (There were already enough guitar players.) He cobbled together his first bass using an amplifier and used them when he auditioned for the Stones in 1962.
Things get interesting when the Stones become tax exiles living in France. Wyman becomes friends with the artist Marc Chagall and writer James Baldwin and releases a "new wave" hit Je Suis Un Rock Star. The documentary glosses over the most controversial episode of Wyman's life – his relationship with, and marriage to, Mandy Smith. He met Smith when she was 13 (a fact not mentioned in the film) and married her when she 18. He was 52. The marriage lasted two years. "I was stupid to think it would work," Wyman says, with no further explanation. There's no mention that Wyman's son Steven married Smith's mother. (That marriage also lasted two years.) By the way, Mandy Smith is now a devout Christian and active in mentoring girls in her church.
Wyman doesn't show any real emotion until the near the end of the film, when he talks about meeting Ray Charles. He sits by a sunny window, next to his wife Suzanne, as he recalls talking to Charles backstage after one of the soul icon's concerts. When Charles asks him to play bass on his next album, Wyman declines. "I'm not good enough," Wyman's voice cracks as he remembers the exchange.
"I needed to sort out my personal life – and my future," Wyman said, of his decision to leave the Stones. The documentary shows that Wyman's post-Stones life is a flurry of activity – he records and tours with his band, the Rhythm Kings, and is an author and avid photographer. He's been happily married to his third wife, Suzanne Acosta, since 1993. They have three daughters.
Casual filmgoers won't find much of interest here, but The Quiet One is a gold mine for Stones completists and obsessive rock music fans.
The Quiet One opens in New York at IFC Center and Los Angeles at Nuart on June 21. Also available On Demand starting June 28.https://www.youtube.com/embed/BrDNYXW9a_Y