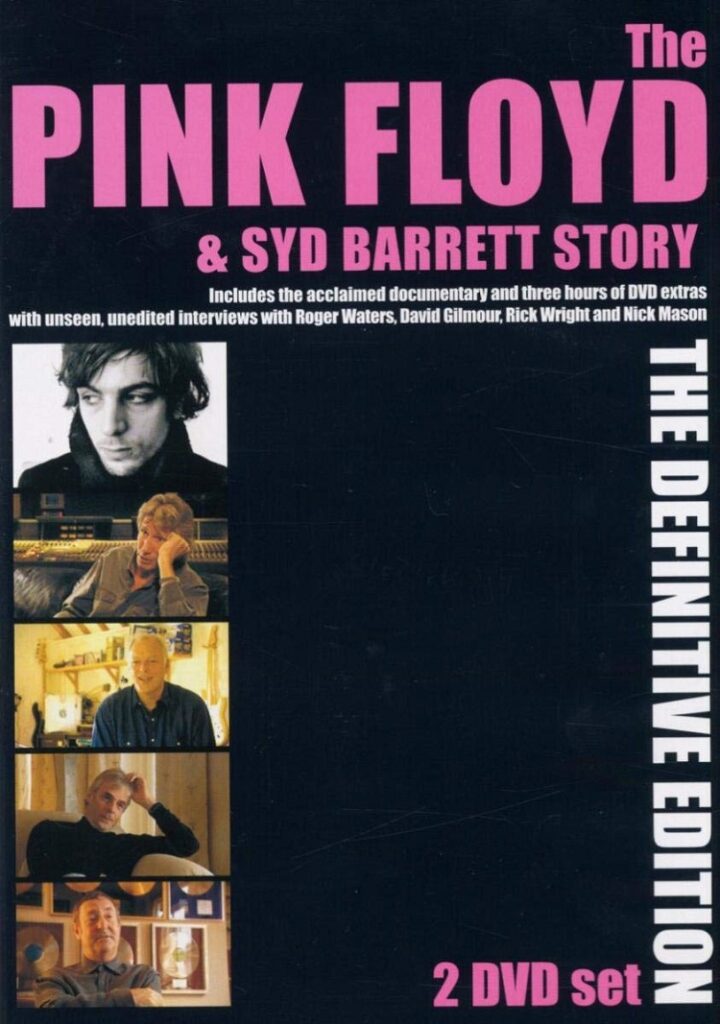 Syd Barrett's tragic journey from being the creative force behind Pink Floyd to becoming a virtual recluse in a few short years is explored in The Pink Floyd & Syd Barrett Story, a two-disc reissue of the 2005 documentary. Barrett led Pink Floyd to its early success, then succumbed to a LSD-fueled mental breakdown that resulted in him leaving the band.
The documentary traces Barrett's rise and fall through interviews with friends from his art-school days, bandmates, associates, and one of his girlfriends. There are clips from early videos and live performances as part of London's psychedelic underground with Barrett at the helm. We see part of the unreleased video for "Vegetable Man" and glimpses of Syd's early artwork, and a clip from an early live performance of "Astronomy Domine." Barrett's early success in the band was soon derailed by one too many LSD trips. Keyboardist Wright recalls Syd returning after a "Lost Weekend" of drug use this way – "He's gone. He was still looking the same, but he was somewhere else."
It's a sad story, but not a dramatic one. After several disastrous shows with an almost catatonic Syd (including a truncated U.S. tour), Barrett's erratic behavior escalated to the point where one day "we just didn't pick him up," says Gilmour. Barrett stayed with friends for awhile before returning to his childhood home in Cambridge, unfazed by his ouster from the band.
Barrett recorded two solo albums The Madcap Laughs and Barrett. Waters and Gilmour worked on the first album; Gilmour produced the second. Communicating with Barrett was hard, says Gilmour and drummer Jerry Shirley in their interviews, but the albums retain a cult status among fans. After the second album was released, Barrett dropped out of music completely. He did reemerge once, showing up unexpectedly at the "Shine On, You Crazy Diamond" sessions in 1975. Waters' recollections of his friend are especially touching. He has addressed Syd's memory not only in "Shine On" but in other work, including a scene in the 1982 film version of The Wall.
Also interviewed are Syd aficionados Graham Coxon of Blur (who sings a version of "I Love You" from Madcap Laughs) and Robyn Hitchcock, who talks about Syd's influence on his music and plays "Dominoes" and "It is Obvious."
Pink Floyd went on to international superstardom with Dark Side of the Moon and The Wall and extravagant stage shows. And Barrett stayed at home, tending to his garden and painting. Barrett passed away in 2006, and this is addressed in the titles at the beginning, but it would have been nice to see it addressed in a bit more detail.
This Eagle Vision DVD includes a second disc containing unedited interviews with Nick Mason, Richard Wright, and David Gilmour, which run between 20-30 minutes. The first disc has the most interesting addition, an hour-long interview with Roger Waters.
The Pink Floyd & Syd Barrett Story concentrates on Syd Barrett's time with the band, not Pink Floyd's history thereafter, so it may not hold much interest for the casual fan. It's a great addition for the collection of any Barrett-era Floyd fan who wants to know more about this influential but tragic figure.