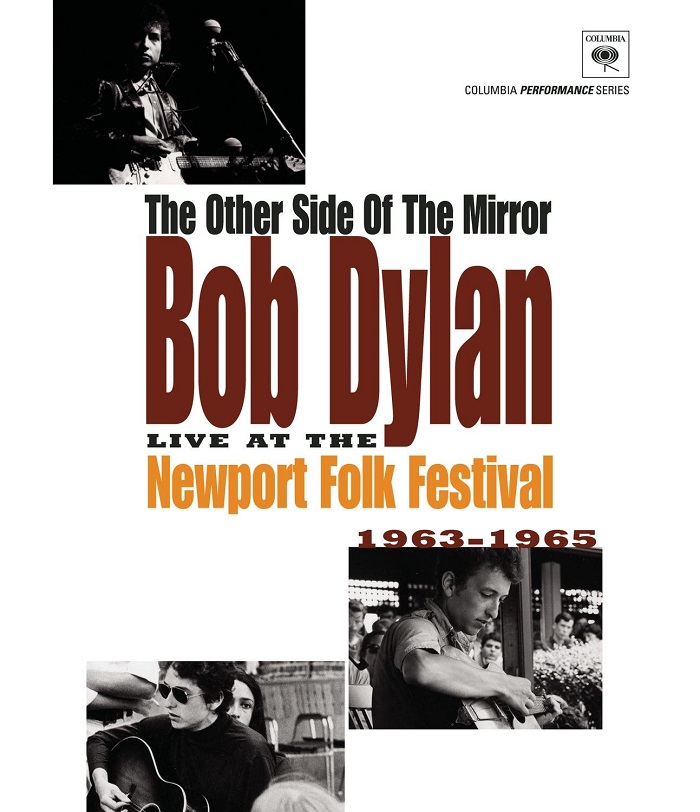 Murray Lerner filmed the performances at the Newport Folk Festival in 1963, '64, and '65, and from those concerts created the Academy Award-nominated documentary Festival! One of the musicians who appeared at all three events was Bob Dylan, who went from an up-and-coming folk singer to a "there he went and good riddance" singer according to the reaction of some audience members. Back in 2007, Lerner released a film that focused just on Dylan titled The Other Side of the Mirror: Bob Dylan at the Newport Folk Festival. It serves as a great document of Dylan's performances, though rather than place them chronologically, Lerner mixes them from the afternoon workshops and evening concerts.
The film opens with an introduction of Dylan from a workshop at the 1965 festival and then he plays "All I Really Want To Do." Lerner then goes back to 1963 for a 29-minute segment. Dylan, in his Woody Guthrie phase, was the guest of his girlfriend Joan Baez, who made her debut at the '59 Festival. He begins with "North County Blues" and then sings a duet of "With God On Our Side" with Baez, edited together from two different performances two days apart.
The responsibility of society is an important theme in Dylan's work, which he expresses in "Who Killed Davey Moore?" and "Only A Pawn In Their Game" about the deaths of boxer Moore and civil rights activist Medgar Evers, respectively. Closing out the set, Dylan is joined by Baez; Pete Seeger; Peter, Paul and Mary; and the Freedom Singers on "Blowin' in the Wind."
The 1964 portion runs 22 minutes. Dylan's talents were being noticed outside the folk scene as Johnny Cash raves about him as a songwriter and then sings "Don't Think Twice, It's All Right," but unfortunately it's just an excerpt. Baez gets a sizable bit of screen time during this portion as she is seen imitating Dylan imitating her singing "Mary Hamilton," joins him on "It Ain't Me, Babe" and "With God On Our Side," and is interviewed in a car talking about fame.
Dylan opens and closes the segment with two songs The Byrds would have great success with on their debut album from 1965. "Mr. Tambourine Man" is played on a small, intimate stage in the afternoon and then he delivers an impressive solo rendition of "Chimes of Freedom" to close out his evening set. When it's done, the crowd goes crazy for more. Peter Yarrow attempts to introduce Odetta, but the crowd will have none of it. In an attempt to appease them, Dylan comes back to say thanks. He is smiling and a bit playful, seeming appreciative and overwhelmed by the response.
Dylan's 1965 appearance at the Festival is the stuff of legend, so it's no surprise it's the longest segment on the disc at 32 minutes. It was his first electric set and some folk fans had not accepted his new rock sound on Bringing It All Back Home released two months prior. After a couple of acoustic numbers during the afternoon workshop, Dylan does a sound check with the Paul Butterfield Blues Band (minus Paul) who are going to support him. They play spirited versions of "Maggie's Farm," featuring Mike Bloomfield delivering loud, high-pitched guitar licks, and "Like a Rolling Stone," which had first received radio airplay just ten days earlier.
The mixed reaction to Dylan's plugging in can be heard as boos and cheers greet him at the end of the songs. It's funny now to hear those closed-minded, ungrateful young people as Dylan metaphorically announces his leaving the folk scene, yet it had to be disappointing and frustrating to know a portion of his audience thought they were in charge of his art. A line from "Maggie's Farm" captures the sentiment perfectly: "I try my best/ to be just like I am/ but everybody wants you/ to be just like them."
After "It Takes A Lot To Laugh, It Takes A Train To Cry," which is unfortunately not included, Dylan ended his set early, likely due in large part to the reaction he was getting. However, he relented and gave his detractors what they wanted with an encore of their folk music hero on acoustic guitar and harmonica for "Mr. Tambourine Man" and a song that surely had extra meaning that evening, "It's All Over Now, Baby Blue." Wonder if they paid attention to the lyrics?
The video has been given a 1080p/MPEG-4 AVC encoded transfer displayed at 1.33:1. The source is 16mm black and white film that wasn't lit for Lerner's purposes, so people shouldn't expect too much. There are varying degrees of grain and dirt throughout, especially on crowd shots used for transitions. The focus is understandably soft. The varying grays look good, but blacks are inconsistent. Noise occurs at night around the lights. However, the historical significance of these performances trumps everything.
There are three audio options: LPCM 2.0, LPCM 5.1, and Dolby Digital 5.1. The 2.0 track is more authentic to the source. The background singers during "Blowin' in the Wind" are heard more clearly in comparison to the other two tracks. The surround channels create some space in the soundfield as the vocals softly play in them. The music and vocals weren't recorded as separate elements, but a good balance was achieved, even during the loud, seemingly chaotic electric set. All three options display good dynamics.
There's only one bonus feature (HD, 26 min), an interview with Murray Lerner where he provides some background about himself and the material.
Some of the material in The Other Side of the Mirror has been seen and heard before in different releases, but it's great to have this footage all in one place for fans and those interested in the history of rock 'n' roll.