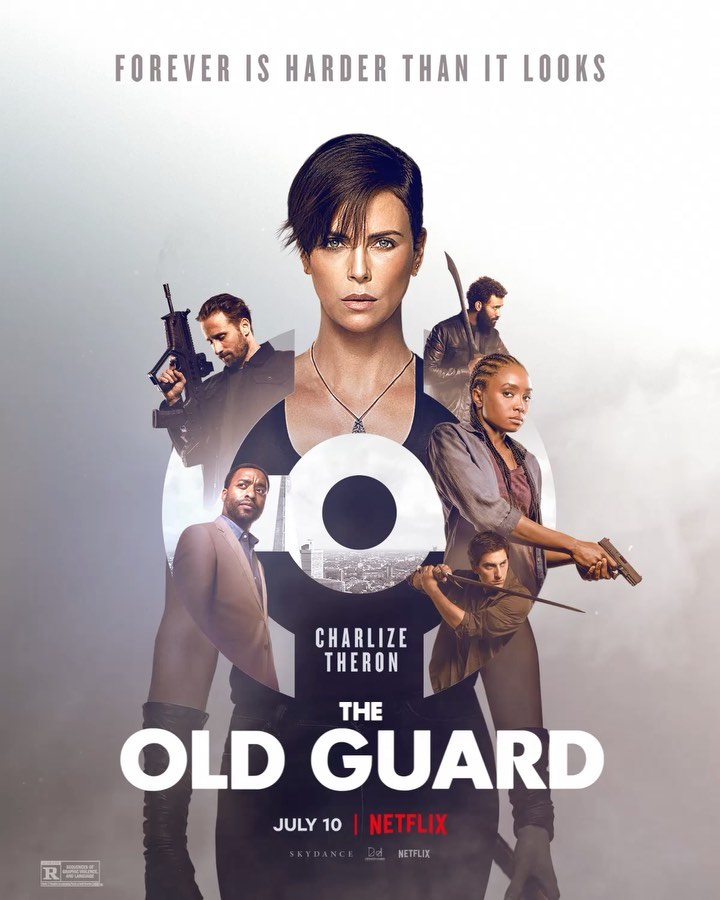 Unlike usual film adaptations of comic books, it's hard to necessarily label The Old Guard as a superhero film. It does feature a group of superpowered beings trying to save the day, but they're still a group of immortal mercenaries whose occasional missions vary from villainous to heroic. While it possesses the action spectacle one would expect in a picture like this, and even opens with a bombastic fight sequence, director Gina Prince-Bythewood and co. emphasize on making The Old Guard a somber character drama present within a blockbuster canvas.
The eldest leader of the group called Andromache of Scythia (Charlize Theron), aka Andy, is quite disillusioned with her immortal life and humanity itself. The only ones who give her companionship are her comrades Booker (Matthias Schoenaerts), Joe (Marwan Kenzari), and Nicky (Luca Marinelli). All of whom are forced to roam the world alone to avoid their immortal gifts being revealed. Once they reunite and start a new mission, they discover another immortal named Nile (KiKi Layne), a Marine stationed in Afghanistan. Together, they must combat an evil pharmaceutical company looking to harvest and replicate their abilities.
Admittedly, the "sinister company targeting superhumans" plotline is rather cookie-cutter with Merrick, the antagonistic head of the company played by Harry Melling, being thinly written. Yet, the screenplay by Greg Rucka, who co-wrote the comic book which the film is based on, is able to overcome those machinations once it delves into the psychological ramifications of being immortal and the understated philosophy behind the powers of our main heroes.
As for the immortals themselves, they are a group rich in diversity that relievingly doesn't have their races, genders, or sexualities used as plot points. In addition, the central cast wonderfully brings these heroes to life. Charlize Theron is both badass and oracular as Andy with KiKi Layne easily going toe-to-toe with her as the resourceful yet dubious Nile, proving her breakout turn in If Beale Street Could Talk wasn't a fluke. Meanwhile, as Theron gives a very inward portrait of Andy's heartbreak, Matthias Schoenaerts is more outward as Booker. Schoenaerts provides a similar elusiveness to Theron while pouring out such fervor into a heart wrenching monologue where Booker dives into his devastating family history.
Then there's Marwan Kenzari and Luca Marinelli who're more underused compared to their three co-stars, yet they're still a major highlight as Joe and Nicky, two former enemies turned lovers. Both actors have such delightful chemistry and act as comic relief even when they're thrown in a very weighty situation. Also, their same-sex relationship sets a slight precedent for the overall comic book genre since they live openly and as previously mentioned, their queerness never factors into the storyline.
With its emphasis on character drama and inclusivity, The Old Guard possesses a mold that other comic book films should aim to fit going forward. It also boasts an eclectic blend of poignancy, humor, and action along with a very in-sync acting ensemble. Minor script quibbles aside, The Old Guard is a film that the summer season was made for and should not be missed.