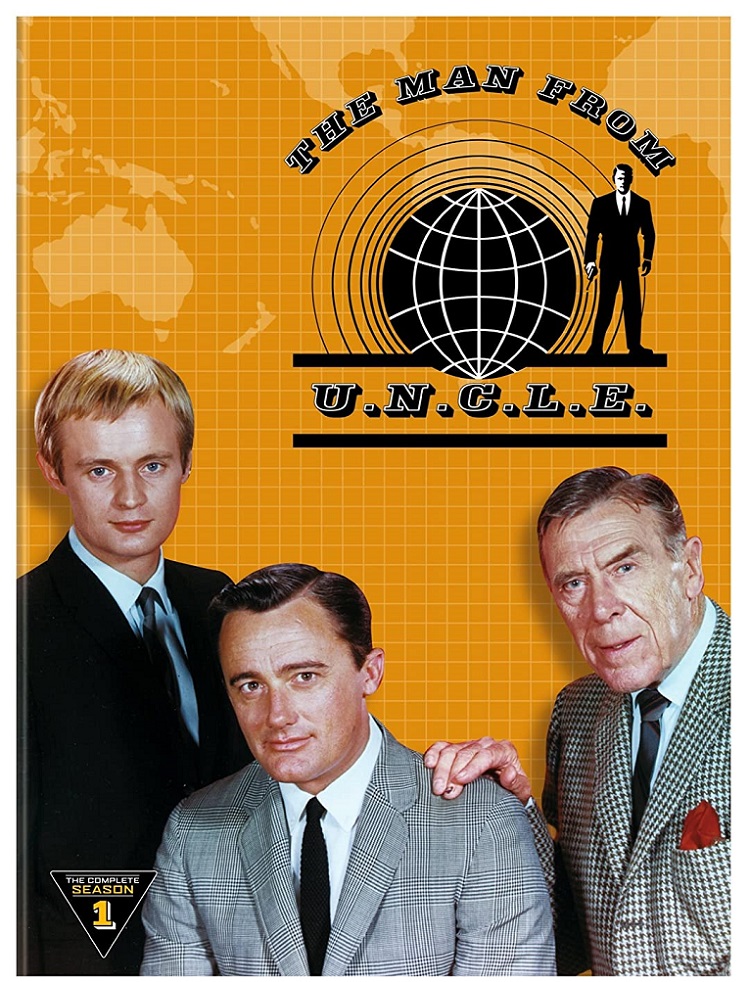 Timed to tie-in with the August 14 debut of Guy Ritchie's feature-film prequel, Warner Brothers Home Entertainment is releasing The Man from U.N.C.L.E.: The Complete Season 1, a 10-disc set presenting 29 international affairs of espionage featuring agents Napoleon Solo (Robert Vaughn) and Illya Kuryakin (David McCallum) that aired on NBC during the 1964/65 television season.
With contributions from Ian Fleming in its creation, which resulted in legal action from producers Harry Saltzman and Albert R. Broccoli, The Man from U.N.C.L.E. certainly has a Bond influence. Napoleon Solo is a secret agent traveling around the world on behalf of the international organization known as United Network Command for Law and Enforcement working to thwart the evil organization known as Thrush, which has plans for world domination. Solo uses gadgets, gets the ladies, and always succeeds.
I wondered if he was originally was intended to work solo as his name suggests because as a first-time viewer I was surprised Kurakin wasn't an equal partner, like James West and Artemus Gordon of The Wild, Wild West. At least, he certainly isn't during this season, including not appearing in three episodes.
The show is amusing, but has an odd conceit during many episodes where they bring in an innocent citizen to assist in missions. Trusting an untrained novice with saving the world seems unbelievable for such a sophisticated operation, as is how easily those people are willing to join the U.N.C.L.E. with little info to no proof offered of who they are.
The audience is also expected to overlook ridiculous events that push the story along. For example, in "The Double Affair" a Thrush agent has been altered to look and sound like Solo so he can take his place (a well-worn TV trope). Faux-lo is handcuffed to a briefcase and travels with three agents by plane, and one always needs to be in view of the briefcase. Faux-lo switches the case while the bathroom door is open and the viewer is expected to believe that the other U.N.C.L.E. agent looking in couldn't see what was going on by way of the bathroom mirror. And when that same agent discovers a clue revealing the case has been tampered with by Faux-lo, he doesn't shout out immediately to his fellow agents. Instead, he is killed in a manner that was obviously Faux-lo's doing, but no one even questions it.
But if one goes into these episodes expecting the fantasy spy world of Ian Fleming as opposed to believable spy world of John le Carre, they should be entertained. It's fun seeing all the familiar faces from film and television, such as Slim Pickens, Anne Francis, Carroll O'Connor, and George Sanders. A particular highlight was pre-Star Trek actors William Shatner and Leonard Nimoy on opposing sides in "The Project Strigas Affair."
This first season was the only one shot in black and white. The cinematography looks very good, but the prints haven't been cleaned up, so there are instances of debris and damage. Unfortunately, there are no extras.
For fans of the Man, this is a good dossier to have on the shelf and is recommended for those new to the series who enjoy the '60s spy genre.