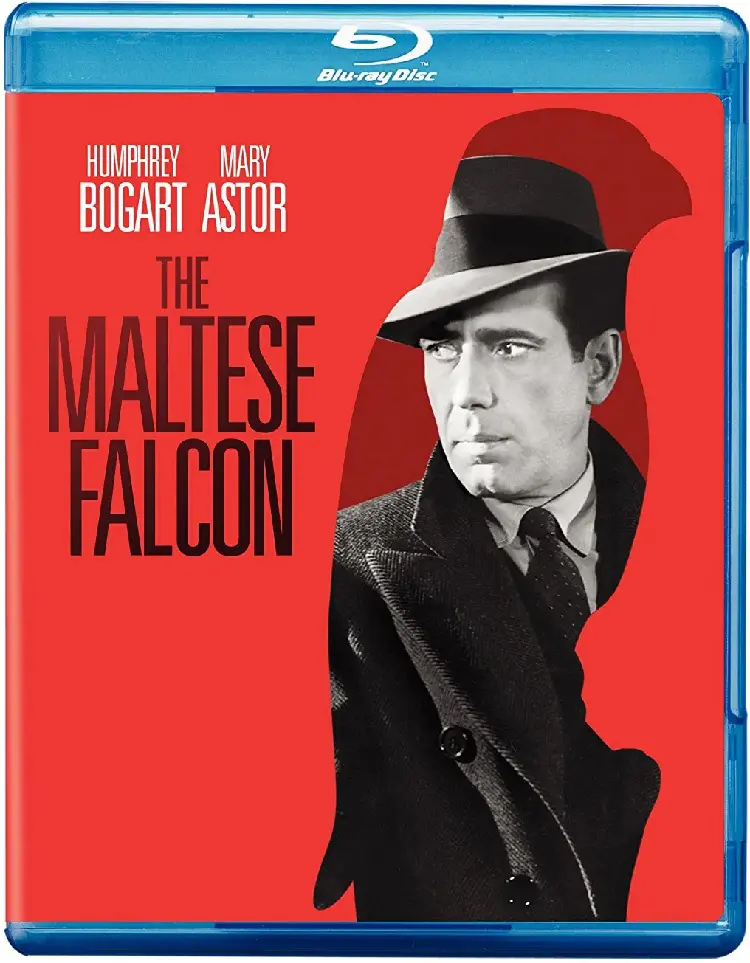 Continuing my Humphrey Bogart film-watching…
Set in 1941 San Francisco, The Maltese Falcon follows detective Sam Spade (Humphrey Bogart) who gets mixed up with a group of adventurers who are in search of a treasure – the eponymous Maltese Falcon, which the opening credits tell the audience was "… a Golden Falcon encrusted from beak to claw with rarest jewels …"
On the trail of this priceless and mythical artifact are some wonderful characters: Sydney Greenstreet (in his first screen appearance) as "the Fat Man" Kasper Gutman, Mary Astor as the unforgettably lethal femme fatale Brigid O'Shaughnessy, Peter Lorre as the "smelling of gardenias" Joel Cairo, and Elisha Cook, Jr. as Gutman's gunsel Wilmer. Character actors Ward Bond and Barton McLane show up as two cops who aren't sure how involved Spade may be in his partner Miles Archer's (Jerome Cowan) demise.
John Huston's directorial debut, this classic film noir was made for black and white, and the dramatic lighting and creative camera angles, many of them low-angle, all look great on a high-definition, large scale television screen. The clarity and picture quality is great – you can almost read the title on the spine of a book on Sam Spade's bedside table when the detective takes the call about his partner Miles being found dead.
Huston keeps the compositions simple and effective, but includes details like a newspaper clipping tacked to the wall of his apartment and other paraphernalia of Spade's help flesh out his no-nonsense character. But it's Humphrey Bogart's portrayal of Spade that really resonates. It was not only a career-changer, elevating him once and for all into lead parts, but he made Dashiell Hammett's tough-talking private eye his own, a screen classic and the blueprint for movie dicks forever more.
Sam Spade: "When a man's partner is killed, he's supposed to do something about it. It doesn't make any difference what you thought of him. He was your partner and you're supposed to do something about it. And it happens we're in the detective business. Well, when one of your organization gets killed, it's … it's bad business to let the killer get away with it, bad all around, bad for every detective everywhere."
The film is full-screen format and has an aspect ratio of 1.37:1 and resolution of 1080p and looks great on a large-scale high-definition television screen. It has a running time of 101 minutes. The Dolby sound (English: DTS-HD High Res Audio and Spanish, German, and Portuguese: Dolby Digital 1.0) is also crisp and clear. Subtitles are available in multiple languages: English, French, Spanish, Portuguese, German, Danish, Finnish, Greek, Norwegian, and Swedish.
The Maltese Falcon Blu-ray is on one disc, but it has a host of extras, including:
"Warner Night at the Movies" from 1941: a newsreel, the musical short The Gay Parisian, and cartoons "Hiawatha's Rabbit Hunt" and "Meet John Doughboy"
"The Maltese Falcon: One Magnificent Bird"
"The Trailers of Humphrey Bogart," featuring TCM's Robert Osborne
"Breakdowns of 1941," a blooper reel
Radio show adaptations of The Maltese Falcon: the piece, two with the film's stars, one with Edward G. Robinson
Commentary by Bogart biographer Eric Lax
Makeup tests
Movie trailers for The Maltese Falcon, Sergeant York, and Satan Met a Lady
As much of a tough guy as Bogie is, Sam Spade also has a lot of humor. And fans of Ren and Stimpy will recognize the origin of one of their favorite cartoon characters in Peter Lorre's Joel Cairo, especially when he berates Sidney Greenstreet's Kasper Gutman for letting the Falcon slip through their grasp:
Joel Cairo: "You…you bungled it. You and your stupid attempt to buy it. Kemedov found out how valuable it was, no wonder we had such an easy time stealing it. You…you imbecile. You bloated idiot. You stupid fat-head you. [He breaks down crying]."
The Maltese Falcon is the first in a longtime collaboration between the star actor and director, who went on to make Across the Pacific in 1942, The Treasure of the Sierra Madre and Key Largo in 1948, The African Queen in 1951, and Beat the Devil in 1953. Huston wrote the screenplay, based on Hammet's novel, and the third time must have been the charm for a story that had already been turned into unsuccessful movies twice before (The Maltese Falcon in 1931 and Satan Met a Lady in 1936), as it was nominated for three Academy Awards; Best Picture, Screenplay, and Supporting Actor (Greenstreet). When Huston and Bogart and Astor and the rest of the crew got together it was movie magic. As Sam Spade says at the end of the film, "The stuff dreams are made of."