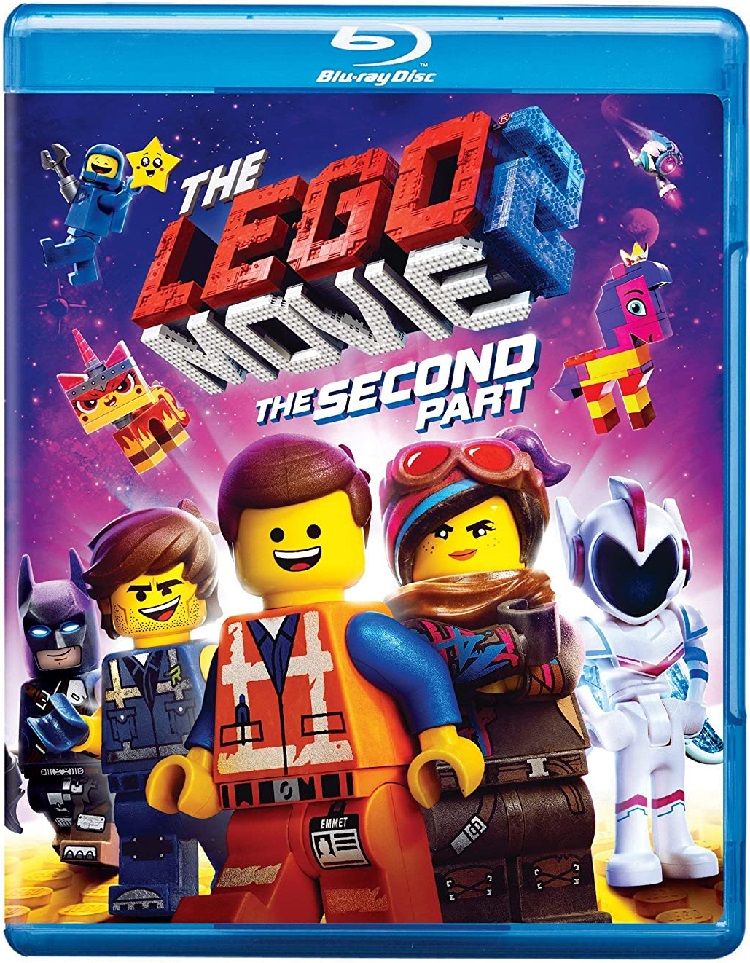 I try to be open-minded about movies before I see them, but like Osgood Fielding III said in Some Like It Hot, "nobody's perfect," so in the interest of full disclosure, I must admit I was a huge skeptic when I first heard that a LEGO movie was being made. It just seemed like a calculated corporate decision by the studio to maximize merchandising by bringing a two-hour toy catalog to life. And while there was certainly merchandising to be had, it turned out that the filmmakers had created an entertaining, inventive comedy with impressive visuals and a story with which both adults and children could connect. No surprise that its success at the box-office led to a calculated corporate decision to create a sequel.
The LEGO Movie 2 opens with scenes from the previous movie as Dad (Will Farrell) lets his son Finn (Jadon Sand) know that he has to let his sister Bianca (Brooklyn Prince) come down and play in the basement, which means the LEGO gang has to deal with creatures from planet Duplo. Emmet (Chris Pratt) tries to make friends but that doesn't go well for the LEGO gang as the kids and creatures collide.
Five years later, Bricksburg has become Apocalypseburg, a Mad Max-looking locale, but Emmet still thinks "Everything Is Awesome," although he did have a nightmare filled with visions of an "Armamageddon". On behalf of Queen Watevra Wa'Nabi (Tiffany Haddish) from the Systar System, General Mayhem (Stephanie Beatriz) kidnaps a few folks like Lucy (Elizabeth Banks) and Batman (Will Arnett), taking them past the Stairgate.
Trying to stop Mayhem, Emmet is knocked out and sees the real world where Bianca wants to play with her brother Finn, but he refuses because he's working on his own storyline. Emmet heads out alone to rescue his friends, and he encounters adventurer Rex Dangervest whose spaceship, the Rexcelsior. is manned by dinosaurs. Together, they attempt to save Emmet's friends and stave off "Armamageddon", but things go terribly wrong as the story's villain planned.
As Finn is growing older, he is maturing and at a crossroads where he might be outgrowing playing with these toys. His sister not only wants to play with them but also with him. Screenwriters Phil Lord and Christopher Miller deal with these ideas about siblings growing up and shows them through the play of Finn and Bianca with their respective LEGO toys. The movie has a high joke count, although young viewers might wonder what's so funny if they don't know the references. The animation team at Animal Logic do impressive work bringing the LEGO worlds and characters to life. The latter is assisted by the talented cast of returning and new actors.
The video has been given a 1080p/MPEG-4 AVC encoded transfer displayed at an aspect ratio of 2.39:1. The colors pop in stunning hues. Blacks are inky and whites are bright, contributing to a strong contrast. The image exhibits great depth and texture details, the latter of particularly stands out in the LEGO world and the pieces that make up the many objects.

The audio is available in Dolby Atmos which defaults to Dolby TrueHD 7.1. For some reason, I had to turn the volume up louder than I normally do to get a sound level comparable to other blockbuster Blu-rays in my collection. The dialogue is clear. Mark Mothersbaugh's score and the effects immerse the viewer. Sounds are positioned throughout the surround system and can be heard moving across channels, opening up the space. The subwoofer delivers a solid and consistent bass that supports the score and action.
The HD Special Features include:
Everything is Awesome Sing-Along: Accessible under the "Play" menu option, fans who want to do more than simply watch the movie can choose this version, which turns the movie into a video game of sorts. In addition to lyrics appearing on screen, there's animated dialogue, pop-up trivia, counters keeping track of cameos and bricks, and a lot more.
They Come in Pieces: Assembling The LEGO Movie 2 (HD, 9 min): A look at the approach to the sequel in creating the themes, characters, and animation.
Emmet's Holiday Party: A LEGO Movie Short (3 min): Emmet is certainly no Grinch as he leads preparations for a party.
Outtakes and Deleted Scenes (12 min): Ten scenes that haven't been completed.
"Super Cool" (Official Lyric Version) (3 min): The music video for the song by Beck featuring Robyn & The Lonely Island.
Commentary: Director Mike Mitchell, Writers/Producers Phil Lord and Christopher Miller, and Animation Director Trish Gum sit together and talk about the making of the movie.
The LEGO Movie 2 is as a delightful continuation of the franchise about this family and their LEGO toys. In addition to the laughs, the story has heart and works for the whole family. The animation looks fantastic in high definition and when turned up loud enough, the audio makes good uses of the surround system.