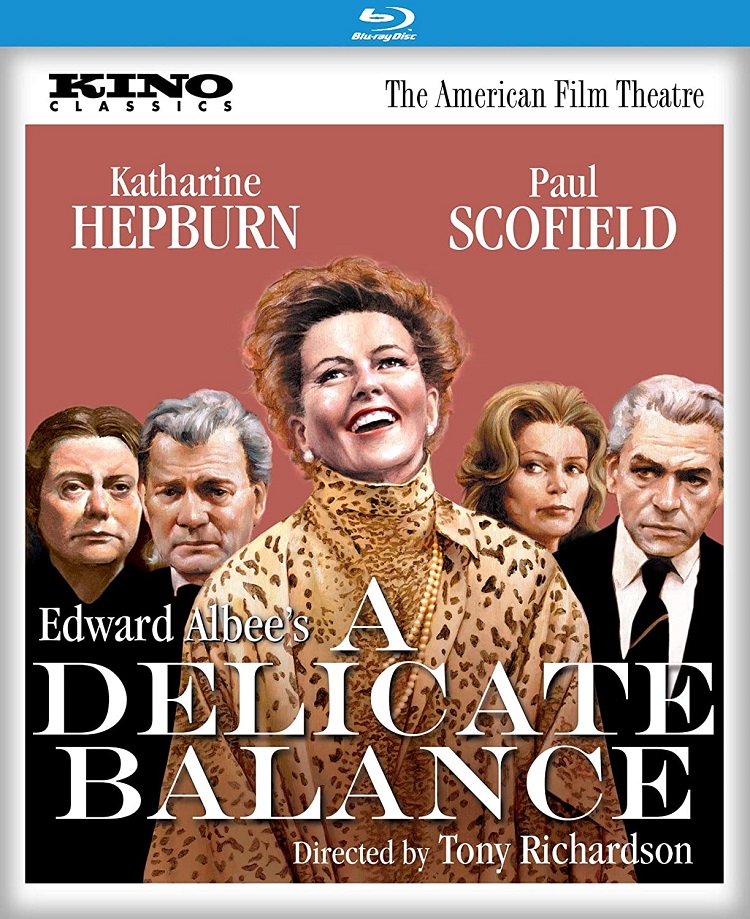 In the mid 1970s, producer Ely Landau created a subscription-based film series that attempted to recreate a theater experience at the movies. He called it "The American Film Theater." He used 500 or so movie theaters to sell subscriptions to a series of films, all of which were cinematic adaptations of renowned plays. They were to be translated to film but with a complete faithfulness to the original play script. He hired critically acclaimed directors and actors to make the films, which were only shown four times in the specific theaters. Subscriptions for each season were sold by mail-order. It was a neat idea and seems to have given people who might not be able to travel to Broadway or other world renowned theater locations a chance to see high-class performances in a manner that at least somewhat felt like real theater. It only lasted two seasons.
The third film shown for this experiment was a adaptation of Edward Albee's Pulitzer Prize-winning play A Delicate Balance. It was directed by Tony Richardson and stars Katharine Hepburn, Paul Scofield, Lee Remick, Kate Reid, Joseph Cotten, and Betsy Blair. Hepburn plays Agnes, a WASP-y upper-middle-class matriarch who shares a lovely Connecticut home with her husband Tobias (Paul Scofield) and her alcoholic sister Clair (Kate Reid). They trade acerbic barbs while sipping martinis. They maintain the delicate balance of the title through shared memories, force of habit, and sheer will. This balance begins to shift when the couple's daughter Julia (Lee Remick) comes home after breaking up with her fourth husband. It crumbles when their best friends Harry (Joseph Cotten) and Edna (Betsy Blair) move in after being upset by some nameless existential terror in their own home.
The story takes place over one night and the following morning. Characters move in and out of a couple of rooms where they rattle off Albee's often complex, serpentine, and impenetrable dialogue with finesse and indignation. There were times when I wanted to pause the film, write out a sentence just spoken, and then diagram it just to unpack it and possibly understand. There is a deep-seated anger running through each of the characters – at each other and often towards themselves. They tolerate each other because they're family. But the spite comes out in barbs and verbal lances.
The idea is that the friends moving in disrupts the balance they so carefully crafted and causes them to do some self reflection, creating a lot of narrative tension and meaning for the audience. Maybe it does that. Maybe I'm not a smart enough critic to understand. Or maybe Edward Albee just missed the mark on this one.
It is very much a stage play come to life in the cinema. They don't try to expand it like so many films do when adapting a play. It is directed cinematically so that the camera moves in ways that it couldn't do if this was simply a play being performed on a stage that was also filmed. The actors perform the words for all they are worth. The script is often clever, and sometimes affecting, but something about it just didn't quite resonate with me. Albee also wrote Who's Afraid of Virginia Woolf? and that movie adaptation is a favorite of mine. I can't really pinpoint what went wrong here, and it's probably just me, but while there was much I liked about this film, overall, it just didn't move me in any meaningful way.
It is a film in which I admired the direction, the performances, and even the language, but I failed to fall into it. I could like it as a critic. I could admire it from a distance, intellectually. But I struggled to enjoy watching it.
Kino Lorber presents A Delicate Balance with a 1.85:1 aspect ratio and a 1080p transfer. Extras include interviews with Albee, cinematographer David Watkin, and Edie Landau. Also included is a promotional film for the American Film Theater, image galleries, and trailers.