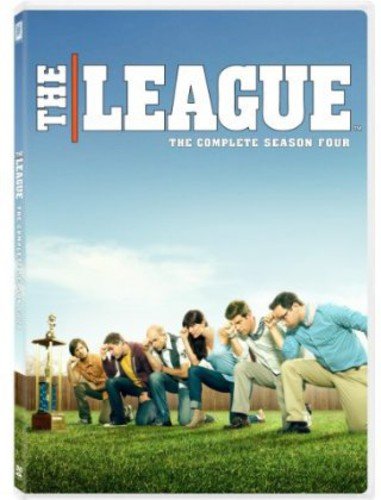 It's that time of year again when gladiators of the gridiron strap on their armor and march boldly onto the field of battle to valiantly conquer their opponents and achieve ultimate victory. But that's only for the small percentage of the male population. The other 99.9% play Fantasy Football. A game where such things as strength, speed, endurance, and even intelligence are not necessary skills needed to rise to the level of champion. A game where middle-aged men of all shapes and sizes can rise to exalted levels.
While this may not sound like the most exciting of settings for a comedy, when you throw in the fact that these overgrown children have the maturity of ten-year-old boys you can start to see the appeal.
The story picks up eight months from where the Season Three ended. Jenny (Katie Aselton) who had just announced her pregnancy is now about to give birth. And in order for her husband Kevin (Stephen Rannazzisi) to keep his title as League Champion after it was found that fellow league mate, Ruxin (Nick Kroll), had been cheated out of his first-round draft pick the year before has given up not only the title of League Commissioner to him but also the rights to name his child. A right that will be swapped to the loveable but incredibly stupid Taco (Jonathan Lajoie) who decides to name the child Chalupa Batman.
While the episodes are always independent, this season has one overall arc that is fairly consistent and ties them all together very well. It's not until the finale "The Curse of Shiva" that you realize that the group's entire season truly was cursed.
The Shiva Bowl, which is the fantasy league's championship game along with the trophy, the Shiva, are all named after a real woman, Shiva (Janina Gavankar), whom was Kevin's first girlfriend and sexual encounter. Knowing that the group has used her image and name for their league, she has tried multiple times to get them to leave her out of it, but since they continue to ignore her she puts a curse on them.
Kevin is cursed to lose in the playoffs and have his only championship be tainted with an asterix. Jenny loses her playoff game and is arrested by the police when her daughter confuses her confession of beating her husband as domestic violence and not a football victory. Ruxin is destined for the Sacko award for worst team once again and ends up with a low sperm count and can't have any more children. Dumb but lucky Taco becomes filthy rich by accidentally obtaining the URL rights to DallasCowboys.com and then sells the website back to owner Jerry Jones only to lose it all by the end of the year. Pete (Mark Duplass) goes through a horrible dating relationship with a former schoolmate that leaves him emotionally crushed and losing in the championship game. And Andre (Paul Scheer) is stalked by bullies while finding a wife who ends up being deathly allergic to his semen. The only person not cursed is Ted, whom is never seen and happens to beat Pete in the Shiva Bowl.
Some of the more outstanding episodes are:
"Training Camp," which is the season premiere episode where the gang goes to the Dallas Cowboy training camp for their draft and meets several NFL stars like Jason Witten, Felix Jones, and Robert Griffin III, who makes a dream sequence appearance.
"Tailgate" where Andre rents a motorhome to attend a Bears game and the gang ends up being confronted by their high-school nemesis.
"A Krampus Carol" introduces the loveable childhood character from Germany that goes hand in hand with Santa Claus who kidnaps the children on Santa's naughty list and devours them. Taco decides it's his duty to dress up as Krampus and terrorize a mall full of children.
"The Curse of Shiva" is the season finale where the Scrote Squad ends up stealing the show over the usually insane Shiva Bowl game. The guys start up their high-school antics of punching one another in the scrotum. But Ruxin who is trying to increase his fertility count hires his insane brother-in-law, Rafi (Jason Mantzoukas), to guard his balls. And in his over enthusiastic way Rafi takes it upon himself to randomly attack everyone he sees by pounding them unmercifully in the groin.
The two-disc DVD has four special features and contains extra footage for most of the episodes giving you both the originally aired version and an extended version.
The "Deleted Scenes" were slightly altered versions of what was already in each of the episodes. It was really difficult to remember what had been cut from the scenes in the first place, but Andre's spoof of the television show Cribs while trying to sell his place was the best one in the batch.
"Taco Tones" is a reccurring feature on the season DVDs, but this one is really weak as it only contains one partial song that he sings to Ruxin about him trying to have a new baby with his wife. There were at least two Krampus songs from the episode "A Krampus Carol" that were funnier and deserved to be included in the this special feature.
"Alt Nation" is one of the better features as individual scenes are tried multiple times using different dialogue that end up with very funny results.
Most of the time the "Gag Reel" features are boring as people mess up lines and laugh. But this time there were several extended mistakes and lots of funny adlibbing from the cast. The final scene where Ruxin hires Rafi to guard his testicles is hysterical as the camera continues to run while Jason Mantzoukas repeats his lines over and over because Nick Kroll can't stop laughing no matter what he tries to do to control himself.
The fourth season of The League is what you've come to expect from the series, lots of rude and crude jokes sandwiched between an over-the-top premiere and finale mixed with a number of football celebrities like Adrian Peterson, Deion Sanders, and Jim McMahon. There are a few lulls in the middle but most fans of the show will be pleasantly satisfied with the overall storyline and look forward to Season Five and what will occur now that the word Shiva has been stricken from the league.