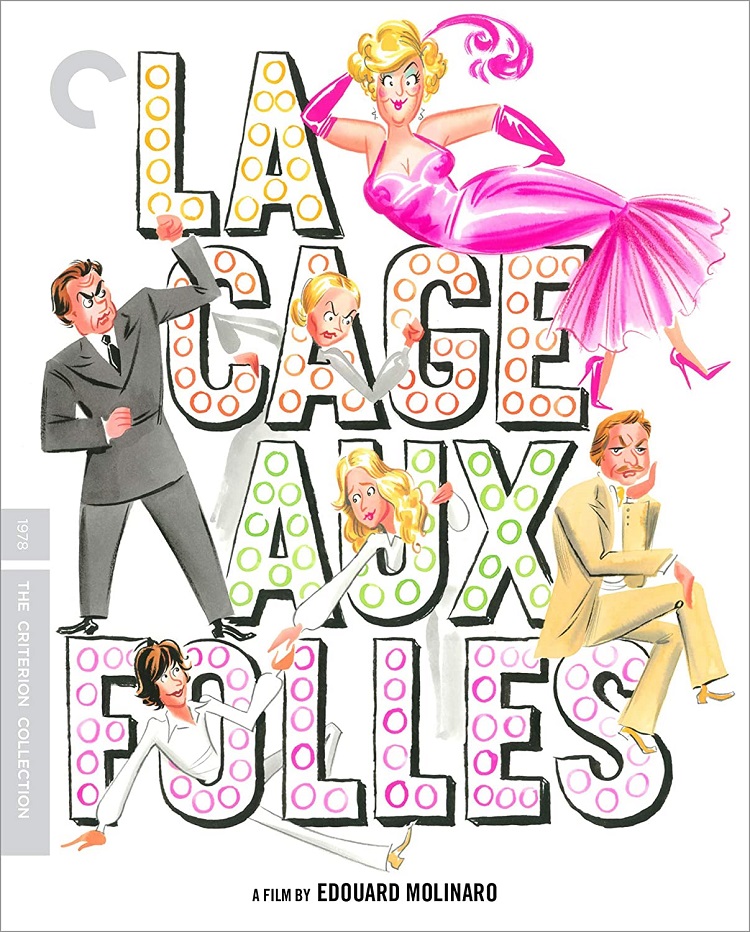 Director Édouard Molinaro considered the making of his La Cage aux Folles as "utter hell," but it's hard not to adore the final results. Now available on Blu-ray thanks to Criterion Collection, this French comedy is a farce with heart and a social conscience. It is a film as funny and necessary today as it was when it came out in 1978.
The movie was based on the play of the same name by Jean Poiret. The production ran on stage for nearly 1,800 performances between 1973 and 1978. Poiret is among the writers of Molinaro's film version, bringing his durable and divine comedy to the screen where it would spawn an American remake and a Broadway musical.
Italian actor Ugo Tognazzi stars as Renato Baldi, the manager of the titular Saint-Tropez nightclub and longtime lover of Albin (Michel Serrault). Not only is Albin Renato's gay lover, he's the star of the show at the club. When the couple's son Laurent (Rémi Laurent) announces that he is getting married to a girl (Luisa Maneri), old issues bubble to the surface.
For one, the girl's parents just so happen to be conservative. Her father, Simon (Michel Galabru), is actually a deputy of the Union for Moral Order. There's no way that he and his wife (Carmen Scarpitta) will accept Laurent's parents "as is," so a solution is put into motion as the two sets of parents prepare to meet.
La Cage aux Folles is a farce, but it's also a surprisingly thoughtful picture about concealing one's identity in service of larger acceptance. Renato and Albin would certainly not hide their homosexuality for just any reason, of course, but their's son's request carries heavy weight.
As with most comic adventures of this sort, there are many additional complications outside the realm of the plot. Simon and his family are pursued relentlessly by reporters who can't help but delight in the Michelle Bachman level of irony behind the death of the Moral Order's president, so that adds extra pressure on his daughter's "white wedding."
Galabru is absolutely genius in his role here, adding multiple layers of repressed emotion and outrage. His reactions as the flamboyant truth begins to emerge are priceless and he plays beautifully off of Scarpitta's vision of his supportive wife. His Simon is classic Moral Order stuff: sympathetic to a point, pathetic to a fault.
Tognazzi and Serrault are wonderful as the happy couple, too. They are believable together, even if a rather superfluous wrinkle with Laurent's mother (Claure Maurier) undermines the quality somewhat. Serrault is particularly good when he weaves a touch of sadness into his otherwise manic performance.
Along with boasting ace performances, La Cage aux Folles works so well because of its impeccable structure. It introduces the characters and the situation adeptly, then breezes into the expected climax with scenes of colour and nervous delight. These sequences are punched up with various little touches, like the refusal of Jacob (Benny Luke) to wear shoes while serving dinner.
La Cage aux Folles never belittles its main characters and really winds up being a film about compassion more than anything else. In the end, Renato and Albin would've been well within their rights to leave Simon and his wife to their own devices. Their decision to help, even while it hurts, reveals the spirit of these characters.
The Criterion Collection Blu-ray presents the picture in its original aspect ratio of 1.66:1 with a new digital transfer in 2K resolution. The audio is in French (there are English subtitles, of course) and was remastered at 24-bit from the original 35mm magnetic track. This helps bring a little extra juice to the Ennio Morricone soundtrack.
As far as the bonus features go, La Cage aux Folles is a little on the lean side. There is an informative booklet by David Ehrenstein and an interview with author Laurence Senelick about drag theatre and its cultural impact. Some archival footage featuring Serrault and Poiret is also included.
The best and most fascinating feature, however, is the interview with Molinaro. In it, he describes the process of making La Cage aux Folles as the aforementioned "utter hell" and reveals some uncomfortable and rather ironic information about the picture and some of the performers. Some of this is rather jaw-dropping stuff, so make sure to watch the interview after the film.
Even with a rather lean slate of bonus features, the Criterion Collection Blu-ray of La Cage aux Folles is a worthy release. The film is among the funniest ever made, featuring a delightful balance of heart and soul in handling a topic that is still unfortunately controversial to many.