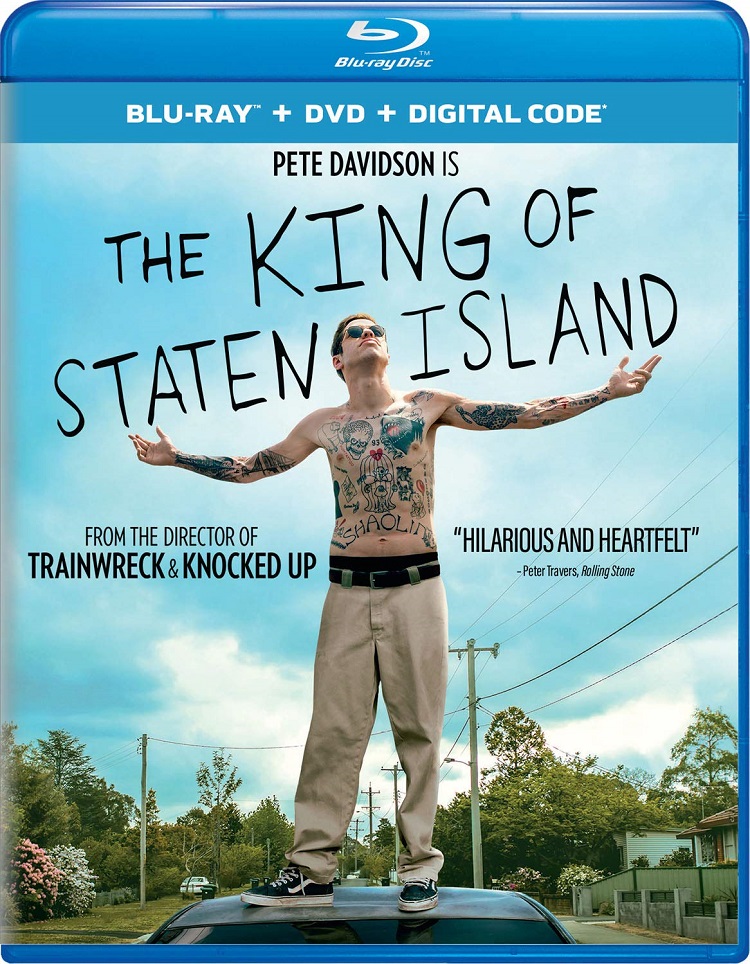 There have been so many coming-of-age movies about young people growing up, dealing with the pressures of life, love, family drama, sibling rivalry, and facing an uncertain future. Judd Apatow is a director who brings his own style: an ear for sometimes raunchy but honest dialogue, long running times, and characters who are so overly complicated but honestly deep and lovable. When these two factors come together, they do mix well (at least most of the time). However, Apatow has made his most realized work with this year's The King of Staten Island, where he also gets a stellar lead performance from comedian Pete Davidson that makes you want to give him a hug and hang out with him.
In the film, which was inspired by his real-life story, Davidson stars Scott, a mid-20s slacker in Staten Island, New York, who spends his time getting high with his friends, hooking up with his childhood friend Kelsey (Bel Powley), and dreams of opening up a tattoo shop. He also has serious issues to deal with after the death of his firefighter father (who died when his was seven). While his intelligent and realistic younger sister (Maude Apatow) heads off for college, he remains at home with his exhausted ER-nurse mother (Marisa Tomei). When he tries to give a local kid a tattoo, this leads him to encounter a loudmouth firefighter (veteran comedian Bill Burr) whom his mother eventually starts dating. As he continues to wreak havoc with everyone in his life, he comes to a crossroads where he has to finally face his grief and take his first step towards maturity and moving on with life.
I don't think the story is that original and the running time could use a little trimming, but I really did enjoy this film. Davidson may not be everyone's cup of tea and he has had his fair share of the tabloids, especially with his dating life. But, he is really charismatic and funny. He isn't afraid to be annoying and insecure. He also gives you a relatable character that you do feel for, despite his behavior and the not-so-smart decisions he makes with his life. There are also strong supporting performances from Tomei, Burr (never better than he is this film), Powley, Maude Apatow, Pamela Adlon (as Burr's ex-wife), and the always great Steve Buscemi, who are there to keep Davidson elevated throughtout the film, without stealing it away from him.
The Blu-ray/DVD combo has two hours of bonus features that include:
Alternate Endings (Which Didn't Work!)
Deleted Scenes
Gag Reel
Line-O-Rama
The Kid from Staten Island – a sit-down discussion with Davidson and Judd Apatow talking about the film, their experiences working together, and what it meant to make a movie based on Davidson's life.
Judd Apatow's Production Diaries – Apatow provides "scoop" on set and talks about scenes at hand.
You're Not My Dad: Working with Bill Burr – Judd talks about how Burr was perfect for the role of "Ray Bishop" with Burr himself discussing his favorite moments.
Margie Knows Best: Working with Marisa Tomei – Judd talks about how honored he was working with the Oscar winner.
Friends With Benefits: Working with Bel Powley – She talks about her friendship with Davidson, getting the role of "Kelsey", and figuring out the character's relationship with "Scott".
Sibling Rivalry: Working with Maude Apatow – Maude talks about her character "Claire", with Davidson and her father discussing his real-life brother/sister relationship.
Best Friends: Working with Ricky, Moses, & Lou – Ricky Velez, Moises Arias, and Lou Wilson discuss their roles as Scott's best friends and working on the set.
Papa: Working with Steve Buscemi – Judd, Davidson, and others discuss why the great Buscemi was perfect for his role in the film.
Friends of Firefighters Stand-Up Benefit – a comedy show with Davidson and Judd featuring Burr, Velez, and Lynne Kopliz hosted while making the film. The proceeds went to the Friends of Firefighters organization
Scott Davidson Tribute – Davidson's father was a member of the FDNY and tragically died during 9/11. His family and friends share stories about him.
Offical Trailer
Who is Pete Davidson? – Family, friends, and the filmmakers talk about their hopes of what will come from the film's release, and why it was so important to Davidson.
The Firehouse – A discussion what it was like shooting in a real firehouse and how they accurately captured the environment.
Pete's Casting Recs – Davidson decided to cast a large group of his friends, and they talk about working with him.
Pete's' 'Poppy' (Grandpa) – Judd shares his experiences on directing Pete's grandfather in his film debut.
Video Calls
Audio Commentary with Judd Apatow and Davidson
This film may not win any awards, but I think that it is a good film about how tragedy can shape a person's life and how that person can grow and be an adult from it.