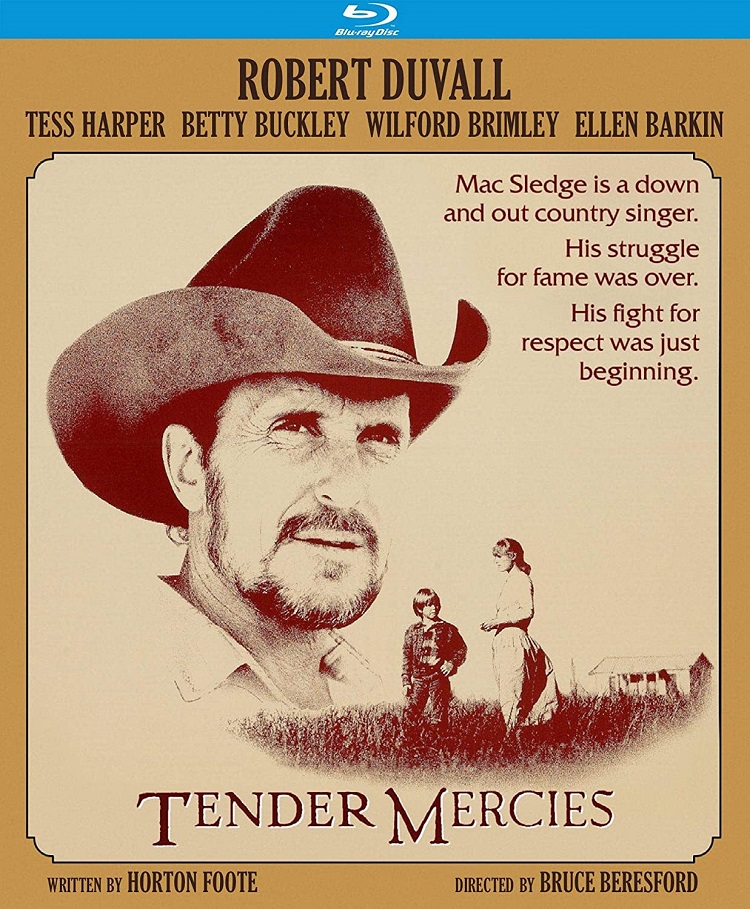 Two men brawl over a bottle of whiskey in a run-down old motel room. One man falls, or is possibly knocked down onto the floor. He doesn't get up until morning. The other man takes the truck and leaves. When the man wakes up, he asks the owner of the motel if the other fellow paid for the room. When she says, "No," he asks if he can work it off. She figures there are some things he could do.
At the end of the day, he says he might like to stay on for a few days if she has work he can do. She says she'll give him a room, meals, and will pay him two dollars an hour. He says "OK." At supper, the woman's boy, Sonny (Allan Hubbard), asks the man his name. It is Mac Sledge and he's played by Robert Duvall. A role that won him an Oscar. She's Rosa Lee (Tess Harper in her first screen role). He used to be a country and western singer/songwriter. He used to be famous. But the drink took that away. And his wife. His daughter too. Now, he just drifts.
He stays on a while. The two are immediately comfortable with one another. They say very little. Time drifts by. One evening, while moving dirt around in the garden, he asks her to consider marrying him. She says she will. We don't see the wedding. We don't see all that much. This isn't a film where things happen. It is a look inside a man's heart. A woman's too.
His ex-wife, Dixie (Betty Buckley), got famous singing his songs. She's still a star. One night, she comes to the nearby city for a show. He goes to see her but walks about halfway through. He tries to see his daughter, Sue Anne (Ellen Barkin), backstage but he finds Dixie instead. They have terse words and he leaves. He was mean to her when they were together. He almost killed her once when he was drunk.
Rosa Lee never asked him to stop drinking; she just said he couldn't have one while working. She says he sometimes used to go out at night every once in a while for a drunk but that stopped pretty quick. She says that to Sue Anne when she comes by one day. There isn't a reconciliation between her and Mac, but an understanding. A local bar band comes by too. They want to meet their musical hero. He gives them a song. They ask him to sing it one night at the local dance hall. He no longer wants the limelight, but he sings. He writes some more songs.
At school, some boys tease Sonny. He doesn't have a father they say, and now some drunk is living with his momma. He's matter-of-fact about such things. Later, another boy asks him about his dad. Sonny says he died in Vietnam. He doesn't know how. He asks his momma. She doesn't know either. They found him alone. There had been several skirmishes in that area in the week he died. Or he could have been killed by a sniper. She says she got married when she was 16, became a mother when she was 17, and a widow at 18. These questions are answered, with an honesty rarely seen in film. Or life.
The script by Horton Foote is smart. It won him an Oscar. It knows about people and their inner lives. It tells us just enough about the characters. We learn the rest through the actor's eyes. Bruce Beresford's direction is solid but not showy. There are a lot of medium shots. These show off the beautiful flat land of Texas and where these characters live.
There is a scene late in the film. Mac and Rosa Lee are in the same garden where he proposed to her. He monologues about life. He's just been dealt a harsh emotional blow. He says he doesn't trust happiness. That he never will. We see that he feels that in his bones. We feel it too. But this life he's made with Rosa Lee and Sonny isn't a bad one. It might be pretty good. It is a very good film.
Kino Lorber Studio Classics presents Tender Mercies with a 1080p high definition transfer. Extras include an audio commentary by film critic Simon Abrams, a new documentary feature with interviews with Robert Duvall, Tess Harper, Allen Hubbard, Bruce Beresford, and Horton Foote and the usual trailers.