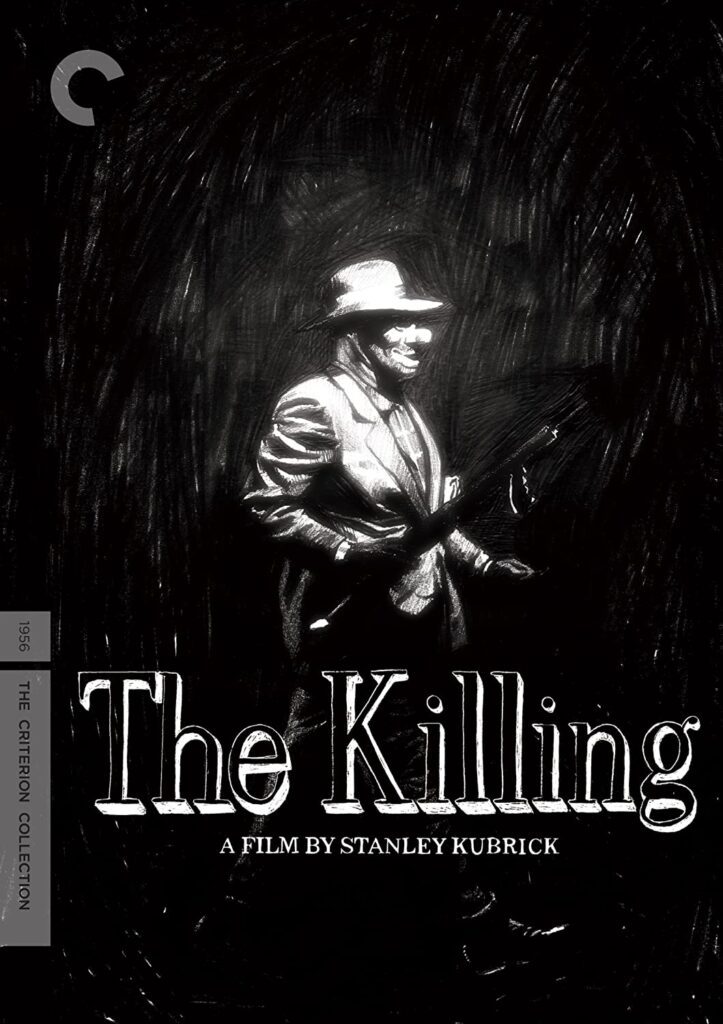 The Killing is a fine little film on its own, and yet I couldn't help but compare it unfavorably to writer/director Stanley Kubrick's later triumphs. It's also a bit deceptively titled, as what one might naturally expect to be a murder mystery is instead a detailed heist drama seen from the various perspectives of its participants. With no major stars and a fairly conventional, albeit imaginatively time-shuffled plot, it's mostly interesting now as a pleasant diversion and a glimpse of Kubrick's early development.
The story focuses on a group of crooks as they plan a massive heist at a racetrack. Each man has a specific and carefully choreographed role to play, meaning almost certain doom if even one of them fails. The ringleader and stickup guy is played by the towering Sterling Hayden, seemingly willing the rest of the average characters to succeed in spite of their shortcomings. The weakest link is a henpecked cashier (Elisha Cook Jr.) at the track who makes the foolish error of revealing their plans to his cheating wife, setting a wildcard into play when her boyfriend gets some ideas of his own. There's also a dirty cop, a bartender at the track, and a couple of hired guns brought in to perform specific tasks but not to share in the bounty.
With all of the players in place, the film takes the unusual approach of following the crime from their multiple perspectives, making for sometimes confusing chronology as it jumps from character to character. It also makes for little empathy for any of the characters as we don't spend long enough with any of them to really get to know them. However, the various perspectives fully reveal the detailed planning by both the crooks and Kubrick in bringing the tale to a thrilling conclusion.
For its Blu-ray release, the film has been digitally restored and features an uncompressed monaural soundtrack. The image isn't entirely clean, with numerous scratches on the print noticeable throughout, especially in the early going. The brightness and contrast are superb, with inky blacks and pure whites revealing and maximizing every detail of the film's shadowy substance.
The bonus features are particularly extensive considering that they include an entire other Kubrick film, the earlier and less accomplished Killer's Kiss. Elsewhere, there's a recent interview with producer James B. Harris, Kubrick's business partner at the time, where he talks about sharing author Jim Thompson's source novel with Kubrick as well as the tribulations they encountered bringing the film to screen. Poet and author Robert Polito also shares an appreciation of Thompson, as well as more background of his career. Finally, I found the most enjoyable feature to be the colorful excerpts from interviews with free-wheeling lead actor Sterling Hayden conducted in his Bay Area home by a French TV series near the end of his life. He pulls no punches in his career tales and borders on incoherent and belligerent at times, making for some fascinating footage.
The Killing is now available on Blu-ray and DVD. For more information, visit the Criterion website.