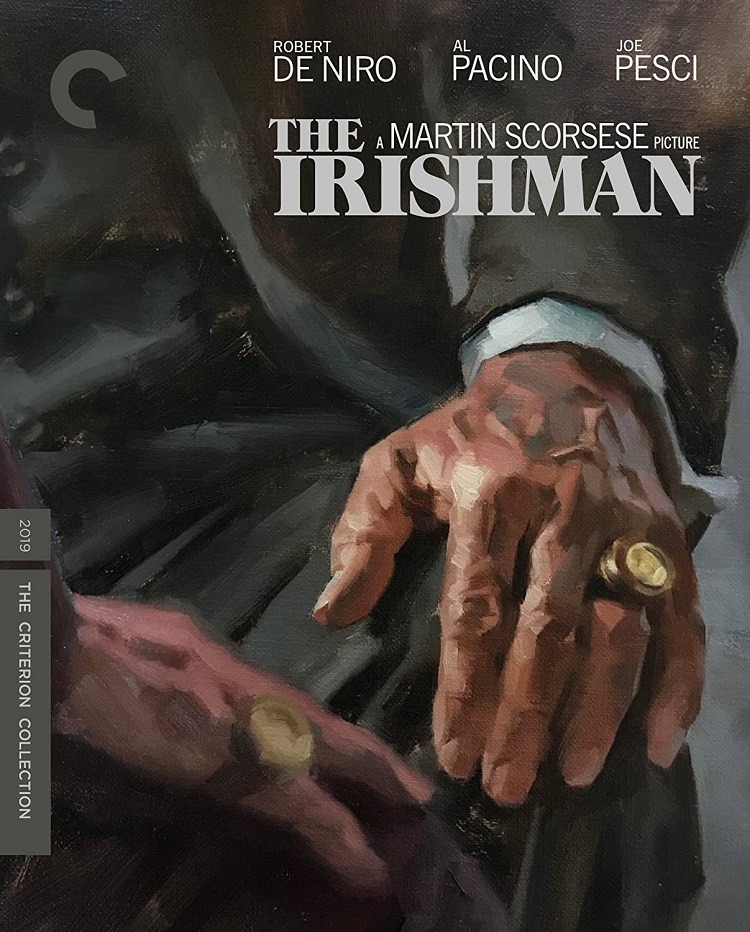 Martin Scorsese's epic The Irishman makes a fitting bookend to his gangster films as one mobster tells his story while living out his twilight days at a retirement home, alone because of the life chosen and the decisions made. The film is also poignant because it's likely the last fans will get to see the trio of Scorsese and actors Robert De Niro and Joe Pesci together telling a story of such scale and scope, if not the last story they tell as Pesci had to be coaxed out of retirement.
The titular character is Frank "The Irishman" Sheeran, a former mafioso gunman for the Bufalino crime family and Teamster Union official, who told his story to author Charles Brandt in the book I Heard You Paint Houses, notable for its theory about what happened to Teamster leader Jimmy Hoffa.
The film opens with the camera tracking through the aforementioned home, coming upon Frank (De Niro), who tells his story, how he began working Russell Bufalino (Pesci) and how he was loaned out to Jimmy Hoffa (Al Pacino) to help with union trouble.
Initially, the mob and Hoffa worked together. Since the former couldn't work with the banks, they obtained loans, which Russell got a piece of, from the Teamster's fund in order to build hotels in Las Vegas. They "helped" get John F. Kennedy elected President, but then neither saw the expected benefits from getting a man in at the top. Jimmy has challenges to his power controlling the union and is very vocal publicly about his disappointments, especially when people he did favors for no longer have his back. Russell and his peers don't like the spectacle. Frank, who has been befriended and given opportunities by both men to improve his lot in life, is caught between them when Jimmy refuses to accept the way things are. But Frank knows he has to get Jimmy to listen after Russell explains, "If they can whack a president, they can whack the president of a union."
The other relationship of Frank's the film looks at is with his daughter, Peggy. As a young girl (Lucy Gallina), she is pushed by a grocery store owner, and Frank beats the man in front of her. He thinks he defended her honor, but their relationship is forever be changed. Russell, who doesn't have children with his wife, wants to be close to Peggy, but she keep her distance. Instead, she grows close to Jimmy, which contributes to the distance between her and her father as the years go by.
Scorsese's return to the gangster genre is captivating in large part because of his directing choices, particularly in regards to the camera, the editing, and the soundtrack. The work of production designer Bob Shaw and his team contribute to each scene have an authenticity. Steve Zaillian's screenplay presents real-life characters telling a story on a historical canvas yet the dynamics of their interpersonal relationships are universal. The de-aging special effects received a lot of attention as it takes time getting used to seeing the young face of Robert De Niro, but I was more distracted by his blue eyes.
The cast is stellar. De Niro delivers a great range of emotions over the course of his life. He maneuvers through the criminal world, strong at times and deferential at others, like when he learns he almost lost his life getting involved with the burning down of a laundry business that was partially owned by Philadelphia crime boss Angelo Bruno (Harvey Keitel and how pleasing to see him back among the Scorsese players). He is also pained at the end of his life dealing with having lost the connection to Peggy (Anna Paquin, who says so much with her expressions that Peggy's feeling come through loud and clear). Pesci, who played over-the-top characters in his previous Scorsese films, is outstanding as the reserved Russell. Frequently seated, the character speaks softly and with little emotion yet everyone knows a big stick will be following if his orders aren't listened to. It's not showy, but is one of his best performances. Pacino, who surprisingly had yet to work with Scorsese, is a frequent scenery-chewer, but here, it works for the bigger-than-life Hoffa, who was well served by his bravado…until he wasn't.
The video has been given a 1080p AVC/MPEG-4 encoded transfer displayed at aspect ratio of 1.85:1. The liner notes reveal, "this digital master, with color grading approved by director Martin Scorsese, cinematographer Rodrigo Prieto, and editor Thelma Schoonmaker, was created in 4K resolution using a combination of digital-camera footage and the 35 mm original camera negative. Digital cameras were employed to facilitate the scenes requiring de-aging visual effects. Different Look Up Tables (LUTs) were applied to both the scanned film negative and the digital footage to emulate old still-photography emulsions such as Kodachrome and Ektachrome, as well as the ENR processing technique."
While different film stocks were used for specific time periods to evoke specific looks, the picture frequently exhibits rich, earth tones and strong primaries. Blacks are inky and don't crush thanks to the quality shadow delineation. Whites are bright. The image delivers strong contrast, sharp focus, and fine texture detail. The work that went into the production is well preserved with this transfer.
Also in the notes, "the audio original Dolby Atmos soundtrack was remastered from the digital master audio files using Avid's Pro Tools." Dialogue is clear. The effects are placed well across the soundscape. Vehicles pan across channels. Gunfire pops with power and explosions boom, though the latter does rattle a tad like when Frank blows up a fleet of taxis. Robbie Robertson's score and ambient sound surround the viewer. The track has a wide dynamic range to capture the loud and quiet moments.
A second disc includes the extras, In HD, unless stated:
Making The Irishman (36 min) – Scorsese, the cast (sans Pesci), Prieto, Shaw, along with author Charles Brandt; casting director Ellen Lewis; producers Irwin Winkler, Emma Tilinger Koskoff, and Jane Rosenthal; visual-effects supervisor Pablo Helman, costumers Sandy Powell and Christopher Peterson, and location manager Kip Myers talk about different aspects of the film's making.
Table for Four: Scorsese, De Niro, Pacino, and Pesci (19 min) – Previously a Netflix extra, the foursome sit together for an informal chat.
Gangsters' Requiem (21 min) – Farran Smith Nehme explores the ideas, themes, and techniques Scorsese tackles and revisits from past films in The Irishman.
Anatomy of a Scene (5 min) – Taken from the New York Times online series, Scorsese breaks down the scene of the night when Sheeran is honored.
The Evolution of Digital De-Aging as Seen in The Irishman (13 min) – Created by Netflix, a promotional piece that reveals the groundbreaking work done to make the actors younger.
Frank Sheeran and Jimmy Hoffa (SD, 6 min & 17 min) – Two different archival interviews. Sheeran appears in short clips while interviewed by Brandt in 1999) and while Hoffa appears in David Brinkley's Journal.
Theatrical Trailer and Teaser (4 min)
Martin Scorsese's The Irishman is a welcome addition to his filmography and adds to the tapestry of United States history. Setting aside its accuracy about the Hoffa mystery, Sheeran's story is engaging as many a father made the wrong sacrifices for his family. It's marvelous that Scorsese got to tell this story his way and so good to see so many familiar faces onscreen reunited with him. Thankfully, Netflix allowed Criterion to make a physical product to own and the high-def presentation showcases the work that went into creating the film's visual elements.