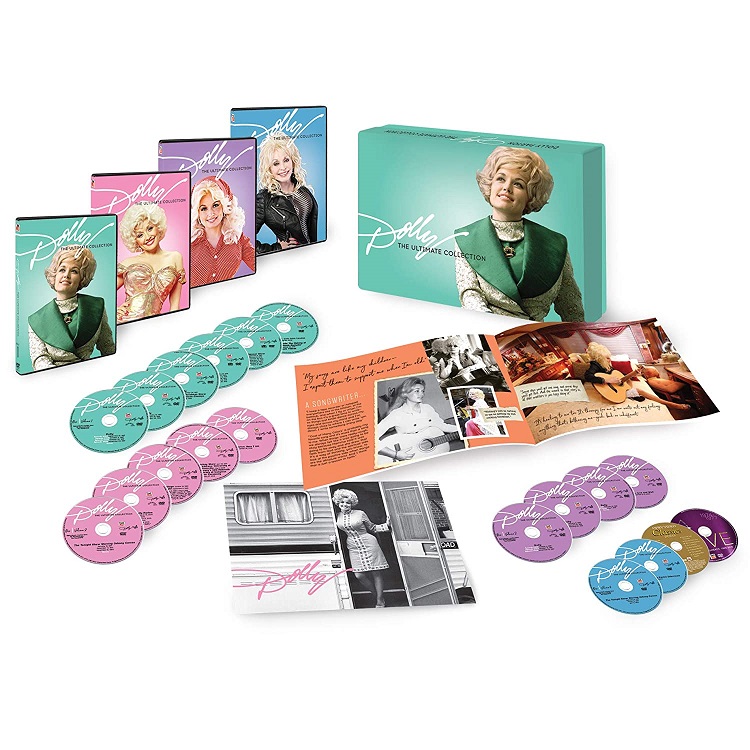 The first four volumes of Dolly: The Ultimate Collection from Time Life contains a massive amount of TV appearances across 19 discs and over six decades. This set showcases that Dolly Parton's musical talent, charisma, and spirit remained a constant while her appearance frequently changed.
Volume 1 contains 6 discs. The first three discs contain eight episodes from her eponymous 1987 variety show that aired on ABC. The shows are packed with guest stars and hokey humor, but the songs are what's worth watching. Disc 3 focuses on Christmas with a Dolly episode paired with Bob Hope's Jolly Christmas Show with The All-American Champs (1988) on which she appeared. Disc 4 presents six episodes from her 1976 syndicated variety show of the same name. Disc 5 goes farther back in time with seven episodes of The Porter Wagoner Show where she first made a name for herself. Disc 6 has Dolly Parton: Live from London (2009), although viewers may wonder how much of her vocals are actually live; Dolly & Friends: The Making of a Soundtrack – Dumplin' (2018); and ten of her music videos from this century. Each disc has bonus material of interviews, Porter Wagoner Show promos, and pre-production video of the London concert.
Volume 2 contains 5 discs and is heavy on the talk-show appearances. Disc 1 contains four appearances on The Tonight Show with Johnny Carson from 1977 through 1980. Disc 2 presents Ovation's Song by Song: Dolly Parton (2013) where each of the six episodes examined the creation of and reaction to a particular song written by Parton. Disc 3 features Lorianne Crook as much as Parton. Crook interviews her on Celebrities Off Stage (1992). Parton appears in news stories on 15 episodes of Crook and Chase between 1986 and 1992, and in 1995 is the guest of the hour on the titular pair's follow-up series Music City Tonight. All these shows aired on The Nashville Network. Disc 4 has The Oprah Winfrey Show (1987), Parton's 2009 "Commencement Address: University of Tennessee, Knoxville," and "Imagination's Library's 100 Millionth Book: The Library of Congress Dedication Ceremony" (2018). Disc 5 hosts the 2019 documentary Dolly Parton: Here I Am.
Volume 3 contains 4 discs and continues in the same vein as Volume 1 as the first three discs contain eight more episodes from her 1987 series, leaving six uncollected. Disc 4 is Dolly Parton: Live and Well, previously released concert footage recorded December 12 and 13, 2002 on her Halos & Horns Tour. It sounds like she is singing live as opposed to the aforementioned London concert.
Volume 4 is an assorted nuts collection. Disc 1 presents three more Tonight Show with Johnny Carson appearances with the 1987 appearance most notable because she appears with her Trio partners, Emmylou Harris and Linda Ronstadt. Disc 2 has raw interview footage from Song by Song: Dolly Parton by peers, such as Kenny Rogers, Marty Stuart, and Vince Gill, and current artists/fans such as Brandi Carlile, Miley Cyrus, and Carrie Underwood. Disc 3 is from a completely different set titled Opry Video Classics: Duets. There are 15 performances on the disc with two by Parton and Wagoner. Other pairs appearing include Johnny Cash & June Carter and George Jones & Tammy Wynette. Disc 4 is the 1974-1977 disc from the CMA Awards Live set. From those four shows, Parton can be seen at the 9th Annual show in 1975 singing "Love is Like a Butterfly" and the 11th Annual in 1977 singing "Here You Come Again."
Dolly: The Ultimate Collection contains a cornucopia of TV appearances featuring one of country music's greatest singer/songwriters. Clocking in almost 37 hours, Dolly Parton fans will enjoy revisiting, or seeing for the first time, her appearances in this massive amount of archival material.