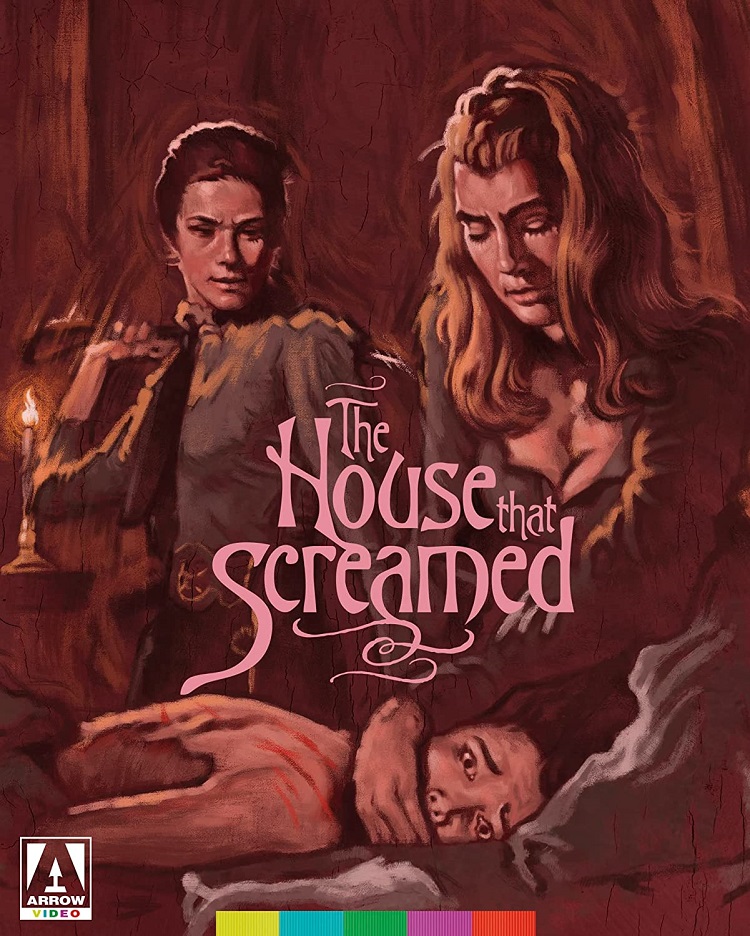 I have discovered so many hidden gems in the horror genre. These films contain expert filmmaking, strong performances, sheer atmosphere, creative kills, and subdued palettes. Spanish filmmaker Narciso Ibanez Serrador's 1969 classic The House That Screamed (aka The Finishing School/La Residencia) is definitely one of very best of them.
Teresa (Cristina Galbo) is the new arrival at an isolated boarding school for troubled, wayward young women during 19th century France, one that ruled with an iron fist by the stern headmistress Mme Fourneau (a commanding Lilli Palmer). As she gets an education in the strict methods of how the school operates, and unfortunately catches the eye of Fourneau's protege Irene (Mary Maude), she learns that many of her fellow students have suddenly disappeared. Tensions grow even bigger when Fourneau's 15-year-old is introduced, who is ordered by her not to have any contact with the "tainted" girls. He obviously ignores her rules, which adds more consequences to an already disturbing situation, since there appears to be a mysterious assailant who may or may not be the cause of all the missing girls. Who will be next?
This film is one of the true hallmarks of European horror, one with so many undercurrents and facets to it. There's the obvious sexual repression, especially in an alarming scene where many of the girls overhear one of the older pupils having sex, which arouses and excites them. There's also themes of authoritarianism, bullying (including emotional and mental abuse), blatant lesbianism, subtle incest, and rebellion that makes this film ahead of its time and unexpectedly modern.
There isn't a huge body count, but the kills are no less chilling. The slow-motion murder of (spoiler alert) Isabel (Maribel Martin) in the greenhouse is one of the most startling moments in horror history. And there's the out-of-left field death of a very major character that is also shocking, which ties it to Psycho (1960). However, this film itself can be seen as a major influence on The Beguiled (1971), Black Christmas (1974), Picnic at Hanging Rock (1975), and Suspiria (1977).
The performances are quite good as well, especially from Galbo and Maude (who lets her sadism run wild as Irene) and are just as intense and complex as Palmer's. The sequence where Maude torments Galbo is perhaps the most frightening moment in the film. It really shows you the chilling misuse of higher authority (which adds to the film's overall modernity). This is quality genre filmmaking at its finest.
Of course, this release from Arrow is another winner. It includes new 2K restorations of both cuts of the film: the director's original uncut Spanish version (which run 105 minutes) and the U.S. theatrical version (94 minutes); a brand new commentary by critic Anna Bogutskaya; This Boy's Innocence, previously unreleased interview with actor John Moulder-Brown; Archive interview with Mary Maude, from the 2012 edition of the Festival of Fantastic Films; All About My "Mama", new interview with Juan Tébar, author of the original story; The Legacy of Terror, new interview with the director's son, Alejandro Ibáñez; Screaming the House Down, new interview with Spanish horror expert Dr. Antonio Lázaro-Reboll, discussing the history of the film and its director; alternative footage from the original Spanish theatrical version; Original trailers, TV and radio spots; and Image gallery. There's also an illustrated collector's booklet featuring a new essay by Shelagh Rowan-Legg and double-sided fold-out poster featuring original/new artwork by Colin Murdoch.