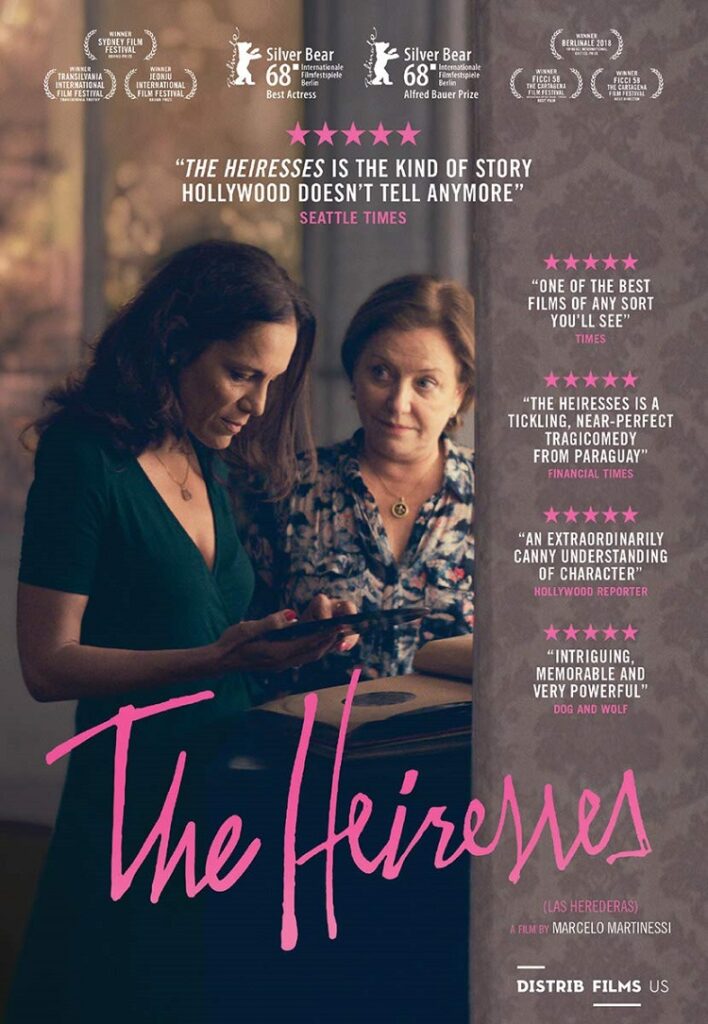 The Heiresses is a small indie that breaks slight new ground for lesbian cinema. In a queer subgenre filled with pictures about couples with age gaps and young couples within the same age range, this film creates a space for a lesbian couple over 40. In addition, it acknowledges their queerness without it becoming politicized or essential to the plot. Even if The Heiresses succumbs to having too much filmmaking restraint, writer/director Marcelo Martinessi shows a fair amount of promise with his feature-film debut.
Martinessi relies heavily on the camera and the lead actress' face to guide the story rather than expositional dialogue. There are moments where it does work like the first ten minutes. Initially, it's clear that Chela (Ana Brun) has a lot on her mind but it's initially unknown what's bothering her. That is until it's revealed that her lifelong partner Chiquita (Margarita Irun) is going to prison for fraud. The rest of the picture involves Chela adjusting to life without her and finding new ways of fulfillment.
Chela spends her days acting as a taxi for a group of cynical old women, hoping to find some connection after her partner forced her into a life of solitude. WIth just her eyes, Ana Brun wonderfully provides insight into Chela's damaged psyche. Also, despite this being Brun's acting debut, her performance would make it seem like she's been acting for years. Surely, it's no wonder she won Best Actress at last year's Berlin Film Festival.
Additionally, Margarita Irun is a wonderful scene partner for Brun as Chiquita. When Chiquita is first introduced, Irun plays her with slight congeniality to show the need to keep their relationship strong. However, as the picture progresses, there becomes a distance between both women and Irun showcases that distance with heartbreaking frigidity.
Then there's Ana Ivanova as Angy, a vivacious woman who becomes an object of Chela's affection. Given how Angy isn't entirely fleshed out, it could've been easy to portray her as more of an idea than a character. Yet, Ivanova makes her compelling by injecting her with wily ambiguity. It's possible Angy may harbor feelings for Chela, but the feelings she's hinting at may be for show.
The three main actresses do wonders with their roles despite having a sparse amount of dialogue and easily hold the movie together. Martinessi makes an admirable attempt to show that emotions don't always have to be conveyed through verbal elucidation. Yet, it doesn't entirely work. That being said, The Heiresses still succeeds thanks to its central performances and progressive depiction of an aging lesbian couple which feels like an on-screen rarity.