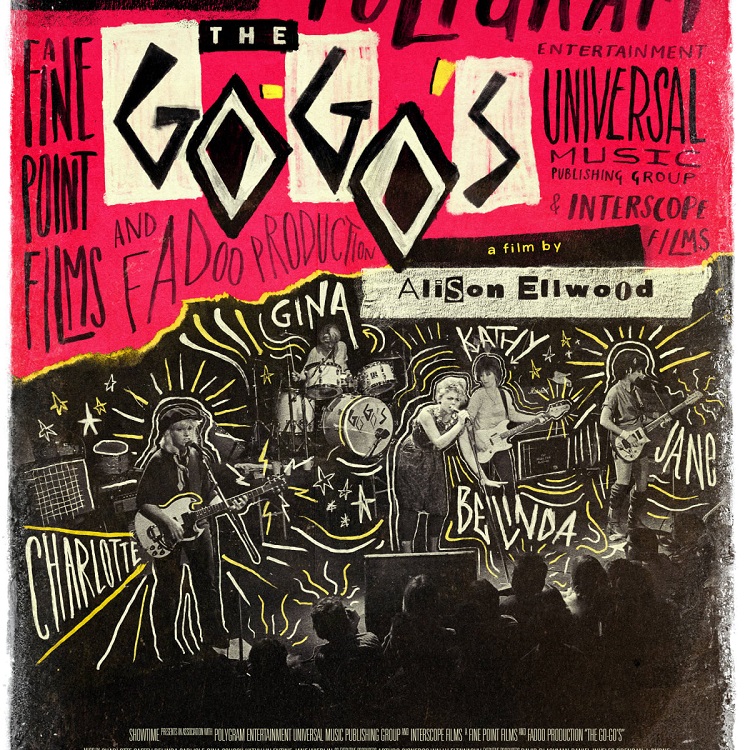 The Go-Go's documentary, which premiered at the 2020 Sundance Film Festival and won two awards, "Best Music Documentary" and "Most Compelling Living Subjects In A Documentary" at the Critics Choice Awards last year, will be available on digital streaming and rental services on February 5. Director Alison Ellwood, (History of the Eagles, Laurel Canyon) lets the members of the band – Belinda Carlisle, Jane Wiedlen, Charlotte Caffey, Gina Schock, and Kathy Valentine – tell their own story. Most interesting and perhaps surprising to viewers is that their band's story is so similar to other bands – the phenomenal rise and eventual fall, complete with sex, drugs, and rock and roll. That well-known trajectory is the same for an all-female band as it is for all-male bands. That may not seem so unusual now, but in the late 1970s and early 1980s, when the Go-Go's were forming and starting their careers as musicians, it was positively revolutionary.
"We are the first all-girl band to play their own instruments and be really successful." Jane Wiedlin (rhythm guitar)
The Go-Go's is brightly colored, with snappy editing, and perfectly captures the 1980s and the band's sunny-on-the-surface sensibility. Ellwood deftly weaves lots of interviews with the band and people in their orbit with concert footage and personal photos.
The Go-Go's weren't a band dreamed up by some Svengali, or put together by a famed record producer, like other girl groups. They found each other. They came out of the L.A. punk scene, which in the late 1970s was inclusive and welcoming to people who had never felt welcomed before. Jane Weidlin, who speaks of battling depression as long as she can remember, found a home in the punk scene, as did Belinda Carlisle (lead vocals). When the Sex Pistols played L.A., it was less than an inspirational moment for local punk rockers. The Pistols gave a lackluster performance and Johnny Rotten heckled the audience, "Ever get the feeling that you're being cheated?" Young wanna-be punks seized an opportunity to forget their heroes and take music in a new direction.
The punk scene was so small in L.A. that everyone knew everyone else. Weidlin wanted to form a girl band, so she had a pretty good idea who to approach. The newly formed band only had one problem – no one played any instruments. Their punk attitude and enthusiasm got them a few gigs, but could only take them so far. Enter an actual trained musician – Charlotte Caffey (lead guitar and keyboards). Caffey played bass, and the spot offered was lead guitarist, but she wanted to be in a rock band with an all female line-up, so she bluffed her way in and quickly figured out how to play lead guitar.
The band began to get more gigs and caught the interest of Ginger Canzoneri, who became their manager. Changes were made, and Gina Schock (drums) replaced their less commited-to-the-band drummer.
"When you kick people out of a band, it sucks …" Jane Wiedlin
Schock had skills, but not the right look, which the rest of the band quickly fixed. What she really had was drive. She got the girls to rehearse more, get better, get serious. Viewers learn that Wiedlin and Schock also had a brief relationship, but things happen, as Schock opines with humor, "It wasn't like either of us were heartbroken or nothing. You think something like that is gonna f*** with the band? No way."
As the band got tighter as a unit, so did the songwriting, done mostly by Caffey and Wiedlin. When Caffey wrote "We Got the Beat," she was terrified that the rest of the band wouldn't like it: "It was a pop song." Fortunately not only the band but fans loved it. The Go-Go's were on their way. And their first stop: England. Manager Canzoneri sold practically everything she owned to finance a British tour where the band joined popular U.K. ska acts The Specials and Madness.
They became an even tighter band on tour. It was their first experience playing every night, being on a tour bus, having tour romances (most notably Wiedlin with Terry Hall from The Specials, which led to their collaboration, and huge Go-Go's hit, "Our Lips are Sealed"). They also caught the notice of England's Stiff Records, which released "We Got the Beat," which became a hit single in the U.K. and the U.S. Canzoneri very smartly insisted that they retain the publishing rights to the song, which proved quite lucrative for Caffey. Back home from such a successful tour, they were disappointed to discover that they still couldn't get a record deal. No record company wanted to sign a "girl band."
More changes were to come. Current bassist Margo Olavarria felt they were drifting away from their original punk sound towards pop. A replacement was quickly found – guitarist Kathy Valentine, who taught herself to play all of their songs on bass over a few days with "a little pharmaceutical help." The Go-Go's doesn't shy away from darker sides of the rock and roll lifestyle – feelings of betrayal, the pursuit of stardom at any cost, and lots and lots and lots of drugs.
With this line-up the band really gelled and Miles Copeland (older brother of Stewart Copeland and manager of The Police) signed them to his new record label I.R.S. Seemingly overnight, they were playing The Peppermint Lounge in New York and recording their first album, Beauty and the Beat. They worked with producer Richard Gottehrer, who had them slow down their "punk" songs to reveal a bunch of hit pop songs where you could actually hear the lyrics.
As they became more successful, they noticed that Caffey, the "quiet one" in the group, kept herself at a distance. Band members later learned in surprise that she was a full-blown (secret) heroin addict. But the show went on, addictions and all. The Go-Go's became a staple on the new cable music channel MTV and Copeland had them open for The Police. No one was more surprised than the Go-Go's that now they were playing sold-out arenas. During the tour, their record went to number one, passing their hosts, The Police, who were at number six on the Billboard record chart. They were (and still are) the first all-female band to go to number one – and it was their debut album.
But success, as we know, comes with just one thing – the desire for more success. The record company pushed for a second album, too fast. And pressured them to get back on tour, and tour almost constantly. The band got caught up in the whirlwind and decided they were too big for long-time manager Canzoneri. Another one bites the dust. That's rock and roll.
The infighting also started, big time. Who was getting credit for songwriting, and most importantly, getting paid (a lot) for it, became a constant source of debate. And lawsuits. Caffey and Wiedlin were the main songwriters and main earners of the band. But that status didn't mean much when Wiedlin wanted to sing one of her songs on their next record. Nope. Unsurprisingly, band founder Wiedlin was the first to leave. The band kept on for a while, but the drug use increased and the fun seemed to have disappeared. It didn't take long before everyone went their separate ways.
"As angry as I was when they broke up the band, I missed them." Kathy Valentine (bass)
But the Go-Go's did eventually reunite. A few times. They have even recorded and released a new song together, "Club Zero," which is featured in the film. Viewers will be wondering by the end of The Go-Go's why the band has yet to be inducted into the Rock and Roll Hall of Fame (this film could be clearly used as a video application). What's a girl to do? I guess just keep playing all those great songs in the meantime, which are featured in the film: "Our Lips Are Sealed", "This Town", "We Got the Beat", "Vacation", "Cool Jerk" (cover), "Head over Heels", "Turn to You", "Get Up and Go" and so many more.