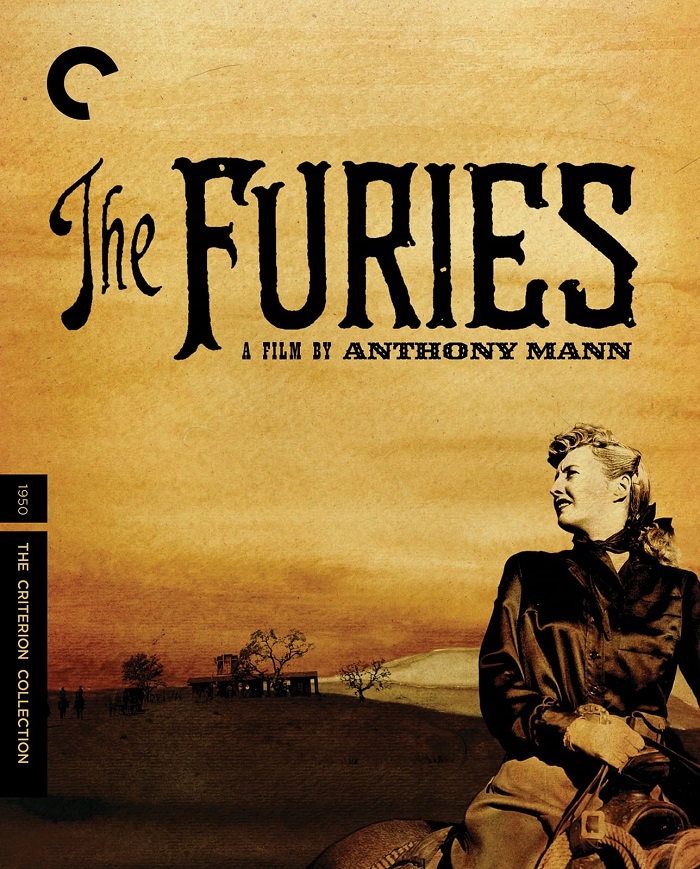 Based on Niven Busch's 1948 novel of the same name, which Criterion has included in paperback, Anthony Mann's The Furies is a fascinating film of familial conflict between cattle rancher T. C. Jeffers (Walter Huston, in his final role) and his daughter Vance (Barbara Stanwyck), who expects to inherit her father's business. For those that know their mythology, the Furies were female deities of vengeance, so the film's title, the same name as T.C.'s ranch, suggests what lies ahead.
Set during the 1870s in the New Mexico territory, Vance is all ready to take over the ranch and looking for a husband to help her. She has had a long, close relationship with Juan Herrera (Gilbert Roland), whose family has been squatting on the land for years, but that wouldn't work in that era. Vance falls for Rip (Wendell Corey), a gambler and saloon owner. He treats her like no one has before which both infuriates and intrigues her. T.C. doesn't like Rip and gets in the middle of things.
T.C. returns from one trip with Flo Burnett (Judith Anderson), and Vance feels threatened. She is concerned Flo wants T.C. for his money. Flo is honest about her motivation in seeking security . When Flo gets in the way of her plans, Vance lashes out in dramatic fashion. In retaliation, T.C. goes after the Herreras and his actions seal his fate. Vance plans to take the ranch from him, and she does in such a clever way, he can't help but be impressed with her attempt.
After closing out the 1940s directing film noirs, Mann looks to have brought some of that genre's sensibilities to The Furies, from the selfish, unlikable characters to cinematographer Victor Milner's use of shadows. In addition, this western also has elements that bring to mind a family melodrama and Greek tragedy.
The cast engages the viewer with their portrayals. Walter Huston is wonderful playing the over-the-top T.C. Barbara Stanwyck is marvelous conveying the varying emotions of Vance. Judith Anderson's Flo is the most straightforward, never hiding her intentions were questioned about them. Gilbert Roland's Juan has a nobility that is unfortunately under served by the script. Even in the few scenes he has, the character has a larger presence in Vance's life than viewers get to see.
Previously released by Criterion on DVD in 2008, The Furies gets a high-definition upgrade. Presented in its original aspect of 1.33:1, the liner notes reveal "this new high-definition digital transfer was created in 4K resolution on a Spirit DataCine film scanner from a 35 mm composite fine-grain master positive. Thousands of instances of dirt, debris, scratches, splices, and warps were manually removed using MTI Film's DRS, while Digital Visions Phoenix was used for flicker."
Film grain is apparent and increases during daytime exteriors. Blacks are inky and whites look bright. There are scenes that exhibit depth. However, objects within the frame aren't always in focus, and this doesn't count soft look given to shots where Stanwyck is in close-up. During exteriors, the shadow delineation suffers. Objects get lost in the dark, especially during day-for-night scenes. The image looks clean and otherwise free from defect.
"The original monaural soundtrack was remastered from a 35 mm optical track print using Avid's Pro Tools and iZotope RX." Dialogue is clear and understandable. Franz Waxman's score gets clipped when too loud. There's a noticeable hiss throughout.
In addition to the novel, there's "Mann of the Western," an essay by Robin Wood, and a 1957 Cahiers du cinema interview with Mann. Special features on the disc include:
Commentary by western scholar Jim Kitses from the 2008 release
Anthony Mann (17 min) – Segments from a 1967 interview on the British TV series The Movies
Radical Classicism (29 min) – Film critic Imogen Sara Smith discusses the film and the director
Walter Huston (9 min) – From 1931, an interview with Huston that played in theaters. It comes across scripted and staged.
Nina Mann (17 min) – From the 2008 Criterion release, Anthony's daughter talks about the film and her father.
Anthony Mann's westerns of the 1950s expanded the genre in stories that explored characters who had depth beyond their good guy/bad guy designation. The Furies is the first and is well worth watching. The Criterion high-def presentation is satisfactory and the extras allow viewers to explore the film and its director, both of which deserve a spotlight shined on them.