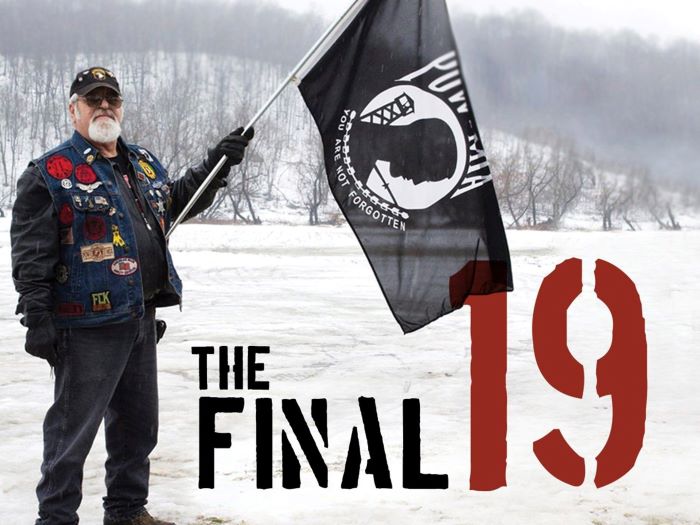 Dan Hefel knew he was going to be drafted eventually. With the Vietnam War intensifying, Hefel decided that it would be best for him to discontinue high school and enlist. Plus, coming from a family in which all the other men had served, Hefel knew it was his calling.
But, like every soldier that serves, Hefel wasn't expecting his time in the Army to result in the way it did. Hefel's helicopter was shot down less than one year into his service, and he eventually became a prisoner of war (POW). Hefel was imprisoned for 1,143 days, while his family prayed for his safe return.
Directed by Hefel's cousin, Tim Breitbach, The Final 19 focuses on Hefel's experience growing up in small-town Iowa and enlisting in the Army to fight in the Vietnam War. It's a very personal documentary for Hefel and his family, as they all recount what they were feeling during that time. Many tears are shed, as brothers, cousins, and even Hefel's wife discuss where they were when they heard of their loved one's helicopter being shot down.
The documentary also works as a captivating feature about one man's experience being a prisoner of war. The title refers to the number of men brought home from the Vietnam War, as it was coming to an end. Hefel's story is just one of many that need to be heard, and yet, like the stories of other veterans, they will go without saying a word about their experience. It can be a psychologically damaging experience and one that is hard for people to recall. However, Hefel comes across as an open-book – willing to tell you what happened to him during that time and not coming off as hesitant. As he says in the documentary, whatever happened in Vietnam is in the past, and he looks to live the rest of his life as a free man.
The Final 19 is a grassroots-produced type of documentary, in which a lot of the creativity came from the assistance of other friends and family members and doesn't take on a bigger budget to tell its story. Not only is the director a cousin of Hefel, but Breitbach also serves as one of the lyrical writers for the song "POW-MIA Set Him Free" by Medicinal Purposes. The song appears numerous times throughout the documentary and works as an accompanying piece to tell Hefel's story. With much of the war footage being archival stock, the song adds to Hefel's story while immersing the viewer in the war.
Breitbach does a terrific job of having Hefel recall his story and incorporating the viewpoints of others in Hefel's family. One of the more admirable aspects is that some of Hefel's recollections are done in different settings. Sometimes, he's in a bar. Sometimes, he's on his boat. And sometimes, he's at his home. It gives the viewer that feeling of being alongside Hefel in various moments of his life and having a lively conversation with him before he opens up about his experiences. Some people outside of Hefel's family also get their side of the story in, such as Chicago Tribune journalist John McCormick – who wrote the story about Hefel's capture and return home at the time.
The Final 19 serves as a reminder to be thankful every day and to never forget those who put their lives on the line to defend our freedom. Watching this documentary is like sitting down with a relative and going through old photos while they give you their life story. It's a haunting and moving experience, and one that needs to be seen by all.