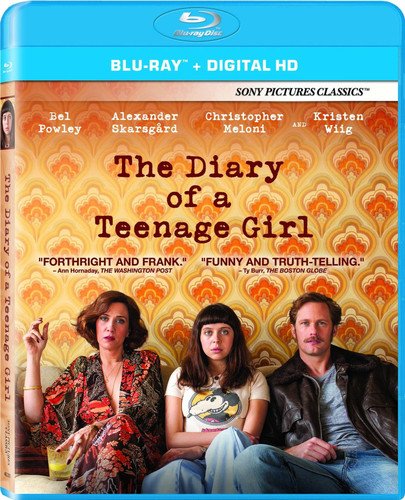 Marielle Heller's The Diary of a Teenage Girl isn't particularly groundbreaking from a visual or formal standpoint; its burnished digital photography and lilting camerawork could belong to any number of Sundance entries. But this adaptation of Phoebe Gloeckner's graphic novel is certainly distinctive among American film for its forthright, completely nonjudgmental approach to female sexuality.
The plot — in which a teenage girl starts sleeping with her mother's boyfriend — bears at least passing similarity to Andrea Arnold's Fish Tank, but The Diary of a Teenage Girl is nearly a tonal opposite, fraught nerviness replaced with a pleasant inquisitiveness. Diary's Minnie Goetze (Bel Powley) makes some decisions that are certainly ill-advised, but rather than concern trolling about the danger of her actions, Heller is refreshingly matter-of-fact — a rare enough quality in a film about a teenager, never mind one that revolves around her sexual coming-of-age.
Living with her mother, Charlotte (a nicely nuanced Kristen Wiig), and younger sister Gretel (Abigail Wait) in 1970s San Francisco, 15-year-old Minnie dreams of becoming a cartoonist and admires Charlotte's boyfriend Monroe (Alexander Skarsgård), an attraction that pivots suddenly from casual fascination to intense lust, the first of Heller's incisive depictions of the capriciousness of burgeoning sexuality.
The episodic film eventually examines the fallout — without resorting to what would be uncharacteristic melodramatics — while detouring down a number of narrative paths as Minnie further explores her sexual options (and discovers her own awkwardness is nothing compared to teenage boys). Her career aspirations are encouraged by an encounter with artist Aline Kominsky, and her fractured adolescence is detailed during several interactions with semi-estranged stepfather Pascal (Christopher Meloni).
Animated interludes and Minnie's narration (via her recording of an audio diary) feel like perfunctory storytelling elements, but even in its most ordinary moments, The Diary of a Teenage Girl bristles with real energy thanks to Powley's vibrant performance, surely a star-making turn.
Sony's The Diary of a Teenage Girl Blu-ray is outfitted with a 1080p, 2.40:1 transfer that pleasingly presents the film's earthy photography, awash in faded, golden hues. There's a slight softness throughout the film, but detail and color consistency are excellent. Nico, T-Rex and Television tunes sound crisp and clear in the perfectly adequate 5.1 DTS-HD Master Audio track, which, naturally, is dialogue-forward.
Extras include a commentary track with Heller, Powley and Skarsgård, a couple brief deleted scenes, a making-of featurette, and a Q&A from the LA Film Festival. The film's trailer and an Ultraviolet digital copy are also included.