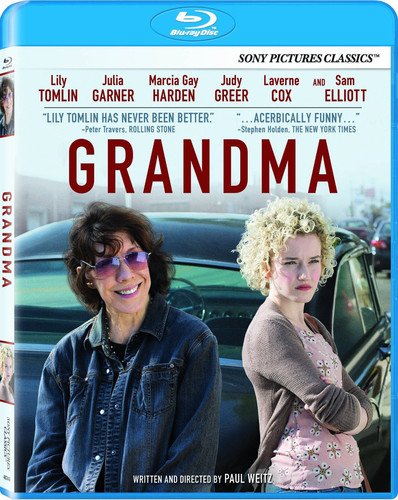 You would think that a road trip movie about a girl and grandmother bonding would be another one of those meandering chick flicks that you see nowadays far too much. However, Director Paul Weitz's 2015 refreshing gem of a film, Grandma, is not that type of film and that's a very good thing. It's a devilishly funny, smart, and wonderfully real piece of indie filmmaking that doesn't come around too often. It's also a showcase for the legendary Lily Tomlin to do what she does best, which is to knock it out of the park. And she does.
Tomlin stars as Elle, a very frank, ball-busting, and feisty woman whose granddaughter, Sage, shows up at her doorstep asking for money to get an abortion. Having almost no money, she and Sage decide to drive all over Los Angeles to ask her friends, ex-lovers, and acquaintances for money, which has its ups and downs. During those unexpected visits, she ends up opening and re-opening old wounds and past mistakes, especially having to deal with the death of her longtime partner and the recent breakup with another half her age. Through their journey, Sage learns that it's okay to be complicated, flawed, and vulnerable, and to also accept that life has its dramas but also its hopes.
Although this is truly Tomlin's film, the excellent supporting cast elevates the film with brilliant performances: Julia Garner, who is on her way to becoming one of the great young actors of her generation, is amazing as Sage, who helps Elle discover who she really is, while trying to deal with her own mistakes. Judy Greer does some of her best work in years as Olivia, Elle's on-and-off again girlfriend; Marcia Gay Harden, almost stealing the film with her role as Judy, Elle's estranged, workaholic daughter; and especially the great Sam Elliott, who matches Tomlin as Karl, her charismatic ex-flame who is one of the very few people who intimidates her and knows how to push her buttons. There is also the fabulous Laverne Cox, who in a brief scene, holds her own in just a matter of seconds as Elle's best friend, Deathly.
This is the type of film that really attracts and interests me, because it doesn't have special effects, explosions, or explicit sexuality. It has human drama about all-too-real people with all-too-real flaws, drama about people that we can all relate to, sometimes on a rather uncomfortable level. You witness characters in their darkest moments, and the facade of what makes them who they are.
Special features include a humorous, but lighthearted commentary with Weitz, Tomlin, Garner, and Eliott; a Q&A with Weitz, Tomlin and Eliott; the film's theatrical trailer and other trailers (Infinitely Polar Bear, Irrational Man, Diary of a Teenage Girl, Truth, and Hello, My Name is Doris). Exclusively available to the Blu-ray is a making-of documentary, A Family Portrait: Making Grandma.
I truly loved this film, because it tells a common story with such uncommon grace and raw authenticity, and it is really remarkably acted and directed, where it's only setback is its short running time.