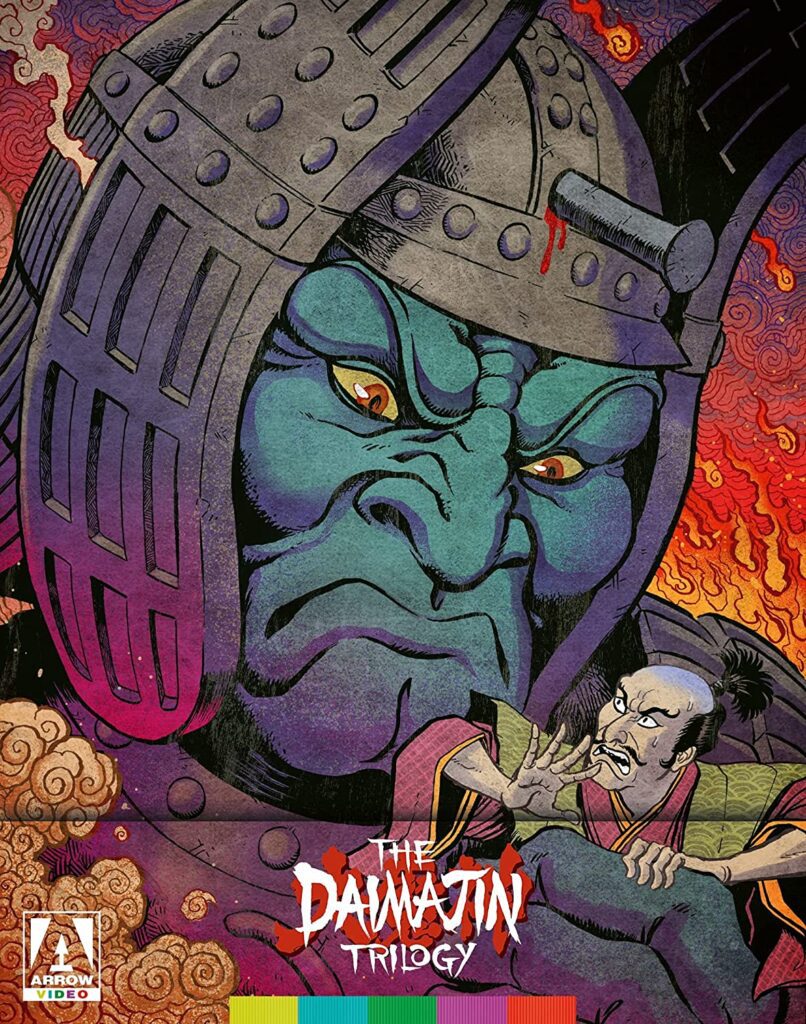 What if a Godzilla-sized monster was a living stone statue who battled evil human warlords instead of other monsters? Japan's Daimajin films played out that simple concept over a trilogy of films that were shot simultaneously and released at different times in 1966. Arrow Video's new Blu-ray box set presents these kaiju classics in a lavishly produced collection, helping to elevate these lesser-known works.
The golem-like Daimajin character only awakens from his stone statue form when virtuous humans pray to him and ask for help, usually accompanied by tears and offers to commit suicide as sacrifice to him if he will answer their prayers. Somehow, he's able to instantly assess the situation on the ground and determine who the bad and good humans are, proceeding to express his wrath to the ones he identifies as bad guys. Since he's dozen of feet tall and made of stone, his battles against normal humans are ridiculously lopsided, decisive, and fast. That removes any thrills viewers might normally find in giant kaiju battling each other, but there is some joy in seeing baddies receive their speedy comeuppance.
Although the films shared the same crew during their simultaneous production, they featured entirely different casts, directors, and plots, leaving the star character as the only unifying item. Unfortunately, that character only factors into the final 15-20 minutes of each film, leaving viewers to wade through typical samurai-era human drama for most of each film's runtime. Thankfully, the effects and composite shots are fairly well done, along with decent cinematography that peaks with dramatic snow-filled scenes in the final film.
The first film, simply titled Daimajin, explains the mythology of the character before launching into an extended conflict between a group of poor peasants and the powerful warlord who controls their area. When the peasants finally turn to Daimajin for assistance, it's bad news for the warlord and his cronies.
Return of Daimajin expands the mythology a bit by establishing that Daimajin can materialize out of thin air instead of just a set statue location. That's an important distinction, since this film's bad warlord has the foresight to simply blow up the statue in an attempt to eliminate its threat.
Wrath of Daimajin features four boys who set out from their oppressed peasant village across treacherous snowy terrain to get the kaiju to help them defeat the local warlord. The childhood quest aspect makes this one feel a bit like The Goonies, while the snowy vistas make for some dramatic shot compositions that give it a quality boost over its predecessors.
Image and sound quality are very impressive, featuring 1080p transfers and lossless original Japanese and mono dubbed English soundtracks for all three films. Unlike the Gamera kaiju series from the same studio that started around the same time, all three movies were filmed in color. The color consistency is nicely maintained throughout each film, and any remaining defects are few and far between.
The limited edition box set is everything fans expect in a premium collection, with a sturdy box housing the three films in individual standard plastic cases and an informative 100-page book stuffed with multiple essays and illustrations. The cover art for each movie case is also reversible, giving owners the choice of original or newly commissioned artwork. The set also includes postcards featuring the original Japanese artwork for all three films.
Bonus features aren't particularly extensive, but include brand new audio commentary by various experts for each film, trailers, image galleries, and a handful of interviews with film historians and the cinematographer for the first film. The first two films also include alternate opening credits from the original U.S. releases, while the third lacks them since it was not theatrically released in the U.S. Finally, the second disc contains a comparison of some scenes in the film with the original storyboards, a welcome look into the creative process.
The Daimajin Trilogy is generally overlooked in the West, but thanks to this expertly produced new box set the films have a much better chance to connect with discerning kaiju fans.