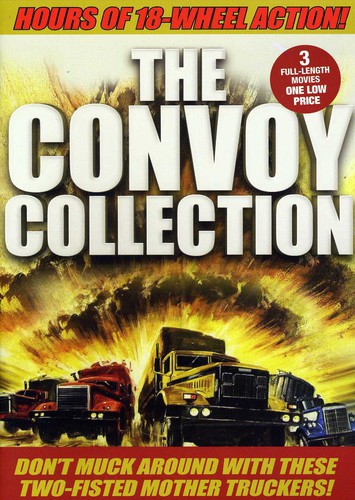 A good exploitation filmmaker is quick to cash in on a craze. Unfortunately, most of the bad ones are, too. In the '70s, the industry of trucking had transformed into a phenomenon of epic proportions. Truck drivers were seen by the public as modern-day cowboys and outlaws (a far cry from the image we have stuck in our heads today every time we see another moronic Walmart driver overturn his rig) — and there were numerous filmmakers across the nation (especially the lower states) anxious to make a buck off of America's enthusiasm over the subject.
Recently, the folks at the budget label CFS Releasing decided to reignite the fire of a long-extinguished (but always fun) fad. The Convoy Collection is a single-disc title that contains three different movies: Trucker's Woman, Concrete Cowboys, and Moonfire.
The first film, 1975's Trucker's Woman (which was originally released as Truckin' Man, and is erroneously credited as Trucker's Women on the DVD artwork), is directed by none other than Will Zens — the low-budget filmmaker behind the MST3K-favorite, The Starfighters, as well as several other cheapo charms. Michael Hawkins (father of Christian Slater and the original Frank Ryan on Ryan's Hope) stars here as Mike Kelly, the son of a truck driver who is killed in an "accident" in the pre-credit sequence.
Convinced there's something more to his father's death, Mike takes up his late patriarch's profession — wooin' women and performing some of the clumsiest fisticuff moments ever captured on film (it is a Will Zens film, after all). Also starring in this enjoyably cheesy ditty are Larry Drake (his second credited role) and the great Doodles Weaver. Future horror/exploitation filmmaker Phil Smoot (The Boneyard, Alien Outlaw) also appears as a henchman. Most of the other actors never went on to do anything else in the film industry — and it's pretty easy to see why, too. Lots of good ol' '70s country music to be found here, with some nudity courtesy one-time actress Mary Cannon.
Movie No. 2 in The Convoy Collection is the 1979 made-for-TV feature, Concrete Cowboys — which isn't even a trucker movie, and is listed on the box art and DVD menu as The Concrete Cowboy. Starring the great duo of Tom Selleck and Jerry Reed, this fun comedy finds Will Eubanks and J.D. Reed (Tom and Jerry, respectively) — two smarter-than-average country bumpkins from Montana who are bound for Hollywood, but who wind up in Nashville instead after they escape a crooked redneck sheriff. Taking up residence at the pad of a private investigator they met at a party, they take up a case on his behalf whilst his is out of town.
Their client is a woman looking for her missing sister (both of which are played by Morgan Fairchild) — a country music protégé with stars in her eyes. And so, J.D. and Will set about to solve the case — causing every kind of uproar imaginable in the process. Claude Akins receives the proverbial "Special Guest Star" billing in the credits for his small role, Gene Evans is a grumpy police detective the two keep running into, and country music star Roy Acuff, Ray Stevens, and Barbara Mandrell also appear as themselves in cameos. Burt Kennedy (Return of the [Magnificent] Seven) directs this tale written by Hammer Films regular Jimmy Sangster (!). A short-lived TV series followed in '81 (without Selleck).
The last feature here is the wacky 1973 (though it was made in 1970) highway adventure Moonfire. As with the previous two movies in this ten-dollar-and-under set, the folks at CFS Releasing somehow managed to get the name of the flick wrong once again — listing it as Moonfire Trucker. Though the credits list Richard Egan (Gog) as the star here, the movie actually centers on second-billed Charles Napier as a young trucker who lands a job of delivering a secret cargo of lettuce along with a statuesque fellow named The Farmer (Sonny Liston, who died in '70) to Mexico.
The hush-hush haul in question contains a payoff — to be delivered to a powerful ranch owner (Dayton Lummis) South of the Border who is not only an ex-Nazi, but is holding a reclusive billionaire hostage. There's even a downed satellite and Sonny has a run-in with a group of vicious bikers in one scene. Marty Robbins performs two tracks just for the story. Michael Parkhurst wrote, directed, and produced this low-budget trucker gem, which was filmed across the Southwestern United States and Mexico, with Ed Begley, Jr. as an assistant cameraman. Joaquín Martínez, Rodolfo Hoyos Jr., and Jose Gonzales-Gonzales co-star as the film's humorously stereotypical Mexicans.
Now, I'm not sure if the fact that each and every one of these movies is labeled incorrectly on the DVD sleeve and/or menu is because CFS just bootlegged these films from VHS cassettes and/or other reproduced DVDs or not, but I can very much guarantee you that all three titles were culled from other video sources. One look at the quality will tell you that — and it might have been better had they not crammed three movies onto a 4.5GB DVD. All of the films are presented in a 1.33:1 ratio with mono stereo sound. Fortunately, though, the audio sync problem I encountered with another of their releases, Great White Death, is not a problem here, so I guess the people at this decidedly-grey market label are learning how to do things.
Subtitles? Extras? No, silly, of course not: this is a bargain bin priced title that can't even get the names of the films right. But, considering you can find The Convoy Collection for next to nothing, and that all three films are entertaining for one reason or another, this isn't a bad buy. Providing you like this sort of stuff to begin with, that is.