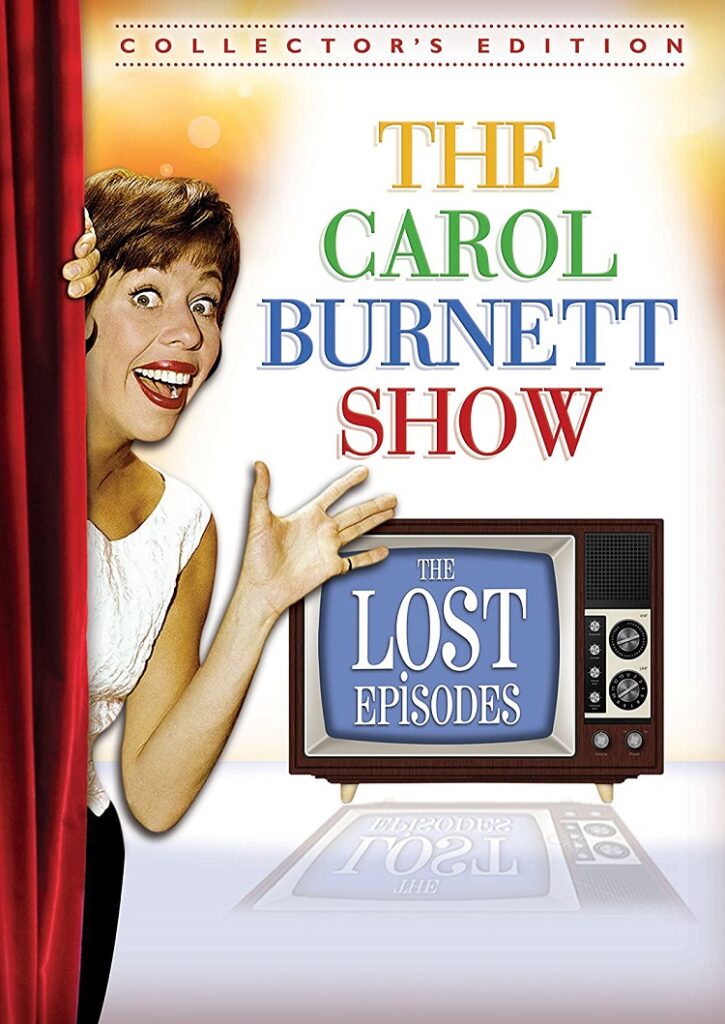 It's always interesting when the term "Lost Episodes" is used to describe a new DVD release. Is that really what happened? Was there actually a conversation where someone said: "Hey, have ya seen the first five seasons of The Carol Burnett Show?" "I thought you had them". "Did you check your pockets?" It's not like we're talking about car keys. We're talking about the first five seasons of what is arguably the best variety show of all time. That's 134 episodes. That's a lot to misplace.
In this case, it appears it was more of a legal access issue, which Carol alludes to in the wonderful episode guide that is included with this release, combined with marketing by Time Life, who is managing to make it very challenging for the fans to get every episode available of this classic comedy.
Putting aside where these episodes were, and what it's going to take to acquire the complete The Carol Burnett Show, this is good stuff! Some of the previous smaller releases (The Carol Burnett Show: Together Again, The Carol Burnett Show: Christmas with Carol, etc.) have contained some fairly lackluster episodes. This release may contain some sketches that are underdeveloped, but as a whole, this is one of the better small releases to date for two basic reasons: it contains the origins of many of the classic recurring sketches, and the bonus material is excellent.
This six-DVD set containing sixteen uncut episodes, which became available on September 15th 2015, really goes where we wish other larger releases had. For the most part, Time Life put real effort into this release giving us bonus material containing interviews with the stars that were on the episodes featured on the same disk. Sure, you could ask why the episodes aren't in order based on when they aired so the much coveted first episode is on disk one rather than disk two, or why there is bonus material on five disks rather than all six, but, let's not do that. Within sixteen episodes and five hours of bonus material, it will be tough not to find enough quality for your investment.
The list of guest stars appearing is a who's who of entertainment legends including Bob Newhart, Don Rickles, Bing Crosby, Tim Conway (who was not yet a regular cast member) in multiple episodes, the brilliant Lucille Ball, and many more. Lucy is featured in two episodes including this first episode on disk one, which aired on November 8th 1968. It also features guest stars Eddie Albert and Nancy Wilson. Taking nothing away from the talent of Eddie Albert; he is featured far more than Lucy in this episode, and it is Lucy we want to see.
We also get the first "As the Stomach Turns" sketch, which leaves a lot of room for the concept to get better and contains a surprising amount of racial jokes which are well written and funny, but sadly would not be as easily appreciated in today's politically correct environment. Several sketches of "Carol and Sis" are featured on this release and this concept too has much room to get better.
The bonus material contains some real gems including the classic dentist sketch with Tim and Harvey, Q & A with Carol, Carol touring the studio, outtakes, and numerous interviews. The interviews are great when the guests are talking about their experiences on the show. Some of the celebrities spend a bit too much time talking about themselves and their careers that have nothing to do with The Carol Burnett Show. I'm looking right at you, Lesley Anne Warren, and of course the editors who failed to do their jobs. Interviews with current stars such as Bill Hader and Queen Latifah are hit and miss depending on their insight into the comedic elements of the show and whether or not the viewer really cares what they think.
Recommendation: Though each disk opens with a disclaimer about the visual and sound quality of the material, the episodes look and sound great. There is every chance that some of the material may not live up to the hilarity that you remember, but there is more than enough solidly funny material here to make this set well worth your investment. The first edition of some of the best reccurring sketches may not contain the best moments ever, but it's fun to see how they started and appreciate where the writers went with the characters. As we head into the holiday season, this is a great gift that is sure to get viewed rather than just left in its plastic wrap and passed along to another relative next year.