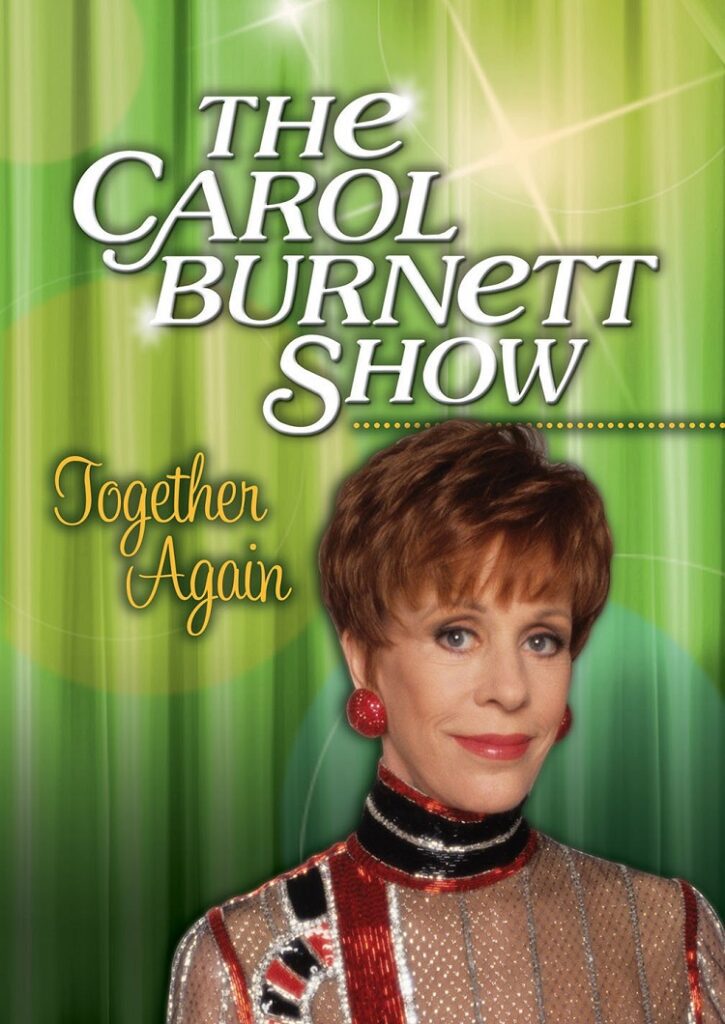 On February 24th 2015, StarVista Entertainment/Time Life released a DVD featuring three uncut episodes from the landmark television variety series. When one hears of a new release from this classic show, it is easy to get excited. To title said release Together Again, only adds to the excitement as we imagine the classic moments enjoyed over the eleven-year run of this CBS success.
Said excitement can be quickly quelled when we discover who is not together again. Unfortunately, none of the three episodes feature Harvey Korman and Tim Conway together. Korman and Conway are fine on their own or interacting with Burnett, Vicki Lawrence, or Lyle Waggoner, but when they were together they created some of the most memorable comedy in television history.
We do get an episode of "Mama's Family" from episode #1115 (Original Air Date: January 8, 1978) featuring Roddy McDowall as Phillip, the brother of Eunice, but Korman had left the series by then and is sorely missed with just Burnett and Lawrence, playing Mama, interacting with McDowall as the straight man in the scene. Like many of the sketches in this release; it goes on a bit too long.
Other guests included in the episodes (#705 Original Airdate: September 29, 1973, and #712 Original Air Date: December 15, 1973) are Ruth Buzzi, Ken Berry, Richard Crenna, and the legendary Gloria Swanson.
Swanson, who was seventy-four at the time, showed great versatility and energy portraying Charlie Chaplin in a fun sketch and her endeavors almost make the entire package worth owning. Buzzi is sorely underutilized considering her comedic chops. Berry has an amusing sketch with Conway that displays their respective physical comedy talents, and as always the dance skills of Berry are featured and appreciated. Ultimately, it is the comedy of Crenna that shines here. His sketch with Burnett in which they play married police officers is one of the more energetic and creative sketches in this release and his other appearances display a range rarely seen in the career projects that followed.
Recommendation: We do get Carol answering questions from the audience, some energetic production numbers highlighted by "Mama's Got a Date" featuring Lawrence and Burnett with a surprise comedic ending, and even a visit from everyone's favorite cleaning woman, but without any bonus material, it's hard to give this release the approving nod or tug on the ear.
True fans of the show already own the "Ultimate Collection" that Time Life released in 2012, and if these episodes were truly memorable, they would have been included in that collection. Many of the sketches go on far too long or are one dimensional. Nonetheless, we do love these people, and can't deny their talent and chemistry. If you receive this DVD as a gift, it's worth watching once and regifting.