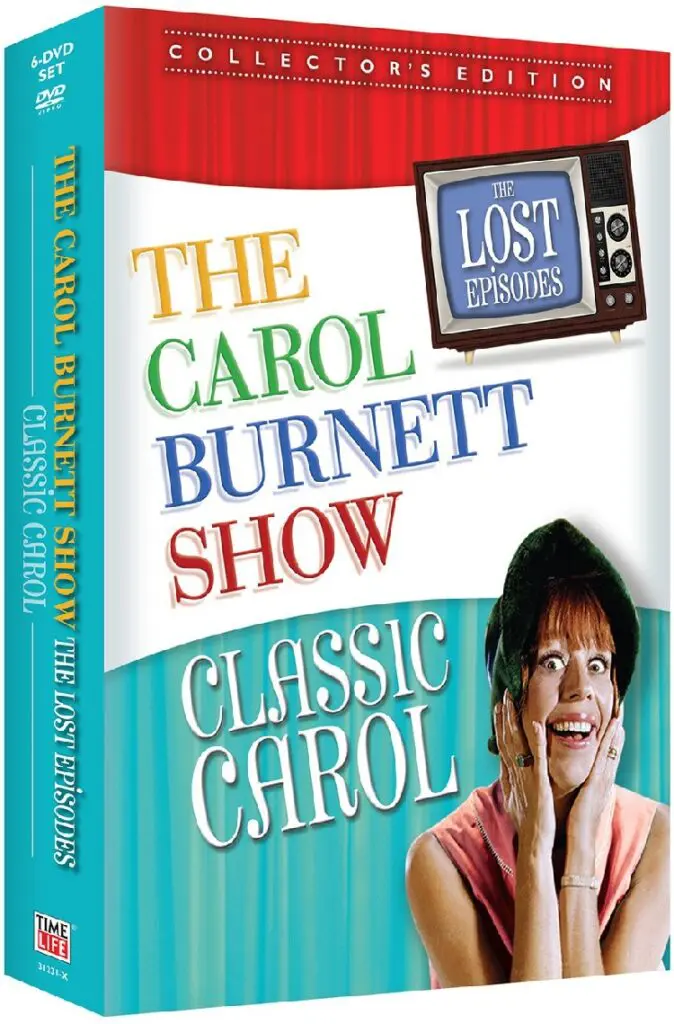 Most of us our filled with fond memories of The Carol Burnett Show, which ran on CBS from 1967 to 1978. Memories of classic comedy that filled our homes with laughter every week as our family gathered around the television to watch Carol and her friends come out and play. Memories of Tim Conway working with Harvey Korman, Lyle Waggoner, Vicki Lawrence, and of course Carol, in some of the funniest comedy ever on television.
Sadly, like many memories, those of The Carol Burnett Show can be a bit cloudy. Tim Conway didn't join the cast as a regular until the 1975-76 season, and though he had been a guest several times before that, he appeared in less than half of the 279 episodes. Combine that with the fact that Korman left the show after the 1977 season, and that what we remember of the two working together becomes a very small portion of the time we spent with Carol and company. Sadly, we must also face the fact that not all the sketches with Conway and Korman actually worked from a comedic perspective.
These facts have provided many of us with a rude awakening as Time Life continues to release the "Lost Episodes" (Don't get me started on how exactly these are being referred to as "lost") on DVD. Some releases have left much to be desired (See Christmas with Carol and The Carol Burnett Show: Together Again) but in the case of The Carol Burnett Show: Classic Carol, which hit store shelves on October 4, 2016, there is far more here that is worth remembering than not.
This six-DVD release features fourteen episodes and over two hours of bonus material. With a list of guests that includes Lucille Ball, George Carlin, Ray Charles, Cass Eliiot, Debbie Reynolds, Lana Turner, and of course, Tim Conway, it's really hard to go wrong.
Yes, there are some disappointments in this collection. In the episode with Lucy and Carlin we get too much Carlin, who hadn't quite found his comedic voice yet, and not nearly enough Lucy. In "The Billboard Hangers," we experience an example of a sketch with Conway and Korman that never quite reaches its comedic potential as the set does not allow Conway the physical opportunities that one might anticipate. We also get the only episode in the series that does not include Vicki and her absence in the episode is not mentioned. The finale of the release is Episode 524 which closed out the 1972 season and consists of one long sketch, a takeoff on the 1945 film The Dolly Sisters starring Betty Grable. The episode features no guests, and the sketch doesn't quite deliver the laughs we had come to expect.
The key to this release is found in the title, "Classic Carol." From the opening Q&A's to the beloved cleaning lady, Carol is singing, dancing, clowning, and in many cases just being classic Carol as she seems to be entertaining without even trying. Though there may not be as much appreciation for the music and dancing of The Carol Burnett Show as there was for the comedy, it's hard not to be both entertained and impressed with what we get here. With Cass Elliot in two episodes, Ray Charles in one, and many others, the music is simply amazing, and Carol shows great range throughout as she keeps up with everyone. There are even two duets featuring Vicki and Lyle which are…unique.
Carol got her start on The Garry Moore Show, which often teamed her with Durward Kirby, so having the two of them as guests on episode 110 from the 1968 season is a trip even further down memory lane. One in which we see Carol display her skill as a truly gifted physical comedienne.
An interesting selection of bonus material can be found on this release but ultimately not enough. The Writers Roundtable goes on far too long primarily because the writers featured didn't actually work together so it ends up being too much about comparing notes. The interview with dancer Randy Doney is interesting but it would have been better had they made more an effort to remind us who he is with some shots from him in the show. The interview with ballet dancer Edward Villella is more about him than his time on the show. The final disc includes two episodes of The Garry Moore Show that features two sketches that Carol recreates with Garry and Durward on her show. This inclusion has its pros and cons.
Recommendation: This is arguably the best release to date because it is indeed, Classic Carol. These episodes will tug at your heart strings when you get to experience Carol on stage, alone, filling the space with her natural talent that shines brighter than most. Her interaction with legends of screen, stage, song, and dance show her to truly be one of the most versatile and talented performers of our time. She not only knew how to work an audience but clearly knew what would work for an audience as well. Never too early to start shopping for Christmas and this makes a great gift.