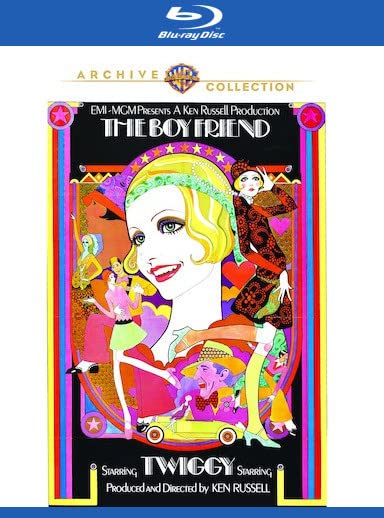 While musicals aren't my preferred form of motion picture entertainment, I did, in fact, see many a song-and-dance flick during my youth. That said, with the exception of the glamourous Fred Astaire and Ginger Rogers classics of the 1930s (all of those movies which just happened to feature a musical number don't qualify in my less-than-established but nevertheless somewhat experienced opinion), most of my interaction with musicals tended to be of a decidedly off-kilter variety. In fact, I can't even count how many times I have seen Phantom of the Paradise, The Rocky Horror Picture Show, Pink Floyd: The Wall, or The First Nudie Musical.
Why, even Trey Parker and Matt Stone's glutinous Cannibal: The Musical, Richard O'Brien's rocky Rocky Horror sequel Shock Treatment, Richard and Danny Elfman's zoned-out joint Forbidden Zone, and the wild whimsical nature of Arch Hall Jr.'s Wild Guitar have found their way onto my television set more times than they probably would in a "normal" person's home. To say nothing of 1975's psychedelically psycho musical Tommy from rogue British director Ken Russell (Crimes of Passion, Lisztomania). And it is of another Russell song-and-dance flick I wish to share with you today: his 1971 odd ode to the classic musicals of Busby Berkeley, The Boy Friend.
Were Ken Russell's interpretation of The Who's iconic Tommy described as the plateau of an acid trip, then The Boy Friend is most assuredly the "opening and letting go" phase of said voyage. Inspired ‒ but ultimately, loosely-based ‒ on Sandy Wilson's 1954 stage smash of the same name (the US debut of which would introduce some lass named Julie Andrews to America), The Boy Friend immediately dismisses the notion of the Wilson's story itself, choosing instead to set the production within the confines of a 1920s theater on the verge of bankruptcy that happens to be performing a real-time variation of The Boy Friend.
Don't feel silly if you're already confused, kids. It is a Ken Russell film, after all.
When the regular star of the show fails to appear for the small audience the matinee performance has garnered, frantic stage manager Max (Max Adrian, who had appeared in Russell's controversial cult classic The Devils earlier the same year) decides it's time for his inexperienced (in every way) gopher/understudy Polly (Twiggy) to step out into the limelight. He instantly starts to regret his decision, however, and not just because he just gave Twiggy her first acting gig, either. Rather, a very famous American filmmaker happens to be in attendance, having furtively joined the audience in a less-than-private stageside box to watch the show, presumably to seek out new talent.
But who needs talent when you have Twiggy, right?
As each one of Polly's co-stars begin to reveal their adeptness at stabbing one another in the back ‒ they are theater people, after all ‒ for the sake of being noticed by their hotshot of a guest from Hollywood, our heroine struggles with something of a much more delicate nature: l'amour. Turns out she has quite the fondness for one of the few straight single men in troupe, whom she would love nothing more than to be able to call her Boy Friend. But will her secret crush Tony (Christopher Gable) get the hint before he absconds with one of the slutty girls? Or will everyone and everything become utterly lost in Russell's hallucinatory story?
Spoiler Alert: It's the latter.
Featuring some of the most mind-bending dance sequences ever filmed (to say nothing of difficult: Russell himself had gone on the record as stating this was the most demanding of all his films), Ken Russell's manic energies most assuredly did not go to waste here. Simultaneously paying his respects to Busby Berkeley's kaleidoscopic high-angle shots and silent comedies, The Boy Friend features some truly amazing moments. Granted, most British people can't dance to save their lives, and there are several instances where you're not entirely certain as to whether you're watching a Ken Russell film or a Monty Python parody of one, but it still makes for a fun trip.
Speaking of trips, anyone who has ever seen the bizarre 1980 Cannon Group production of The Apple ‒ a surrealistic rock 'n' roll nightmare which has unofficially , unanimously been cited as the worst musical ever made ‒ will no doubt observe The Boy Friend's mysterious Hollywood mogul is played by none other than Polish legend Vladek Sheybal . Nine years before he would redefine the word "camp" in The Apple, Sheybal was already mastering the fine art of what some Brits call "taking the piss." In one particularly trippy number, he dons a jester's outfit and frolics away like nobody's watching ‒ even though everyone is.
In fact, it almost feels like Sheybal had an inkling as to where his career would lead him in a few years, and started to act accordingly. Needless to say, witnessing this underrated European character actor ‒ best known for his serious dramatic work in espionage outings such as From Russia with Love, Red Dawn, and Smiley's People ‒ throwing all caution to the wind and being a great big silly-head is a delightful highlight in this afternoon delight of a different high. Not that Americans noticed when The Boy Friend first premiered here: as MGM's head honcho ordered the film to be trimmed by nearly a full half-hour.
Fortunately (depending on your point of view, I s'pose), The Boy Friend was stitched back together for its subsequent home video debut in the US, although no version ‒ not even the previous Warner Archive DVD ‒ could compare to this new Warner Archive Collection Blu-ray release. Even if you're not a fan of the film (it's definitely an acquired taste), there is no denying this is one of the most beautiful restoration efforts ever executed by the WAC. From its captivating scenery (on-stage and off) to its many eclectic arrangements, this it truly a marvelous win for the world of bizarre movie musicals and all of those (us) who enjoy them for one reason or another.
Accompanying the truly stellar 2.40:1 presentation is a newly-mixed DTS-HD MA 5.1 soundtrack which recreates the original British 70mm six-track experience (the edited-down US release only received a mono soundtrack), which is just as good as its video counterpart. From the movie's many songs and sex jokes to the sounds of Tommy Tone's dance steps and the vile bemusings of Glenda Jackson in an uncredited cameo appearance (who plays the no-show actress Twiggy takes over for), the audio track for this Warner Archive offering delivers what it has to offer most meritoriously. English (SDH) subtitles are also included with this release.
Just like many partners of the male sex, The Boy Friend doesn't have a lot to offer outside its aural and visual aesthetics. There's a vintage made-for-television promotional featurette entitled All Talking… All Singing… All Dancing which runs nearly nine-minutes in length. There are some nice behind-the-scenes bits to be seen here, including some on-camera interviews with Ken Russell and model-turned-actress Twiggy. The second and last extra is the original theatrical trailer. Severely cropped for exhibition due to the same budgetary reasons the movie was cut down and issued in mono, the preview has been remastered in 1080p for this Blu-ray release.
Honestly, though, The Boy Friend is the sort of movie that really doesn't need any extras to sell it. If you're a fan of Ken Russell films, you will undoubtedly experience a psychedelic orgasm over how immaculate this Warner Archive release looks and sounds. Doubly so if you're a fan of weird movie musicals. If you don't like musicals or tend to be the type of person who prefers Oklahoma! or the previously reviewed Finian's Rainbow (another musical recently restored by the WAC), I will still recommend The Boy Friend, albeit with a warning: You may experience an extreme change in body temperature, loss of appetite, sleeplessness, dry mouth, and occasional flashbacks.