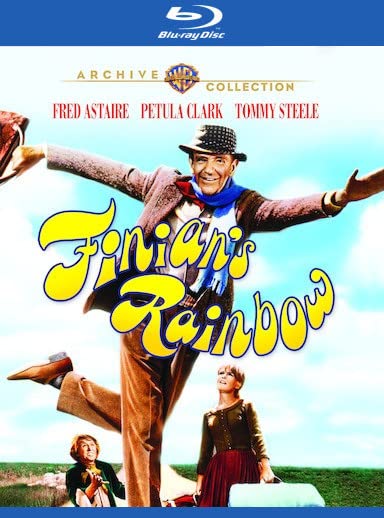 As the end of the 1960s rolled around, bringing with them the many changes some people are still having a difficult time wrapping their ideologies around, the timeless tradition of the standard movie musical began to make a much-needed alteration as well. One such example was 1968's Finian's Rainbow. Directed by a young novice named Francis Ford Coppola, this big-screen version of E.Y. Harburg and Fred Saidy's stage success features many of the elements the '60s are so well remembered for ‒ namely, civil rights and stinkin' hippies. It's pretty hip to the times, even if it is slightly bewildering that Finian's Rainbow first hit the stage in 1947.
Studio heads had originally wanted to make a film adaptation as far back as 1948 with diminutive screen legend Mickey Rooney ‒ presumably as the fantasy's lovesick leprechaun ‒ something many a classic musical aficionado would have sold their souls to have seen happen. Alas, lyricist/co-writer E.Y. Harburg wanted an ungodly sum of money (as well as creative control), so the potential movie incarnation floated around in limbo for a good twenty years before finally seeing the greenlight of day during a time and era when the subject matter had become far more "relevant" to audiences who were just beginning to wonder if racism was a bad thing.
Here, Coppola ‒ in his first studio film after emerging from behind former mentor Roger Corman's shadow with his award-winning comedy 1966 comedy You're a Big Boy Now ‒ brings us a charming tale with roots extending from Irish folklore. The great Fred Astaire, who was pushing 70 at this particular point in time, stars here as a lovable rogue of an Irishman named Finian McLonergan (and if you've ever seen Top Hat, you'll no doubt know what to expect from Fred when there's an accent involved) who treks all across America with his very patient daughter Sharon (Petula Clark) before reaching a plush valley in the fictional state of "Missitucky."
Like most Irishman, Finian sports some sort of cockamamie notion in his noggin. In this instance, it concerns a pot o'gold ‒ complete with three unused wishes ‒ which he stole fair and square from the wee people back in Ireland when they weren't looking. But as anyone well familiar with the filmography of Warwick Davis knows, you don't mess around with them leprechauns. And it isn't long before the one and only Tommy Steele, in a scene-stealing performance as Og, pops up to reclaim his national treasure before he is forced to become human (that's how these things work, you know). That is, until Og's changing body discovers a phenomenon known as girls.
Also appearing in this toe-tappin' good time (which would prove to be Fred Astaire's last "official" musical) are Don Franks, Barbara Hancock, and ‒ in what was probably one of his odder roles ‒ Keenan Wynn. The late Mr. Wynn appeared in just about every kind of movie and television show imaginable (especially during the '70s, where he became a regular marquee value star in low-budget exploitation movies), usually as a stubborn jerk. In Finian's Rainbow, he plays a stubborn jerk who also happens to be a racist, greedy US Senator ‒ one who encounters an identity crisis of a different color when Petula accidentally wishes him to be black!
While the sight of "Keenan Ivory Wynn" (thank you, MST3K) may leave a few folks feelin' less than comfortable (it really shouldn't in this case, since it's part of a message), Finian's Rainbow makes for good clean, golden fun for the whole family. Indeed, this Warner Bros.-Seven Arts production makes a lovely addition to the Warner Archive Collection's line of Blu-ray releases. Naturally, like their other BD titles, the folks at the WAC have once again gone the extra mile to preserve this neglected musical ‒ which unceremoniously lost every award it was nominated for to either Oliver! or Funny Girl at both the Oscars and the Golden Globes that year!
Presented in a gorgeous new 2K scan, Finian's Rainbow has been properly restored in its "roadshow" version with an overture, intermission, entr'acte, and exit music, giving you all the time you need to go to the pantry to fetch another bottle of Jameson, case of Guinness, or a fresh sack of potatoes if need be without missing any of the on-screen action. Accompanying the beautiful picture is a stalwart DTS-HD MA 5.1 soundtrack, as sourced from the original six-track masters from the film's original 70mm presentations (the movie was also shown in 35mm with mono sound). Optional English (SDH) subtitles are also included for this release.
Special features for this pot of gold from the Warner Archive include an audio commentary with Francis Ford Coppola, who also returns in an introduction to the film. Both of these extras were produced for the 2005 DVD release and have been carried over here, and the film may be viewed with its commentary after the introduction completes if you so desire. The last two bonus items for Finian's Rainbow also stem from the SD-DVD release, and include a vintage television featurette centering on the film's premiere, and Finian's original theatrical trailer. The latter subject is the only special feature out of the lot to be remastered in 1080p.
Having grown up idolizing the graceful dance moves of Fred Astaire in his many 1930s musicals with Ginger Rogers (neither of whom my one patented dyslexic dance move has ever come close to), it was a blast to see Astaire was still more than capable of bustin' a move so long after the fact. Truly, he was a man of unparalleled talent (his natural knack for comedy notwithstanding), and ‒ even though I fully understand I may be completely alone in this belief ‒ I feel Finian's Rainbow made for a grand exit to the musical scene he had so famously helped to pioneer. After all, there's a lot to be said about a 68-year-old male dancer who can get down with the times.
Recommended.