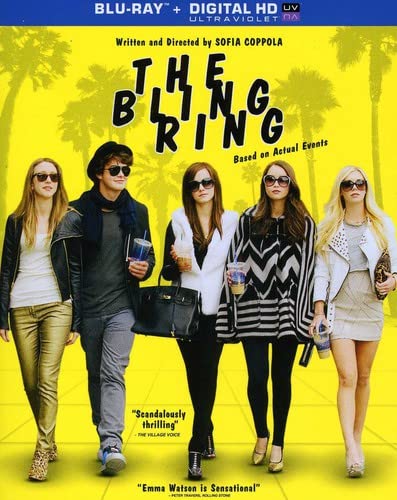 Sofia Coppola has only directed five films in her entire career. I've only seen three of them, and I wasn't all that fond of The Virgin Suicides. And yet, I still consider her to be one of the more interesting directors making films today. This is largely based on how much I love Lost in Translation. It is a near perfect film for me.
It is funny, sad, lyrical, poetic, moving, and wonderfully made. It contains both Bill Murray and Scarlett Johansson's best work. Coppola shows she learned a lot from her famous daddy and imbues the film with a steady hand, an artist's eye, and knack for subtlety.
Her next film Marie Antoinette was different, but quite wonderful as well. Where Lost was lyrical, Marie Antoinette was kinetic, frantic, and delirious. It isn't a perfect film but Coppola again shows she is a director with a clear vision and is able to achieve exactly what she was aiming at.
I actually own a copy of Somewhere, but for reasons I can't quite explain have never watched it. I know very little about it, actually, except that Coppola directed it and that I really should watch it, but there's something that makes me feel like it will be a difficult film and I keep making excuses not to sit down with it. Weird, I know.
Which brings us to The Bling Ring. Starring Emma Watson, as she continues to try to break free from her Hermione Granger robes, this film is based on a true story about a group of celebrity-obsessed girls who break into the homes of various celebrities (including Paris Hilton who appears as herself). That sounds right at home for Coppola who knows a thing or two about youth and celebrity.
Sofia Coppola, with but a few films under her belt, has proven herself to be a true auteur, a director with a clear and concise vision. Which is why I'm making The Bling Ring my Pick of the Week.
Also out this week that looks interesting:
Slacker (Criterion Blu-ray): Richard Linklater's debut is a curious thing. There is no plot, nor even central characters. It basically wanders around Austin bumping into random, interesting people, but never staying long enough with anyone to really understand them. That shouldn't make for a good movie, and yet somehow it does. As usual Criterion has loaded it with special features. Read Dusty Somers' review.
Frankenstein/Bride of Frankenstein/Dracula (Blu-ray): Three monster classics get the high definition treatment. They are being sold separately despite my lumping them together here.
World War Z (Blu-ray 3D/Blu-ray/DVD/Digital Copy): Brad Pitt's big-budget zombie flick was plagued with production troubles but it made good bank and got better than expected reviews.
Bates Motel: Season One: A prequel of sorts to Psycho in which Norman Bates is just a teenager and his dear mommie is still alive. I've heard good things about this and the concept is interesting.
Behind the Candelabra: An HBO movie about the flamboyant Liberace directed by Steven Soderbergh and starring Michael Douglas and Matt Damon? I'm in!
Day of the Dead (Collectors Edition Blu-ray): The third part of what was George A Romero's zombie trilogy (there have since been many other sequels) gets a high-definition upgrade and multiple extras including audio commentary, behind-the-scenes footage and more.
Doctor Who: The Ice Warriors: I've never seen anything from the Second Doctor so I'm looking forward to this one. Read Greg Barbrick's review.
Doctor Who: Scream of the Shalka: Made between that period when Doctor Who had effectively been cancelled and the new revival series was not yet in the works. Shalka was initially released only via the Doctor Who website in six weekly parts in 2003 coinciding with the 40th anniversary of the show. It isn't perfect, but its a fun bit of Who history. Read my review.
12-12-12 the Concert for Sandy Relief: Some big names including Bruce Springsteen, Roger Waters, Paul McCartney, and others got together to raise money for victims of Hurricane Sandy.
Autumn Sonata (Criterion Blu-ray): Ingrid Bergman's only collaboration with director Ingmar Bergman created a moody, emotional, masterfully made chamber piece. Read my review.