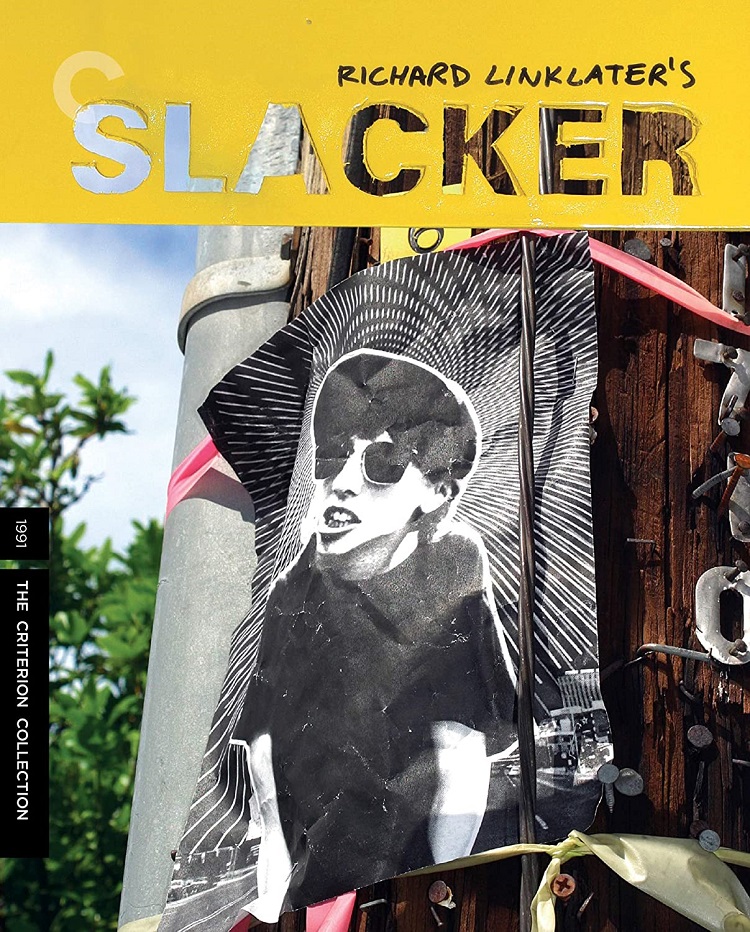 The Film
Richard Linklater's Slacker is a film that sounds like a doodle on paper, a fun little experiment from the burgeoning American independent cinema movement in the early '90s, but the sophomore feature from one of modern film's unsung chameleons is surprisingly robust, both stylistically and thematically. The concept sounds like the ultimate shaggy dog story — a series of vignettes about mostly twenty-something Austin residents, most of them overeducated and apathetic. The camera doesn't stay with any one character much longer than five minutes, shifting to someone new when his or her path crosses with the previous focal point.
At the very least, the film provides the ultimate example of "if you don't like it, just wait a couple minutes," but every one of the film's characters — nearly all of them played by non-actors — makes for a compelling presence as they yammer on about crackpot theories, dispense misguided advice or try to sell Madonna's alleged pap smear. This is a once-in-a-lifetime opportunity, says the androgynous, flip-up glasses-wearing pusher played by Teresa Taylor in one of the film's many moments of deadpan hilarity.
Linklater creates a tapestry of passive discontentment, with characters perfectly willing to diagnose but terminally unable to do anything effectual about it. This is visible in scenes of portentous political dialogue, where loudmouths go on about voter turnout rates and media disillusionment with no self-awareness but also in small moments of physical comedy, like when a guy who just wants to buy a newspaper is stymied at every turn. There's a remarkable coexistence of affection and satire in Slacker; Linklater is clearly portraying a place and a social structures he loves and identifies with while simultaneously drinking in the sweet ironies of his characters' cognitive dissonance. The result is warmly hysterical.
Slacker is also a beautifully shot and directed film. One might expect something ragtag and haphazard considering the subject matter and the tiny $23,000 budget, but Linklater is as perceptive a director as he is a writer, and the way the camera glides from scene to scene, long tracking shots fitting in to long tracking shots like puzzle pieces, feels very stylistically assured. There are also moments of unabashed experimental playfulness, like a scene shot with a toy Fisher Price PixelVision camera or the Super 8 finale, in which Linklater seems to take a wry, Godardian look at his own position as image-maker.
Slacker is more than an interesting concept or a fun, tossed-off film. It's a fully realized, formally assure, consistently funny piece of work.
The Blu-ray Disc
Slacker is presented in 1080p high definition in its original 1.33:1 aspect ratio. Criterion's transfer is frequently gorgeous, offering up the film's 16mm images with superb clarity and sharpness. Colors are rich and true. Naturally, the image is pretty grainy, but it's well-resolved save for a few scenes where the grain structure can look a little too digital and more like noise. Mostly though, this is a very film-like presentation and a strong upgrade over the 2004 DVD. Audio is presented in a 2.0 DTS-HD Master Audio soundtrack, but the surrounds get very little use here. Nearly everything comes from the fronts, which is fitting for the type of film this is. The audio isn't terribly dynamic but it's clear and perfectly intelligible.
Special Features
Criterion offers up what is mostly a direct port of their stacked two-disc DVD edition, dropping just a couple on-disc text supplements. Three audio commentaries feature Linklater, select cast members and key crew, casting tapes show the unorthodox audition process and footage from the film's 10-year reunion catches up with a number of people involved. There's also a fair amount of outtake footage, including some behind-the-scenes home movies and deleted scenes. An early treatment of the film is presented in text form.
The disc also features two bonus films: Linklater's debut feature, It's Impossible to Learn to Plow by Reading Books, and an earlier short, Woodshock. Rounding out the disc are trailers for the film and a documentary on now-closed Austin café Les Amis, which features prominently in Slacker. The package also includes a substantial 69-page booklet with several essays and reviews, production notes from Linklater and lots of production photos.
The Bottom Line
Don't be so apathetic. Get this Blu-ray.